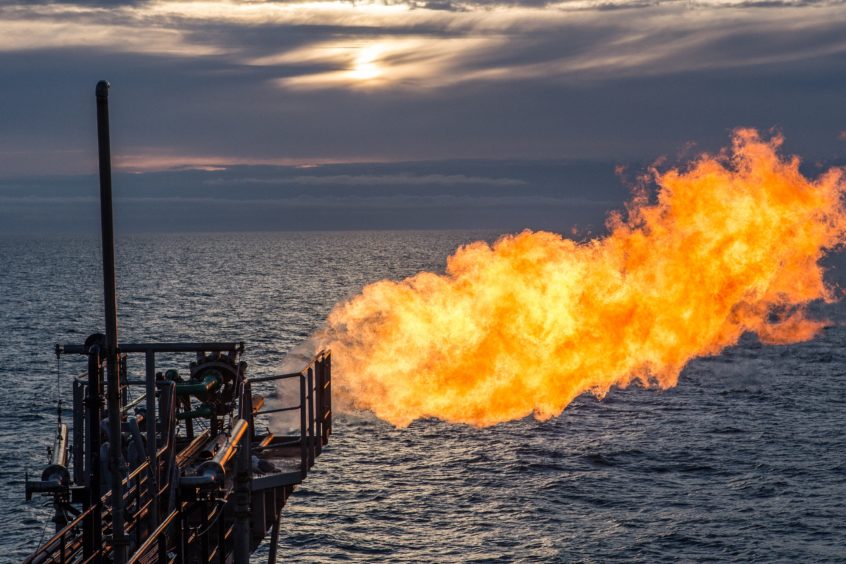 North Sea operators have launched a plan to slash methane emissions, one of the world's most potent greenhouse gases.
The action plan, a condition of the £16bn North Sea Transition Deal, will see companies slash methane emissions by 50% by 2030 against a 2018 baseline.
Industry body Oil and Gas UK (OGUK) said the steps would help the sector to reach its previously-announced targets of halving overall greenhouse gas emissions by 2030 and by 90% by 2040.
The strategy will see a range of steps taken, including a methane plan being developed for each individual offshore installation by 2023, including measures to monitor and abate flaring and venting.
Oil and gas firms will also seek to stop routine flaring, an emissions-heavy process to burn off excess gas, by 2030, following a similar measure from Norway, and working in line with the World Bank Zero Flaring Initiative.
Other steps including methane measurement and aligning with international reporting principles will be carried out.
Together they will cut methane intensity to below 0.2% by 2025, according to OGUK.
It comes after the Oil and Gas Authority (OGA) set out expectations for operators to report climate measures, including any flaring and venting, in financial reports next year ahead of legislation being enforced in 2025.
OGUK emissions improvement manager Thibaut Cheret said: "Methane is one of the world's worst greenhouse gases, so reducing methane emissions will have an immediate effect on the climate that reductions in CO2 alone cannot achieve.
"With this plan, the UK industry can contribute to keeping world temperature below the dangerous 2C mark, while producing the energy the UK will need for decades to come in a healthier way.
"Alongside our North Sea Transition Deal, which is fast-tracking a 60 million tonne reduction in the UK's carbon dioxide, we are an industry leading the way in the energy transition.
"We hope to see companies and other industries around the world adopting a similar approach, developing their own comprehensive guidelines to accelerate the drive for net zero and reposition for a sustainable future."
Recommended for you

North Sea infrastructure could get fresh lease on life with hydrogen production