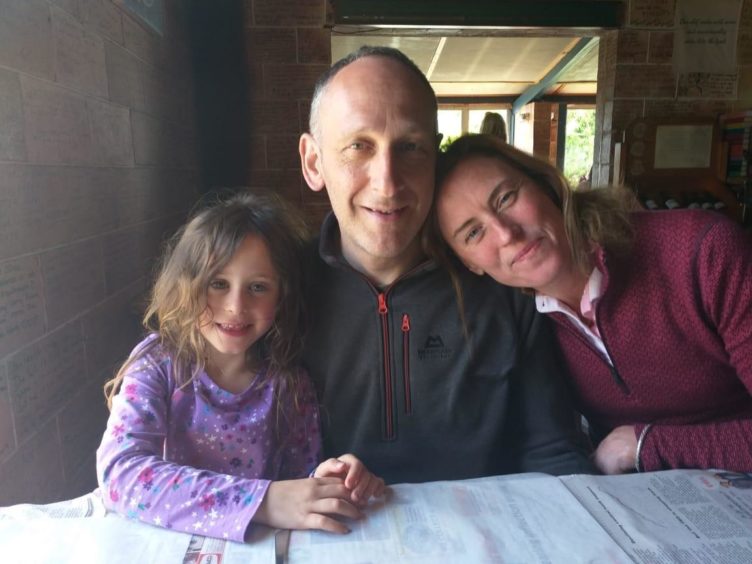 Tributes are being paid to Eric Marston, chief operating officer of Ancala Midstream, who has died aged 56 following a Covid-19 diagnosis.
Mr Marston, who had no underlying health conditions, contracted the virus and, after a short time receiving intensive care, died suddenly in hospital on September 10.
An outpouring of condolences have been made to the industry veteran, formerly of the Oil and Gas Authority and BP.
Ancala chief executive Jim Halliday said: "Eric was a true gentleman, a committed family man and a highly respected oil and gas man.
"Throughout, Eric put family first, sought to encourage new talent and the safe and responsible development of the UK's energy supply. His enthusiasm and commitment will be sorely missed by us all."
With a career spanning 34 years, Mr Marston joined Ancala in November 2019, where he led the company's operatorship and interests in the Beryl and SAGE pipelines and SAGE gas terminal.
He is survived by his wife, Catharine, their daughter Emily, 8, and son Gregor, 22, from a previous marriage.
Catharine Marston said: "He had an amazing intellect and was very musical, he had a great ear for it. It was something he enjoyed greatly and had a real talent for. He played the clarinet – although not often for anyone else. He used it to teach our daughter on the chanter and would sing along with her playing, to help her get the notes right.
"He loved the detail. Encouraging people to ask questions, and to discuss and share their knowledge and answers, at a highly technical level. At a time when companies and organisations are becoming smaller, he brought people together, to collaborate.
"Emily would have learned so much more from him. He was so eloquent, kind but also very mischievous – he had a wicked sense of humour and knew just the right way to make others laugh. What we all miss him most for was that he was a very patient, gentle man, and a gentleman."
Mrs Marston, who is involved in decommissioning with Harbour Energy, met her future husband in the early 2000s, while they were both studying through the University of Warwick. They married in 2008, at Courthill Chapel, on Loch Kishorn on the West Coast of Scotland.
The famous "no ferry" of Stromeferry was brought into service for one day to carry them to the chapel from their accommodation on the banks of Loch Carron, when roads in the area were cut off by a blizzard.
"The school bus was waiting for us when we landed. It was a day when all the people from the village got involved to make sure we made it. It seemed appropriate – Eric loved to help people, and when the snowstorm came in, they helped us," added Mrs Marston.
Born in London, Mr Marston was renowned in his personal and professional life for his passion for and commitment to supporting people. A keen student throughout his life, he founded the technical information exchange forum "Expert Opinions", writing detailed papers on subjects related to his work, and interacting with others across the world.
A graduate of the universities of Cambridge, Warwick and Sheffield, Mr Marston relocated to Aberdeen in 1987, embarking on a 34-year career in the energy industry.
On completing his initial studies at St Catharine's at Cambridge, Mr Marston joined BP and spent 28 years with the company. Initially a mechanical, pipeline and process safety engineer, he then headed to the operator's Harding Platform as offshore installation manager. He also held business advisory and operations manager positions with BP.
In 2015, Mr Marston was appointed SNS & EIS Area Manager with industry regulator the Oil and Gas Authority, before joining Ancala Midstream.
Stuart Payne, a former colleague of Mr Marston while he was at the OGA, paid tribute to him.
"We are deeply upset by the death of our friend and former colleague Eric Marston and have offered our condolences and support to his wife and family at what is a very difficult time for them", he said.
"Eric joined the OGA in 2015 – a time when our organisation, then-newly formed, was still finding its feet. As part of the first group of leaders in the operations team, Eric made a huge difference by helping to swiftly and expertly reshape how we work with industry.
"We remember Eric as a lovely man who was friendly, smart and enthusiastic about his work and those he worked with. The influence he had on individuals, the culture of the OGA and the wider industry will endure and we will miss him enormously."
Friend of more than 30 years, Martin Dove, said that Mr Marston's professional impact had been profound for everyone who encountered him, and that his memory would be held fondly for decades to come.
"People still talk about and refer to something he came up with in the early 1990s – the Piping Joints Handbook – which was designed to teach everyone about how to prevent leaks from joints in the original platforms we were working on," said Mr Dove. "Eric didn't just write the technical information; he also drew brilliant cartoon-styled diagrams which gave you a visual reference that was easily understood.
"That handbook was on every offshore installation the company had and was still being referred to decades later offshore. He was a very precise person, everything had to be right, and he achieved it with humour and good will – he had this huge smile, nothing was a trouble. He was always learning and helping others to learn at the same time.
"Not only was Eric a superb engineer but both inside and outside work, he cared deeply for the people around him, and was a kind and loyal friend. He will be hugely missed by the industry and by his family and friends."
A private funeral will take place at 13:30hrs on Monday, September 27, at St Margaret of Scotland, Gallowgate. A gathering will thereafter be held at The Fourmile, Kingswells, to which friends and colleagues are invited.
The family requests donations in lieu of flowers to the Archie Foundation, whose child bereavement service has offered invaluable support at this most difficult time. For more information visit https://archie.org/bereavement/
The news comes following the passing of Ithaca Energy chief executive Bill Dunnett earlier this week. Read more here.
Recommended for you

From gymnastics to the North Sea: OPITO apprentice of the year