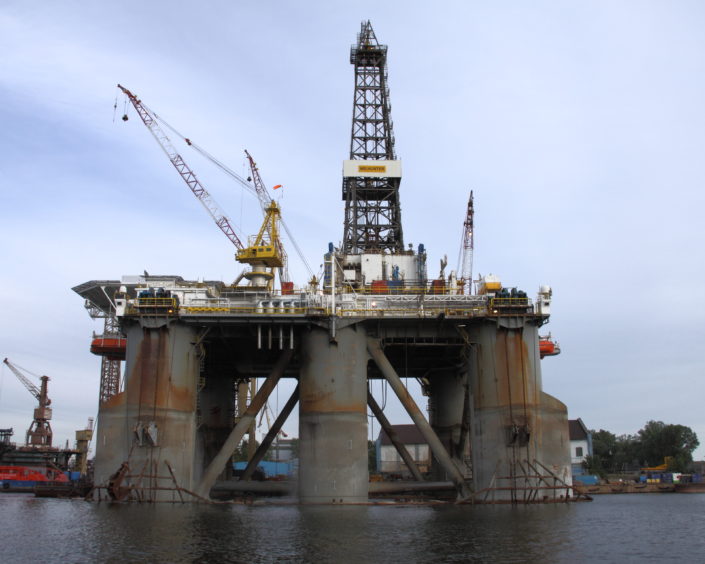 Awilco Drilling has announced it will scrap the WilHunter oil rig after lying idle for nearly six years in the Cromarty Firth.
The oil rig, which was built in 1983, has been out of work since the third quarter of 2015 and has lain dormant at Invergordon ever since.
In its third quarter accounts released today, Awilco Drilling said a decision to recycle the nearly 40-year-old vessel has been made and that options are being pursued.
Awilco, headquartered in Westhill, near Aberdeen, made the disclosure at the same time as updating the market on its arbitration process with Keppel FELS, which is demanding more than £500million over two cancelled rig orders.
The WilHunter has cost Awilco through various impairments in recent years due to being left cold-stacked in the Cromarty Firth.
The last job the WilHunter had was for a decommissioning programme for Hess in the second quarter of 2015 before being sent to Invergordon.
It was initially hot-stacked, meaning it would be ready soon for another mobilisation, but it has been cold-stacked since the third quarter of 2016.
The company is meanwhile continuing an appeals process with HMRC over a tax dispute linked to the termination of a contract for the WilHunter in 2015.
Awilco lost an appeal in July over the £6.8million bill, and said today "an application to the Tribunal for the decision to be set aside and re-made has been submitted".
A decision is expected during the fourth quarter of this year.
Recommended for you

Watch: Well-Safe Defender arrives in Cromarty Firth ahead of Spirit job