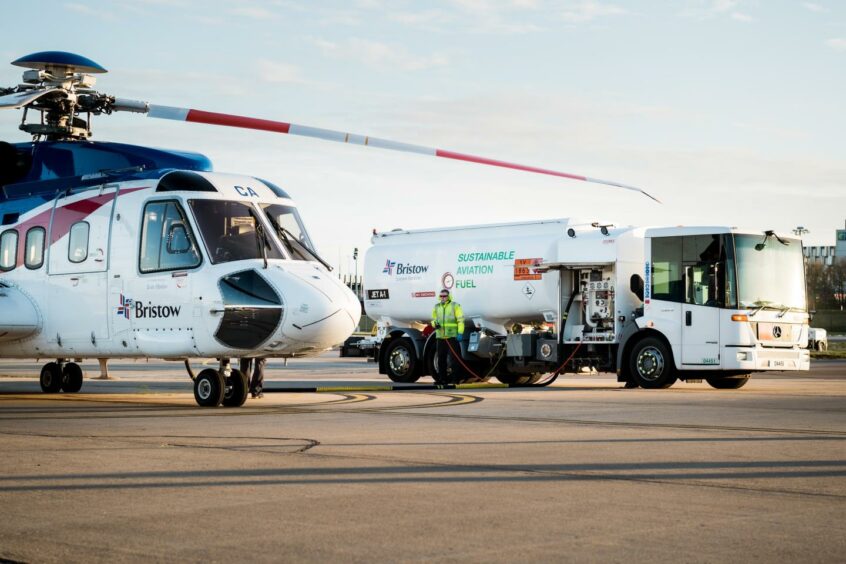 Helicopter operator Bristow has begun offshore flights using sustainable aviation fuel (SAF), marking some of the first operations in the UK North Sea powered by the lower-carbon alternative.
Demonstration flights saw a Bristow S-92 fuelled by SAF fly operations from Aberdeen to BP-operated installations, including ETAP and Clair Ridge.
Bristow sourced the fuel from partner Air BP, which is fully certified to Jet A1 standards, the principal fuel used for jet turbine engines. In this case, the blend used is 35% SAF.
Like-for-like, SAF can provide lifecycle carbon reduction of up to 80% compared to with the traditional jet fuel it replaces.
Bristow said further flights are scheduled over the next two weeks, with a view to offering SAF as an option to all its clients in the future.
The use of SAF for operational flights is one of several initiatives by the company aimed at significantly reducing its carbon emissions. These also include increasing use of electric-powered ground support vehicles at select operating bases, Bristow added.
Director Matt Rhodes said the flights demonstrated the capability and benefits of using SAF in offshore transportation and were "a great first step in our path to reducing carbon emissions."
"We've seen great enthusiasm for this initiative from colleagues across our business in our engineering, pilot and ground support teams and are proud to be able to take these first steps," he added.
Sustainable aviation fuel is typically made from feedstocks such as used cooking oil and household waste, and its adoption forms a key plank in the aviation industry's strategy for reducing its carbon emissions.
Current sector targets call for a 50% reduction in global aviation emissions by 2050, though the International Air Transport Association (IATA) recently approved a resolution for the sector to achieve net-zero carbon emissions by the same date.
Speaking at an Oil and Gas UK (OGUK) event earlier this year, Andy Evans, director of Aberdeen-based consultancy Aerossurance highlighted SAF as "the most available and technically feasible" option to help the sector decarbonise in the short term, including use in offshore helicopters.
Indeed, manufacturer Airbus has set up a dedicated user group to "pave the way toward 100% SAF flights for future fleets".
Recommended for you

Scholz follows Senegal gas visit with Sasol SAF launch