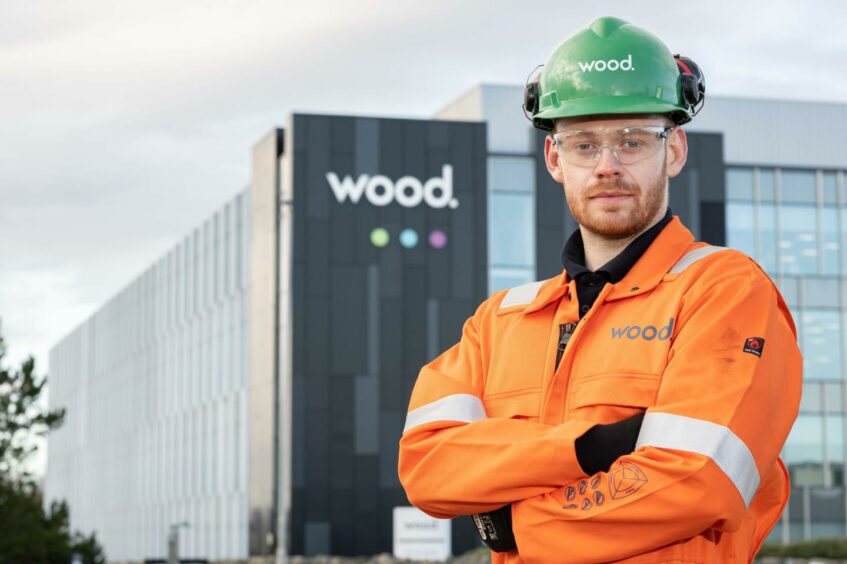 A North Sea oil and gas worker has emerged through an "up and down journey" of furlough and frustration to being nominated at a national awards for Scotland's top apprentices.
24-year-old Nathan Anderson, who works for energy services giant Wood, was mid-way through his apprenticeship at the Brent Charlie field when the pandemic struck.
A need to reduce the number of workers offshore to ensure safety meant that Nathan was placed on furlough – how he dealt with that has led to management at the company  praising him as a rising star.
"It wasn't like being off for seven months", he said, "it was like 'next trip you'll be back, next trip you'll be back' and it never came.
"I felt like my progress was going to get halted, sitting at home, because you're not learning. All of the skills I had developed and then when I went back to working, I felt like I'd maybe gone back a couple of steps."
Despite being furloughed, Nathan took it upon himself to continue his learning through self-funded petroleum learning modules of his own volition, which he first caught wind of via the crew of the Shell platform.
He then agreed to relocate 100miles away from his home to work at the SAGE gas terminal at St Fergus near Peterhead, where Wood acts as duty holder on behalf of Ancala Midstream.
"It was a bit nerve-wracking and starting again, but I think it made me a better tech overall for being moved about so much, it makes you stand on your own two feet.
"At the time, it was probably the worst thing that could have happened, but looking back now its maybe the best thing that could have happened to me, in strange sort of way.
"Living down in Falkirk I had been used to living away. It was out of my comfort zone, definitely, and going onshore is totally different to working offshore. Even getting used to the rotation – it was only Monday to Thursday, so its only four day weeks.
"And obviously you don't have the same amount of time at home and the pay was a bit less, but it was something that benefited me in the long run. It was the next stage of my career that I had to do to become fully qualified."
Nathan, now a fully fledged instrument technician, has since spent time working on the Shell Shearwater platform and is now on the Triton FPSO offshore.
For his efforts over the last four years, he has been nominated for apprentice of the year in the upcoming Scottish Apprenticeship Awards.
Looking back, he said he's happy to have found the industry which has afforded him career opportunities.
"I'd heard about these apprenticeships before from people at school who went to do them. I went to uni for a while, but uni it wasn't really my cup of tea. I ended up leaving, came home, and then this opportunity came up and I thought 'yeah why not go for it?'
"My dad had been offshore previously for years, so I knew sort of what to expect. It wasn't something I necessarily ever imagined I'd be going into but now I couldn't imagine myself doing anything apart from this job."
On being nominated at the upcoming awards, being held virtually this week, he said he was "overwhelmed" to be recognised by the Wood management and wider industry.
"It was a bit of a surprise when I found out I was in the top four for the finalists. I found out that Wood had put me forward for it but I didn't really expect anything to come of it.
"Then I was just a bit overwhelmed by it all and quite proud that what I'm doing is being recognised by people higher up in Wood.
"You're never really sure how you're getting on because you don't have anyone to compare yourself with. You don't really see other apprentices so you never know if you're performing well or should be doing better, so it's nice to see that they think I'm doing well."
Recommended for you

North Sea chief speaks out over PPE fears for women offshore