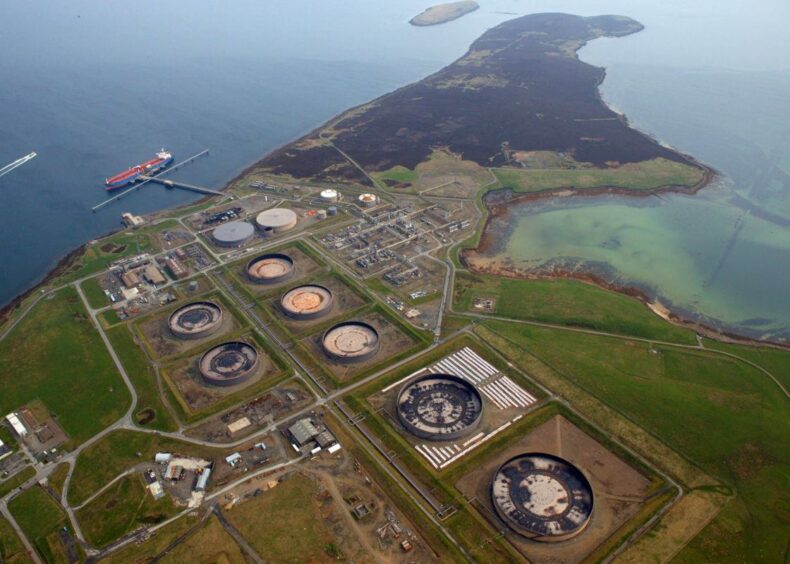 A Russian state-owned oil tanker will not visit Orkney after the UK Transport Secretary asked ports to deny vessels from the country entry.
The NS Champion had been due to arrive at the Flotta terminal on the island tomorrow, following hot on the heels of another Russian tanker which moored in Shetland last week.
But Repsol Sinopec Resources UK (RSRUK), which operates the Orkney facility, has now confirmed that it will no longer be using the tanker.
A spokesperson for the company said: "As a result of continued engagement, we can confirm that the NS Champion will no longer be the performing vessel for the upcoming lift and will not visit the Flotta Terminal.
"Furthermore we welcome the news from the Department of Transport that they do not consider it appropriate for Russian vessels to continue to enter UK ports and will develop a package of appropriate sanctions.
"We fully support this approach and will comply with sanctions.
"Our thoughts are with those people impacted in Ukraine and around the world."
Earlier today UK Transport Secretary Grant Shapps wrote a letter to ports across the country asking them to prevent Russian vessels from entry.
He also warned that "prohibiting legislation" is on the way as part of "massive consequences and a severe cost" to be imposed upon Russia for its invasion of Ukraine in an "unprecedented package" of sanctions.
The maritime sector is fundamental to international trade, and Mr Shapps said the "Department for Transport does not consider it appropriate for Russian vessels to enter UK ports".
Today I've written to all UK ports asking them not to provide access to any Russian flagged, registered, owned, controlled, chartered or operated vessels.

Given Putin's action in #Ukraine I've made clear these vessels are NOT welcome here with prohibiting legislation to follow. pic.twitter.com/5pKzfvcbGi

— Rt Hon Grant Shapps MP (@grantshapps) February 28, 2022
"From this point onwards, UK ports are asked not to provide access to any ship" which they believe to be flagged, registered, owned or controlled by Russia.
Mr Shapps added that "further detailed sanctions against Russian shipping are being developed" with more details to follow "very shortly".
Shetland and Orkney MP Alistair Carmichael had been seeking action to prevent entry of Russian tankers to the Isles' ports in light of the invasion of Ukraine.
He said: "The news that the government will ban Russian owned and operated vessels from using UK ports is perhaps somewhat overdue but enormously welcome. It will be a relief for my constituents who were ready to protest and to take to their boats to prevent such arrivals – and a relief for all right-minded people who oppose Vladimir Putin's bloodthirsty regime.
"Having pressed the case with ministers – perhaps to the point of annoyance – through the weekend I am glad that they have taken the action that I and so many others have been calling for in blocking Sovcomflot and all similarly-owned vessels."
He had previously said that if the NS Champion were to enter Scapa Flow, which contains the isle of Flotta, then it would be a "dishonour" to Orkney's war dead and their fight against fascism.
Scapa Flow is the resting place of 835 men who were killed in October 1939 when the HMS Royal Oak was torpedoed by a German U-Boat.