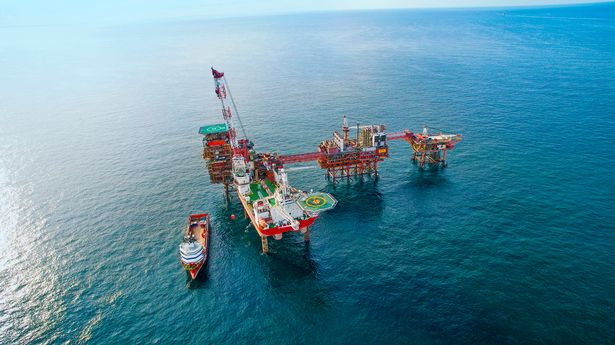 The GMB union has called for a share of North Sea gas production to be reserved for UK households and energy-intensive industries in a bid to tackle spiralling costs.
The energy and manufacturing union said emergency legislation should be enacted to ring fence a share of UK gas production, which it says would reduce prices for domestic users and help ease the cost-of-living crisis.
Its proposal would create a reserve of North Sea gas that only domestic purchasers could bid for, which it says would address international price pressure on UK households and industries.
GMB said the policy should remain in place "at least for duration of the period of global instability and the cost of living crisis."
The union added that it was "morally repugnant" to reach net zero by reducing domestic industry while "relying on gas from despotic regimes."
An accompanying report makes the case that that setting aside 15% of UK gas production could meet the gas demand of 90% of energy-intensive industries, or the annual domestic consumption of 4.5 million households.
GMB pointed to legislation in other gas-producing nations such as Israel, Australia and the US which permit ring-fencing of supplies for local markets or enable government to restrict exports. However, it concedes that in some cases these measures have "reportedly inhibited investment".
The report also calls for a long-term domestic gas policy which links use and production to the highest environmental and labour standards "instead of a net-zero transition that is reliant on gas from Qatar and Russia."
It cites analysis showing exports of North Sea gas more than doubled at the end of 2021, with around 32.5 gigawatt-hours (GWh) of gas exported in the fourth quarter, up 159% on the year before.
GMB national secretary Andy Prendergast said: "As a gas-producing nation, the UK is an international outlier by not having domestic limits in place. It's time for a national conversation about an industry that can make an immediate contribution to lifting the cost-of-living crisis.
"Gas will still be needed in 2050 under all scenarios – GMB's Fair Share policy will sustain communities and protect the highest environmental and employment standards."
Energy supply strategy
Commenting on GMB's proposals, Ross Dornan, market intelligence manager at Offshore Energies UK (OEUK) said: " We welcome any well-reasoned and informed input to the debate on the future of the UK's energy supply.
"The key thing is to ensure the UK has security of supply within what is an evolving  and increasingly diverse energy system which in time will integrate oil and gas with low carbon energy technology including capture capture and storage, hydrogen and offshore wind."
GMB's campaign comes as the government prepares a new energy supply strategy, in pursuit of greater energy dependence.
The strategy could arrive as soon as next week, and will see renewable energy, nuclear and domestic gas "all a crucial part of achieving its aims".
However, last week the Business, Energy and Industrial Strategy Committee heard that the government is unlikely to be able to control the impact of high global wholesale gas prices.
Professor Mike Bradshaw of Warwick University also lamented the decision to close the Rough facility in 2017 – the UK's final gas storage site – and said additional gas storage should be examined in the short term.
Recommended for you

Pakistan faces deeper power crisis as LNG becomes too expensive