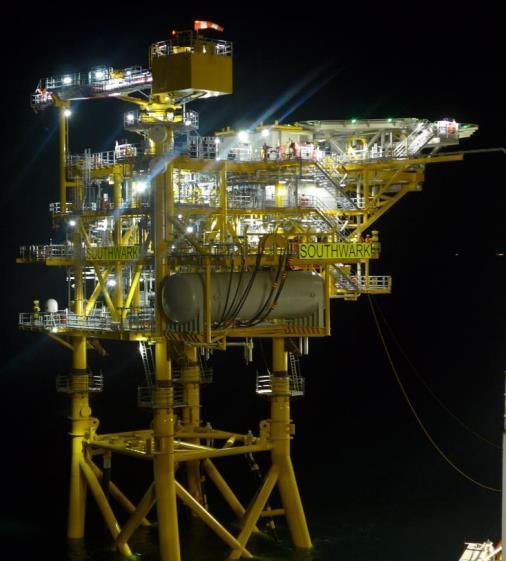 North Sea operator IOG (LON: IOG) has confirmed that first gas from its troubled Southwark field in the Southern North Sea is nigh.
In an operational update, published on Thursday, the London-listed company revealed A2 well hydraulic stimulation operations at the site are expected to be complete by the end of this week.
All subsea work on the project is now finished.
Well test and clean-up is planned for next week, with final hook-up and commissioning and safety reviews then leading to Southwark first gas by mid-January.
Noble's Shelf Perseverance rig is scheduled to re-enter the A1 well, complete and stimulate it in Q1, and bring it onstream by early Q2.
Southwark is part of IOG's wider Saturn Banks project, which includes the Blythe and Elgood fields.
Saturn Banks has been plagued by problems in the last year, so much so that the company opted to replace its top brass in October.
But after numerous setbacks, IOG says it is now making progress on the development.
Rupert Newall, the company's chief executive, said: "Operationally, the new leadership is making progress, but we still see room for improvement over coming months. We are proactively engaged in improving not only our own team's performance but also that of our duty holders. Bringing new wells onstream, improving platform reliability and managing liquids flows will enable us to maximise production and cash flow.
"Importantly, we have made good progress at Southwark, with the A2 well expected onstream by mid-January. The A1 well is then expected to strengthen our production profile from early Q2. With Blythe H2 and the Kelham and Goddard appraisal wells to follow, 2023 is set to be a high-impact year for IOG."
Production from Saturn Banks is projected to average about 22 million standard cubic feet per day (mmscf/d) over the second half of 2022.
Elgood is currently shut-in, with further production expected to require lower liquid volumes in the  pipeline system, after which it will be produced cyclically.
Meanwhile produced water from Blythe continues to be managed onshore, with disposal cost reductions being pursued.
Plans are in the offing to drill a second well at the field, directly after Southwark A1, and targeted onstream by early Q3 2023.
To that end, IOG has exercised the final extension option in its 2020 Shelf Perseverance rig contract.
Mr Newall added: "The Blythe H2 well is a compelling investment for us to accelerate reserves recovery, mitigate water production and maximise cash flow. We expect it to pay back very quickly, benefitting from our final rig extension option negotiated in 2020 and the spare well slot designed into the Blythe platform."
Recommended for you

IOG at risk of 'administration' as North Sea operator seeks waiver