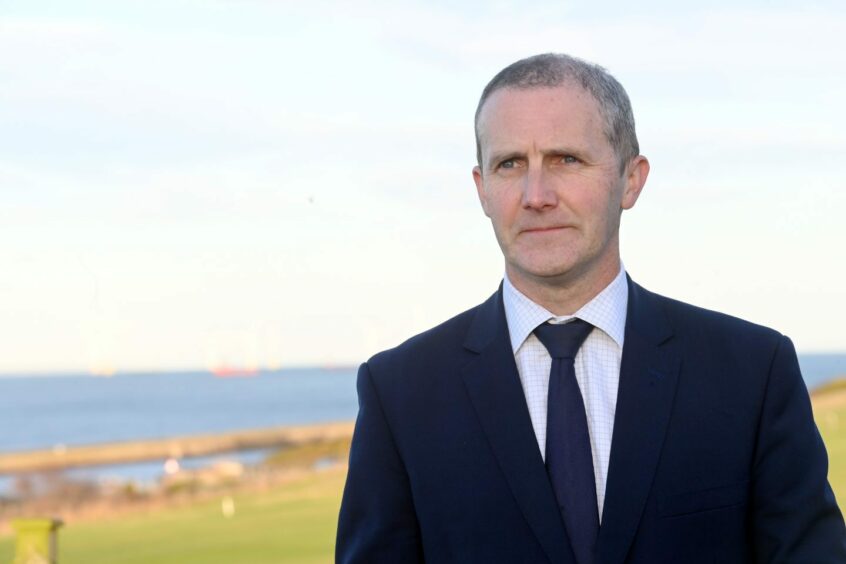 North Sea oil and gas producers should accept the "challenge" of meeting climate targets and justifying the need for further fossil fuel production, Scotland's energy secretary said.
Unveiled by net zero secretary Michael Matheson at Holyrood a fortnight ago, the government's draft energy strategy and just transition plan set a potential course for Scotland's energy transition through a massive expansion of renewables and a move away from hydrocarbons.
Notably, the policy stated there should be "a presumption against new exploration for oil and gas", to "support the fastest possible and most effective just transition" – a move decried by industry representatives and branded a "betrayal" by many north-east workers.
Speaking at the opening of a new offshore wind operations base in Eyemouth on Wednesday, Mr Matheson told Energy Voice the sector should view that presumption as a "challenge".
"My view as I've stated previously – and as the [Climate Change Committee] our independent advisers have said – is that there needs to be a clear climate compatibility process being put in place for any new or licenced facilities, or facilities that are not already in production, and to make sure they are aligned with our climate change targets," he said.
"In my view is that is a challenge which the industry should take on and recognise."
He said the presumption against further exploration would instead require the industry to clearly demonstrate a need for further oil and gas production, and that operators should be able to set out how the development can help meet national climate change targets.
"I've got every confidence that the industry is able to meet those challenges because we know that we'll continue to require a level of fossil fuels in the years ahead.
"But what we need to do is to make sure we're doing that in a way which also aligns with our climate change targets and our wider international responsibility."
The UK government approved a three-point checklist for new oil and gas developments ahead of the 33rd Licensing Round last year, aimed at addressing the dual challenges of climate change and energy security by ensuring new North Sea projects can go ahead, while ensuring emissions are kept to a minimum.
While industry welcomed the clear guidance, some opponents said the policy was a missed opportunity for the UK to show climate leadership.
'Open and honest'
The initial draft strategy met with a vocal reaction from north-east businesses, with Aberdeen & Grampian Chamber of Commerce chief executive Russel Borthwick voicing "complete disbelief" on behalf of many in the region.
In the week following its publication a poll by True North found that more than three-quarters of Scots support domestic North Sea production.
Asked how he would characterise the wider reaction to the strategy, Mr Matheson said it was important to be "open and honest about the energy transition that we're going to face here in Scotland."
Looking specifically to those in the north east, he added: "Of course there are those within the industry who at the present moment would prefer to continue with the status quo and the way in which things are operating, and I recognise that."
"It's extremely important we make sure that those voices are heard and as part of the consultation exercise," he continued.
Yet he also pointed to data from the North Sea Transition Authority which shows a "significant drop off" in production from the North Sea over the next 20 years, and noted that even new production facilities are likely to have little in the way of impact amid larger declines across the basin.
"We are going to see this decline over the next 20 years, which is why it's extremely important that we ramp up our renewable energy projects and our development and our ambitions in these areas in order to act as a counter to that – and our strategy sets out how we want to go about that," he added.
Recommended for you

INTOG reaction: Industry has 'strong appetite'