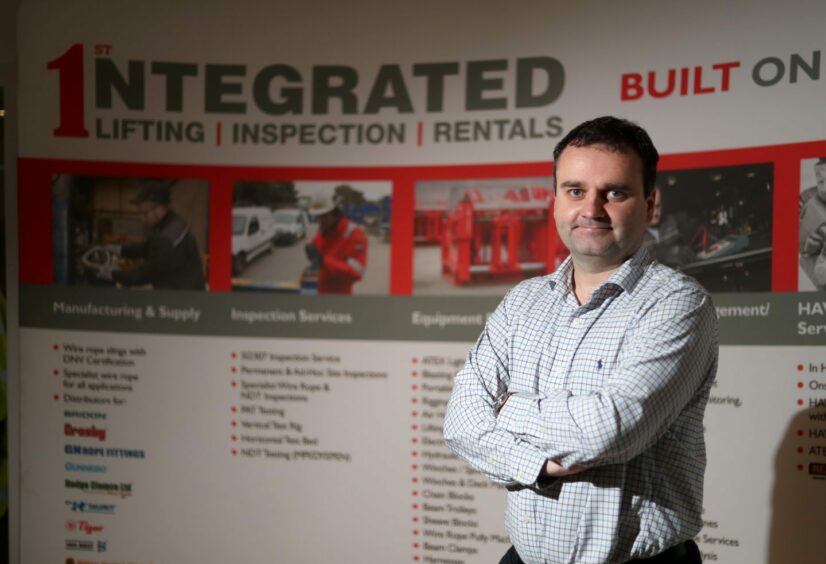 Dozens of employees have been added to energy services group First Tech as the firm targets its "best ever year" for turnover.
Soon to close its April 2023 financial year, the Aberdeen-headquartered company expects turnover of around £40m, a 68% leap on 2022's £23.8m.
While 2022 was "steady", since last April it has increased headcount from 151 to around 200 employees.
Director Martin Suttie said contracts which hadn't quite got over the line for FY 22 are now coming in to drive revenues.
And renewables growth, in particular for subsidiary First Subsea, is a major driver.
First Subsea, whose technology services areas including deepwater moorings, umbilical and production risers, typically does £4-5m in turnover, he said. – this year it's expected to do just shy of £20m.
50-50 for First Tech
Mr Suttie said it's "a real success story of an oil and gas service company transitioning into renewables" but while it "looks like an overnight success", it is in actual fact the fruits of work put in place going back to 2014-15.
Overall, around 50% of group revenue is now attributable to renewable energy activities for the year to April 2023.
Alongside First Subsea, another First Tech subsidiary called First Marine Solutions (FMS) has seen significant growth on renewables.
While 2022 was a year of consolidation, with pre-tax losses of £2.5m as the firm injected investment in its fleet, Mr Suttie says First Tech, which is owned by his millionaire father Ian, is geared up for growth.
"The year to April 2022 has been one of consolidation and we saw some positioning for future growth across several of the businesses, post year end we have seen very significant growth across the group.
"This growth has manifested itself in a big increase in personnel, turnover and profitability. There is an expectation that this growth is sustainable which creates a lot of excitement for the future development of the group."
Around £1.7m was invested in First Tech assets across the group in 2022, but that has increased to around £5m during the 2023 financial year, including some £3.5m in marine equipment for FMS.
Managing director of FMS Steven Brown said: "It is extremely pleasing to see the growth of the Group across both our traditional markets and also in new markets as we look towards various energy transition opportunities moving forward – both First Subsea and First Marine Solutions have positioned themselves well for growth in specifically the fixed and floating offshore wind sector."
Recommended for you

Kintore engineering firm Brimmond marks best ever year