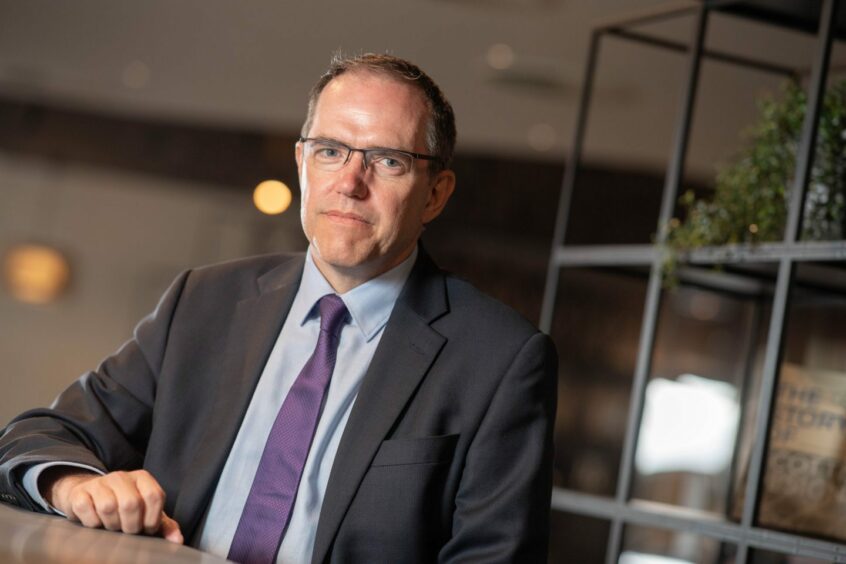 Activists have hit out at a Shell boss being given joint oversight with the regulator for the North Sea industry energy transition.
Simon Roddy, UK upstream vice president for Shell, has been given the co-chair role for a group which will oversee the industry's switch to low-carbon technologies.
He shares that role with Stuart Payne, CEO of the North Sea Transition Authority (NSTA); the regulator in charge of monitoring the industry's gradual shift away from oil and gas.
The NSTA is in charge of fining companies if they fail to meet certain targets or regulations, such as emissions and other stewardship expectations.
Activists have raised questions on the appointment, and the role of the regulator policing the industry if it shares an oversight role with Shell.
Mr Roddy and Mr Payne are co-chairs of the North Sea Transition Steering Group, which oversees several industry task forces like Asset Stewardship, Exploration, Decommissioning and CO2 Storage and Transport.
It also supports the North Sea Transition Forum – a group of industry and government which works towards the goals of the North Sea Transition Deal, which includes a 50% reduction in emissions by 2030.
Tessa Khan, executive director of the campaign group Uplift, highlighted that this comes a week after Shell CEO Wael Sawan said it wasn't "healthy" to cut oil and gas production.
"Asking Shell to oversee the North Sea Transition is like putting a tobacco company in charge of public health services.
"By its own admission, the industry says it intends to keep drilling for more and more oil and gas, while the transition gets pushed further and further into the future."
Shell, which has been contacted for comment, has previously said it intends to invest up to £25bn in the UK this decade, the majority of which will be in clean and low-carbon energy technologies.
The appointment was made with agreement of both the NSTA and trade body Offshore Energies UK (OEUK).
Ms Khan said the move shows "how utterly out of touch the NSTA is with public and political sentiment", adding that the majority of Brits want as quick a shift as possible to renewables to tackle energy bills on a long-term basis.
A spokesperson for the NSTA said: "We are firmly focused on supporting the UK's energy security, making North Sea oil and gas production cleaner, and accelerating the transition to net zero.
"Working closely with representatives of industries and organisations which have a key role in evolving the UK's energy systems, including through the North Sea Transition Steering Group, gives us the best chance of achieving these objectives."
'It's a cruel joke' – Greenpeace
OEUK chief executive David Whitehouse defended the appointment, saying Mr Roddy's role will ensure delivery of the transition deal.
"The North Sea Transition (NST) Steering Group drives the innovation and brave decision-making we need to deliver a competitive industry which is net zero by 2050. Our collaborative efforts enable us to capitalise on our collective strengths to build a secure, affordable low carbon energy system, whilst providing secure supplies of energy to the UK.
"I warmly welcome Simon Roddy as Co-Chair of the NST Steering Group as he continues to support our critical delivery of the North Sea Transition Deal."
Greenpeace hit out at a lack of renewables-focused firms on the Steering Group, which is largely made up of representatives from firms focused on upstream oil and gas.
Head of the NGO's climate team, Mel Evans, said: Putting a fossil fuel company boss as co-chair of an energy transition group is an embarrassing appointment that undermines any credibility this government has.
"If officials were serious about energy transition this group would be staffed with experts in renewables; grid connectivity; energy efficiency and trade unionists who could make sure that transition is smooth and fair for the workers and communities who will be impacted. As it stands, it's a cruel joke."
Recommended for you

INTOG reaction: Industry has 'strong appetite'