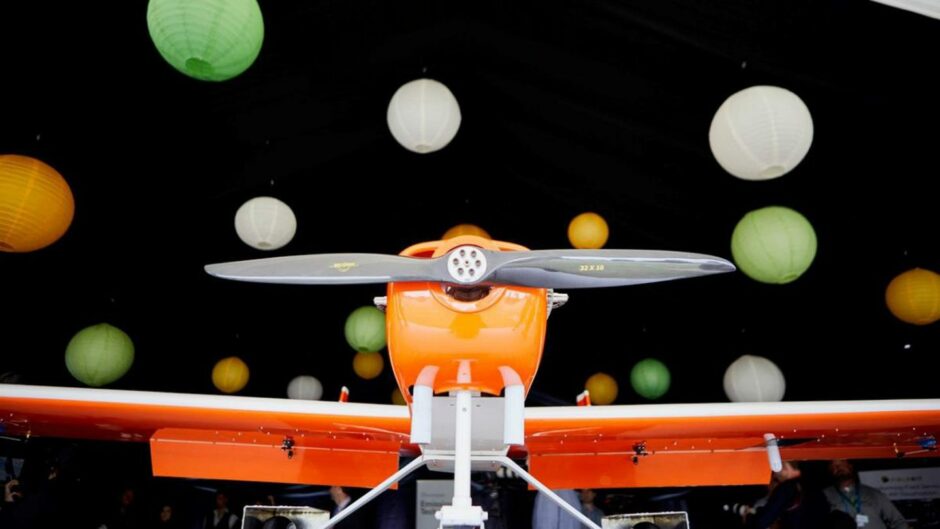 Flylogix, an oil and gas drone firm which had millions of pounds invested from energy giant BP and fund manager Amati, has gone into administration.
However, management has bought out the remains of the business in a £46,000 pre-pack deal from administrators, in hopes it can take off once again.
Flylogix, headquartered in Lee-on-the-Solent but which does most of its work out of Aberdeenshire and Shetland, has been haemorrhaging £250,000 per month, according to administrators, amid challenging market conditions and a licence suspension from the Civil Aviation Authority (CAA) after safety concerns were raised.
The firm, which uses tech to monitor emissions from oil platforms, has been seen as a pioneer in the space, attracting major investment.
CEO Charles Tavner told Energy Voice that higher interest rates have made the economic environment for tech business investment "much, much more challenging" in the last nine months.
That, coupled with the complexities of Flylogix' operations in a heavily-regulated space – flying unmanned drones offshore around helicopter flights near oil platforms – took its toll on the business.
"Those two things together have made it hard to proceed at the pace that we wanted to proceed at," he said.
"That therefore means your revenues are smaller and obviously you have to resize the team to fit that."
That led to a company resize back in October, and "it's those same pressures that have led us to the place that we're in now".
Hope of another take-off after 'incredibly tough' 12 months
However, Mr Tavner, who led the management pre-pack administration deal, said he hopes the firm could be flying again as soon as next year.
"The plan is largely unchanged; it's just moving at a more modest pace.
"Whilst the last 12 months have been incredibly tough, we have learned an enormous number of things from our customers, from the regulator, from groups like NATS that we work with."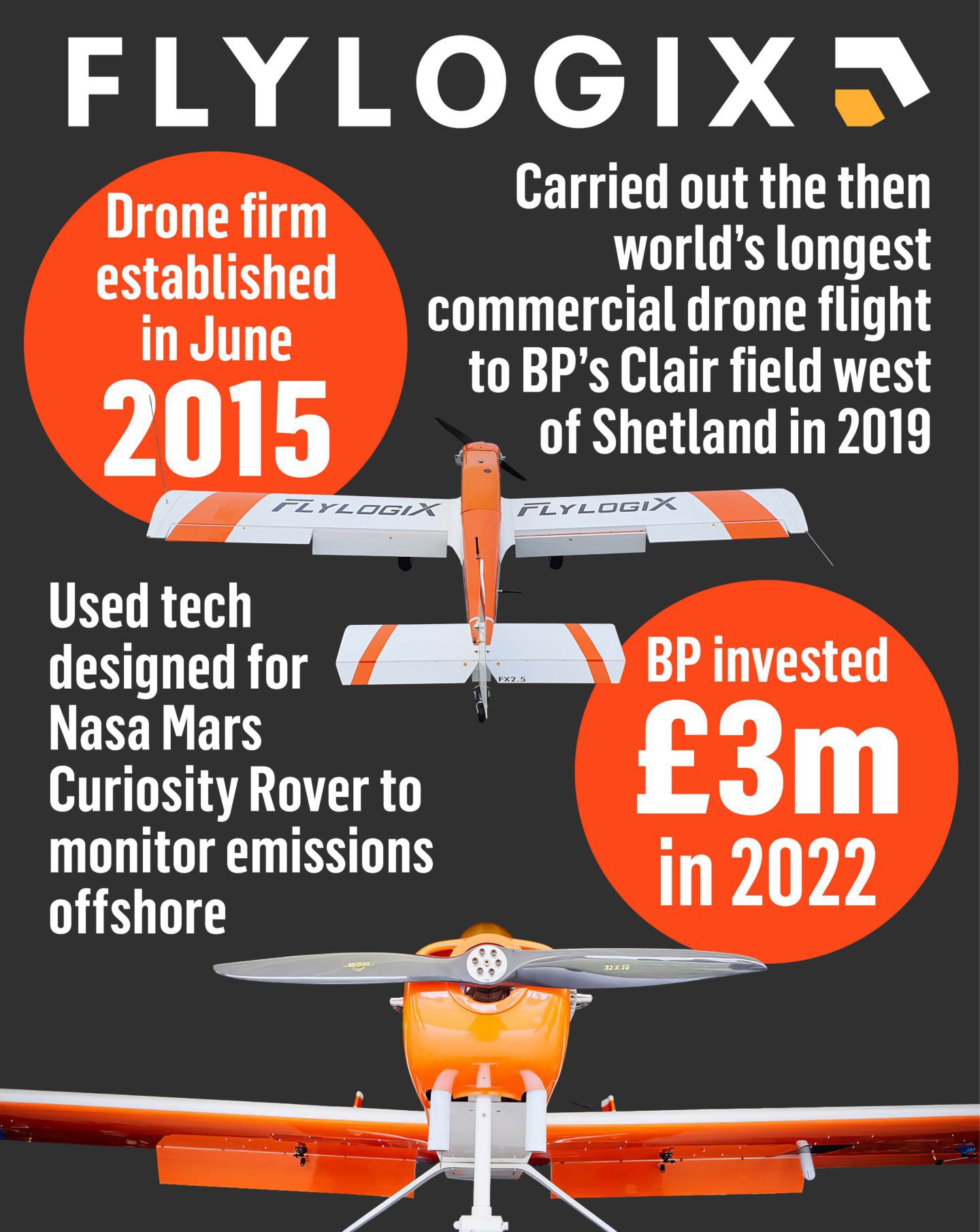 The plan is to put a "regular service back into operation in 2024" which Mr Tavner said "broadly matches the timetable" for firms seeking to carry out regular methane measurement services.
Reflecting on next steps, Mr Tavner said methane measurement "remains essential for the industry" and said he has received reassurance from customers and key suppliers in the last two months for Flylogix to continue to "step forward and make this happen".
Flylogix had 40 employees before a "resizing" in October saw it drop to 22 as plans for international expansion and a shift into other sectors like offshore wind were dropped.
The remaining business now has nine jobs saved through the pre-pack deal.
Debt to creditors BP, Amati and others
Administrators Moorfields, said that with the £250,000 outflow per month, the business was expected to become cashflow insolvent by August "or possibly sooner".
The administrator's report cites around £3m in debt each, including interest, to main creditors BP and Amati.
Other smaller sums are owed to oil and gas operators including Equinor and Repsol Sinopec, who are out of pocket tens of thousands of pounds over pre-paid contract fees – £63,000 and £29,000 respectively – plus another £89K for BP.
Some £1.6m has been recovered from Flylogix' bank account by administrators.
Smaller amounts are owed to a series of other parties including Shetland Islands Council and SeekOps.
BP said it is no longer a shareholder so is unable to comment further, while Amati declined to comment.
Andy Pear, partner at Moorfields, said:"The business and assets of Flylogix Limited were sold following an extensive sales and marketing process conducted both pre and post administration.
"The sale enabled Moorfields to protect the value of existing contracts as well as the jobs of a proportion of the workforce, whilst securing the assets on behalf of creditors in order to make a distribution. "
Crashed IPO plans and attempted sale
Flylogix earned its wings quickly in the industry, carrying out the "world's longest" commercial drone flight in the UK, and partnered with SeekOps to use tech designed for the NASA Mars Curiosity Rover to monitor methane emissions from offshore oil and gas platforms.
After successful work with BP in the West of Shetland, the oil giant's "ventures" arm invested nearly £3m last year, which had been hoped to be used to fund an initial public offering (IPO) to the market alongside Amati's previous investment.
However, the administrators said, after Flylogix' fundraise, "the market for IPOs became significantly more challenged as it appeared the UK was about to enter into a recession" and the IPO was "no longer feasible".
Flylogix had been planning to expand internationally and into areas like offshore wind, but when that wasn't possible, it resized the business in October.
That, in turn, prompted a CAA inquiry into whether the reduction of workforce had impacted safety, with a temporary licence suspension lasting two months.
Although the licence was restored in December (but suspended again later), Flylogix' limited weather window for flight in winter meant the first job back wasn't taken until January 28, 2023.
Administrators cite this as having "further increased the backlog of flights and the pathway to consistent revenues" and contributing to the £250K per month cash outflow.
A process was then attempted for an accelerated sale of the business, marketed to firms "that invested in 'distressed' companies or known to have an interest in the aviation/ UAV sector", but this failed, and the directors decided at the end of February to place Flylogix into administration.
Mr Tavner said while the move from the CAA "undoubtedly" didn't help the situation, the regulator "quite rightly just wanted to make sure everyone had everything in place they need to" in terms of safety measures after the restructuring.
A suspension was reintroduced by the CAA in February of this year after Flylogix operated outside of its approval stipulations, after which it entered administration.
A CAA spokesperson said: "While we do not comment on the finances of individual companies, authorisations may be suspended if safety is compromised and in this case shortfalls were accepted.
"Our regulatory oversight is based on a learning just culture approach with safety our top priority for all authorised operators, while it being important qualified personnel are in key safety roles."
The right pilots?
Alongside his management team, Mr Tavner now has the task ahead of rebuilding.
Asked whether they are the right people for the job, he said they will bring in new talent to support certain areas such as operational scale-up.
However he added that the team "has learned a lot of valuable lessons" and noted that no other companies are working in this space.
"The thing that's probably different about this situation is it's not like well-established industries where you where you can go and substitute in someone else who's done it and say with confidence 'well, that person has seen all of these problems and has demonstrated their ability to deliver in that space'. We're in a space where no one's ever done this before.
"No one else flies long range unmanned aircraft around the helicopters and things like that and so we feel that the management team has learned a lot of lessons, that they are open minded and willing and keen to apply them and will bring in specific expertise where it's needed."
The more modest pace that's planned, focused specifically on the UK, aligning more closely to timelines for customers seeking methane monitoring is hoped to deliver a different outcome.
Mr Tavner said he is "acutely conscious" of the effort the team, and other stakeholders, have put into Flylogix over the last eight years.
He said it is "very fortunate" that management has been able to buy out the business and "save that valuable work" from being lost.
Mr Tavner also hopes the commitment management is showing will help bring investors going forward, despite this episode.
"Certainly, for some investors that will be a that will be a negative factor, but equally, over the years I've worked with lots of investors where we've had successes. And you know, technology investors are pretty thoughtful about the fact it's tough space and stuff goes wrong.
"I think – I hope – what people see is that we believe in what we're doing, that we've invested a significant amount of our own money in order to save all of that valuable work that everyone around us has put in.
"I think for some investors that will be that will be a huge sign of commitment and then it's about just clearly explaining to them the challenge is how we've dealt with them and how we address them going forward."