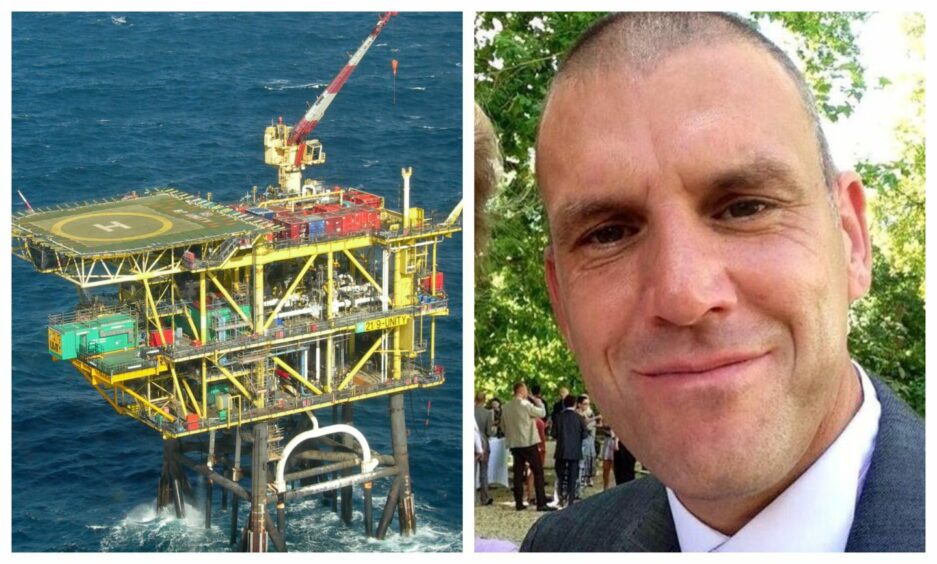 An Aberdeen trial has heard how a man who fell to his death through an open hole on deck only had one hour left of his shift.
BP is on trial following the incident involving Sean Anderson, who was working on its Unity rig, an unmanned pumping station in the Forties Filed about 110 miles north-east of Aberdeen.
Aberdeen's sheriff court heard how the 43-year-old multi-skilled scaffolder fell about 72ft (22m) through an open hole on the rig's deck into the water below at around 4am on September 4, 2014.
The court heard that Mr Anderson had suffered "serious head injuries" and was found lying face down in the water.
Painter Tony Omar, 61, had been working alongside Mr Anderson just before he fell and said they were due to be picked just an hour later.
He told the court that it had been "pitch black" and that scheduled painting work had been stopped due to bad weather – the night shift had started at 6pm.
"It was our last day on the rig", Mr Omar said. "We had gone for a break at 3am and we were all in the tea shack. We were getting picked up at 5am, so we weren't going to do any more work."
Fiscal depute Kristina Kelly asked Mr Omar if he had been privy to a conversation between the Offshore Installation Manager (OIM) and Sean Anderson wherein "cleaning up" had been discussed. He replied: "I wasn't. He [the OIM] wasn't in the tea shack. He had spoken to Sean about it. We were to take the [polythene] sheeting off the steel."
He explained to the court that he had returned to the lower deck of the rig with Mr Anderson and they started the tidying up. He said: "Sean would remove the sheeting and I would place it into a black bag", adding: "It wasn't a hard job to do."
Mr Omar told the court repeatedly that he remembered it being "pitch black" and he was shown a photograph of the hole in the grating through which Mr Anderson had fallen; one taken the day after the incident.
"We wouldn't have been there if we had known there was an open grating – normally when it comes to open gratings you get a handover note from the day shift and you go nowhere near there.
"It would not have happened if we had got a hand over note – I would have said I'm not working there."
'Foggy and dark' conditions
Mr Omar described the moment when he realised Mr Anderson had gone overboard, and said: "I heard Sean's hard hat hitting something – I heard a bang, bang, bang – definitely three or four bangs. I knew instantly something had happened and I shouted to the OIM that there was a man overboard."
The following day, Mr Omar was shown a photo of the area – now in daylight – clearly picturing the open grating. He recalled decrying: "Here; the gratings were open – we shouldn't have been there – you've killed a guy."
Ms Kelly told the jury that Mr Anderson had been working night shifts during his stint on the Unity and had been part of a maintenance team contracted by Cape Industrial services who were carrying out scaffolding and rope access work.
The court was told the conditions that night had been foggy and dark and Mr Anderson had not been found wearing a life jacket, harness or survival suit. She said he had been unconscious and was not breathing when pulled from the water.
A rescue craft from the neighbouring accommodation vessel Olympic Orion took him back aboard, but no pulse could be found. He was seen by the ship's medic, June Harper, who carried out resuscitation attempts until a paramedic arrived by helicopter at 0545. The paramedic pronounced him dead shortly after before 6am and Mr Anderson's body was transferred by helicopter to Aberdeen.
A post mortem later showed the cause of death was serious injuries to his head and chest sustained as a result of a "descent into the sea" from the oil installation. It was recorded that he had suffered very severe and "predictably immediately" fatal head injuries, with extensive fracturing of the skull.
Toxicology results showed no signs of alcohol or drugs – and no signs of natural diseases that would have resulted in his death.
BP denies breach of Health and Safety at Work Act
Defence counsel Murdo Macleod KC said BP denies being in breach of the Health and Safety at Work Act.
David Mountford, 53, a mechanical technician for AMEC, told the court the Unity platform was now operated by INEOS, since they took over in 2017.
Depute fiscal Kristina Kelly asked if there had been a change in procedures since INEOS had taken control and he said that any open gratings would be "reported immediately" to the OIM on the rig, adding: "Gratings should not be left open now – it should be covered. Replacement of gratings should be considered on a case by case basis following a risk assessment."
Gary Jordan, a 53-year-old electrician also told the court that he had been working the night Mr Anderson had died and described the conditions as being "pretty poor" and "murky and damp", adding: "It was a night I definitely would want to stay inside."
He said the scaffolding team led by Mr Anderson had not been working that night due to the adverse conditions.
The jury was shown a walk-through video of the Unity Platform, taken by police officers the day after Mr Anderson's death. The uncovered grating could be seen and a gap in the netting underneath was also visible giving a clear view of the sea below.
Mr Jordan told the court how Mr Anderson's team were completing a "black bag" tidy up of the lower deck area. He had been alerted the incident by the OIM and was told "Sean's in the water".
The trial which is being heard by Sheriff Graham Buchanan, is scheduled to last for about 10 days.
Recommended for you

Offshore worker uploaded intimate images of friend's wife to porn site