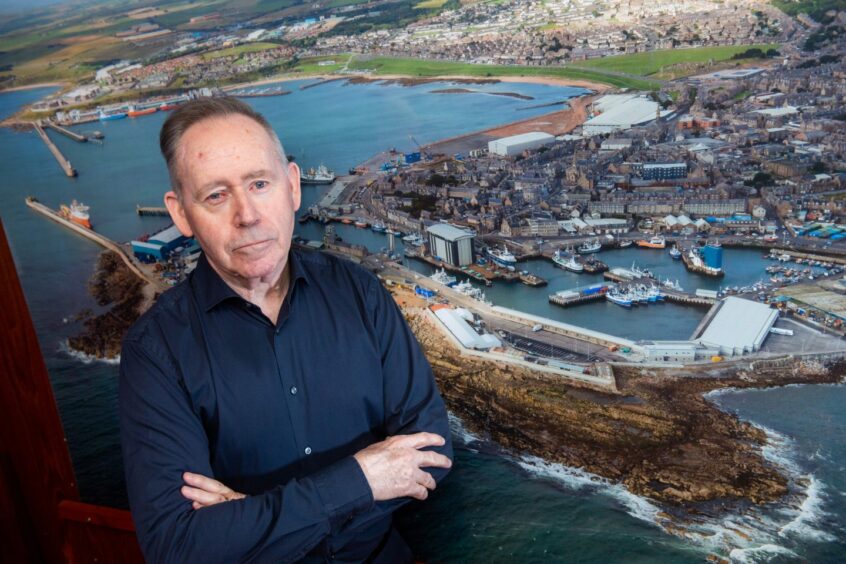 Peterhead Port Authority (PPA) is today announcing a sudden exit by Simon Brebner after more than five years as its chief executive.
Mr Brebner has stepped down for family reasons, The Press and Journal has  learned.
His stint at the helm of Europe's busiest white-fish port coincided with one of the most event-filled spells in its history.
He became CEO in  June 2018, just in time to oversee completion of the 400-year-old-plus harbour's £51 million redevelopment.
And he was on hand to show the future king around its modern new fish market at the official opening by Prince Charles, Duke of Rothesay, as he was then, in September 2018.
Simon Brebner's time as CEO covered Covid, Acorn and the north-east's bid for green freeport status
Brexit and then Covid brought major challenges. Britain's departure from the EU delivered log-jams in the seafood supply chain, while part of the Scottish fishing fleet was tied up in port for long spells as pandemic lockdowns crippled end markets.
Mr Brebner was a key figure in establishing the port as a key player in plans for Acorn, the carbon capture and storage project at St Fergus, near Peterhead.
Earlier this year he called on the Chancellor to pick up the pace after numerous delays to funding for the cluster.
The harbour was also at the heart of the ultimately unsuccessful bid for north-east green freeport status.
In a statement announcing his exit, Mr Brebner said: "I would like to place on record my sense of pride with what we have accomplished over the last five years. The port is well-positioned to attract new business and sustain the stakeholderbase, while continuing to maintain the many highly regarded national standards of accreditation gained during my time".
PPA convenor Gavin Thain said, "The port has faced some fairly challenging conditions
over the period of Mr Brebner's tenure and we are grateful for his leadership during those times. On behalf of the board and myself, we wish him every success in the future."
PPA chief financial officer Stephen Paterson assumes the role of acting chief executive "in the interim period and immediate future", the statement said.
Mr Paterson has been with PPA for more than 30 years and is experienced in all areas of port management.
Mr Thain continued: "The port has a very bright and positive set of opportunities ahead with particular regard to energy transition, which includes renewable energy, decommissioning, carbon capture, and hydrogen export.
"Significantly, the Acorn project has recently received UK Government support and this, in tandem with our traditional stakeholder priorities of fishing and ship repair, all demand our fullest attention.
"I am confident we have the right team, skill sets, and dedicated workforce in place to more than deliver on our obligations, goals and aspirations."
Scottish Ports Group role
Mr Brebner, who hails from South Africa, was elected vice-chairman of the Scottish Ports Group in 2020.
The commercial shipping veteran has held senior roles at multiple ports around the world. He moved from Lytham St Annes, Lancashire, to take up the reins at Peterhead Port following the departure of Ian Laidlaw more than six months earlier – in 2018.
Recommended for you

Port of Cromarty Firth boss Bob Buskie to retire