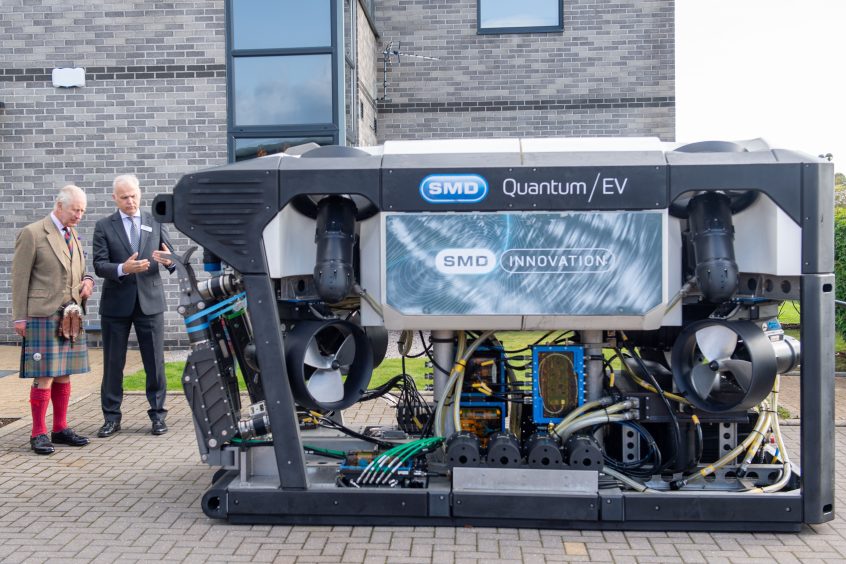 Aspiring engineers from Mintlaw Academy have been given the rare opportunity to show one of their projects to King Charles during a visit to Aberdeenshire.
The youngsters were invited along to the Global Underwater Hub (GUH) in Westhill which was showcasing its work across the underwater industry to the monarch.
GUH has supported the school through its STEM educational outreach programme for the past 10 years with the aim of inspiring young people to pursue a career in the underwater sectors.
Through this partnership, the dedicated pupils have created their own company, developed a website and designed and built their own remotely operated underwater vehicle (ROV) with help from mentor and deputy head, Ali Hynd.
Inspiring the next generation
On Friday, they confidently demonstrated to the King how their ROV works while he asked questions about their future goals and after-school plans.
Mr Hynd said: "The King had a genuine interest in the STEM industries, and in STEM in schools and how we can better forge that link with industry and organisations like GUH.
"The ROV project is designed to help foster young people to meet their aspirational goals and careers and give them the skills needed to go into the field of engineering.
"GUH has been a long-term supporter and it's great for the King to recognise the work the pupils have done and continue to do. This is huge for them."
Fifth year pupils Liam Godsman, 15, and Shaun Cruickshank, 16, both hold crucial roles in the Mintlaw ROV Team and are planning to pursue careers in engineering.
Liam said: "It was a really great experience to meet someone of such magnitude. Engineering is my passion so to be able to share that is something I was very grateful to do.
"He seemed really interested and I'm glad to see that the people at the top of our country are interested in ensuring STEM is being pushed through to the new age.
Shaun added: "It was good, he asked personal questions as well about what we wanted to do when we left school. He cared about our education. It was also our first time meeting royalty, so it was a big day."
King Charles visits GUH
The King, wearing his new King Charles III tartan, was welcomed to the Westhill offices to the sound of bagpipes and a few neighbouring colleagues trying to catch a glimpse of his arrival over the fence.
He was greeted by the Lord Lieutenant of Aberdeenshire Sandy Manson and GUH's chief executive Neil Gordon who gave him a tour of the facilities.
Before heading indoors, he was able to inspect the latest technology "all-electric" work-class submersible ROV, which was built and developed in Newcastle by GUH member company, Soil Machine Dynamics.
King Charles met representatives from member companies, including 3D underwater scanning business Viewport3 Limited and JFD Defense Diving.
He took the time to discuss each company's work and ask questions, being handed a cup of tea and gifted a book on his way round the room.
The King takes control
The King himself got some hand-on experience with an underwater robot which is used to inspect subsea cables and pipelines.
The Autonomous Surface Vessel, operated by Fugro, is completely unmanned and currently part of an offshore operation off the coast of Amsterdam.
The vessel is controlled via technology in Aberdeen which the King jumped at the chance to try out for himself, briefly taking control of the computer mouse to operate it from hundreds of miles away.
William Pearson, from Fugro, said: "We demonstrated how the system works and showed him the real-time systems and our cameras.
"He got a chance to steer it and operate it, and then we showed him a video clip of a ROV and how we carry out an underwater survey.
"He seemed pleased with it all."
'Thoroughly engaged'
At the end of his visit, King Charles unveiled a commemorative plaque and made a light-hearted joke about making sure the spelling was all correct.
He said he was grateful to everyone for coming out and sharing their knowledge on the "fascinating" underwater industries which was met by applause from all in attendance.
Mr Gordon, chief executive of GUH, said: "For us as an organsiation, and our industry, it's absolutely fantastic for the King to come in and meet some of the most interesting people from across the blue economy. He was thoroughly engaged in all the conversations.
"We chose companies that could demonstrate how unique the UK, particularly Aberdeen and Aberdeenshire, is as a centre of excellence.
"The underwater sector is at the heart of supporting the energy transition and it was evident today he was quite impressed by how diverse and inclusive we are of all the sectors.
"It all sparked an interest, but one of the key things he took away from here today was the Mintlaw ROV Team because he's got a real passion for the younger generations."
Recommended for you

King's Speech outlines 'record levels' of renewables investment