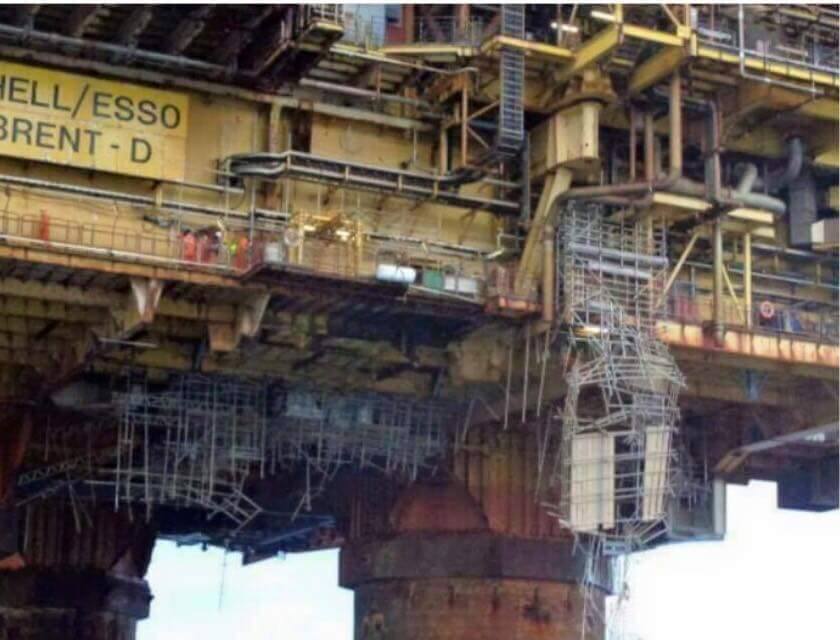 Scaffolding was left precariously dangling from Shell's Brent Delta after storm weather battered the platform.
The Delta platform is part of the North Sea operator's four-jewel, Brent-field crown.
It's 300m high – double the height of the London Eye and equal to the height of the Eiffel Tower.
A Shell spokesperson said: "Shell can confirm that as a result of the recent bad weather scaffolding on the Brent Delta platform has become displaced.
"Following an assessment of the situation, including liaising with DECC, we have concluded that the safest method of recovery will be a controlled drop onto the seabed. Once on the seabed it will be recovered by an ROV that is currently on the platform. The scaffolding is not in the vicinity of any pipelines on the seabed.
"It is anticipated that there will be an appropriate weather window to complete the operation this week."
The Brent field, which started production in 1976, consists of four large platforms – Alpha, Bravo, Charlie and Delta.
At its peak in 1982, the Brent field was producing 504,000 boepd – enough to power half of the UK's homes.
The field has since been earmarked for decommissioning.
Brent Delta is the latest in a string of assets affected by harsh storm condition.
Most recently production was shutdown after storm weather damaged the Petrojarl Banff FPSO's anchor lines.