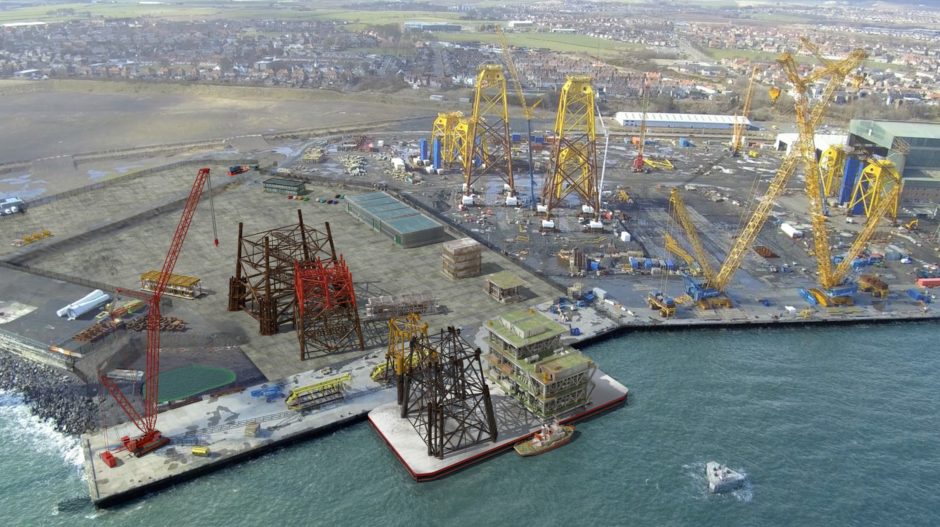 Construction is expected to start next month on a multi-million pound project to prepare a yard in Fife for handling North Sea decommissioning jobs.
Decommissioning firm CessCon Decom said it was developing one of the UK's most "advanced" scrapping facilities at Energy Park Fife (EPF) in Methil.
The quayside will be extended and equipped with a strengthened concrete laydown and dismantling area boasting water collection and treatment facilities.
CessCon Decom bosses expect a quick turnaround on the project.
The base could be ready to welcome large topsides, jackets and subsea infrastructure from the second quarter of 2020.
CessCon chief executive Lee Hanlon said the facility would create employment opportunities in Fife, with each project expected to generate 30-50 positions.
The company first signaled its intent a year ago, when it announced the signing of a head of terms pact with Scottish Enterprise and Fife Council for the project.
The two organisations have supported CessCon Decom with the planning, development and licensing of the facility, according to Mr Hanlon.
Scottish Enterprise yesterday confirmed it was working with CessCon Decom, but had not provided funding.
CessCon Decom is a subsidiary of CessCon Ltd, registered in Scotland and owned by Mr Hanlon and project and operations director Frank Braaten.
Both men used to work for Norwegian firm AF Gruppen's decommissioning business before launching CessCon Decom, which has a base at Hunterston Parc in Ayrshire.
Mr Hanlon said EPF's location was ideal for scrapping oilfield infrastructure which will soon come ashore from central North Sea (CNS).
Industry body Oil and Gas UK estimates that 48% of decommissioning spend will be focused on the CNS over the next decade.
Mr Hanlon wants to create a "true circular economy" by dismantling and recycling assets in Fife, where a number of oil rigs were built decades ago.
The Alwyn platforms and Beatrice Bravo installation are among those built in Methil.
A spokesman for Fife Council expressed hope that the project would provide a "timely and significant economic boost for the regeneration of Methil, Levenmouth and the wider Mid-Fife area."
Recommended for you

UK winning majority of onshore decommissioning work, figures reveal