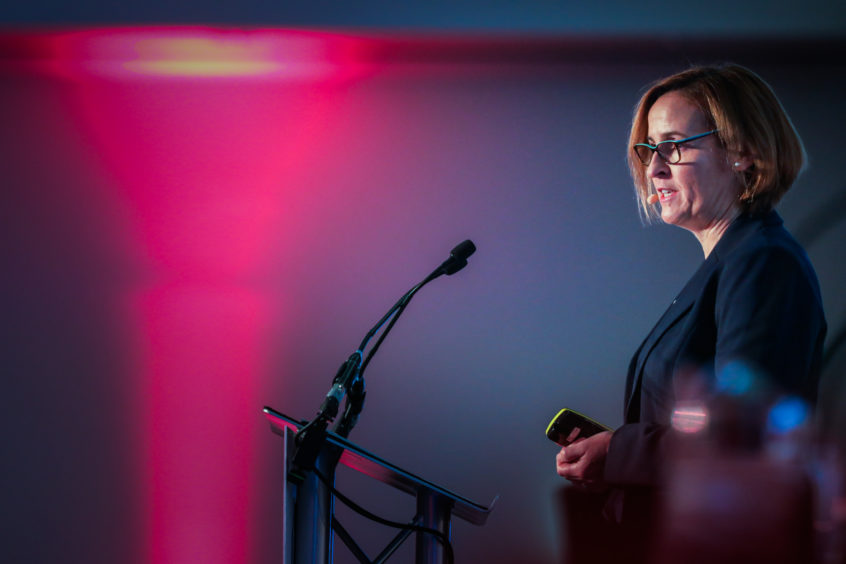 A UK Government official said yesterday that 2019 was a "year of scrutiny" for the offshore oil and gas decommissioning industry – and it was not a "one-off".
Pauline Innes, decommissioning director at the Offshore Petroleum Regulator for Environment and Decommissioning (Opred), said more people were paying attention to the sector's financial and environmental footprint.
Ms Innes also told delegates at the Oil and Gas UK-Decom North Sea Offshore Decommissioning Conference in St Andrews that 2019 was a "bumper year" for oilfield dismantling project approvals by Opred, which is part of the Department for Business, Energy and Industry Strategy.
And she said this year marked the start of "serious" discussions about reusing and repurposing oil and gas infrastructure.
Ms Innes said talks had taken place about using oil rig "jackets" on fish farms and platform accommodation units for offshore wind farm construction projects.
She said the debate around Shell's plans to leave the huge Brent platform legs in the North Sea was a "litmus test" gauging "wider societal opinion".
The government plans to issue a permit allowing Shell to leave the legs in-situ but has met opposition from Germany, which is concerned about the contents of the structures' storage cells.
Discussions with Germany and other parties are ongoing, Ms Innes said, adding: "The decisions we make in the UK are being scrutinised beyond our borders and that will continue."
Ms Innes also referenced a recent report from the National Audit Office (NAO), which estimated that dismantling the UK's offshore oil and gas infrastructure would cost taxpayers £24 billion.
Oil and gas companies can claw back some of the tax paid on profits from hydrocarbon production to offset decommissioning costs.
The report also warned the bill could be bigger as the government is liable for decommissioning costs if operators run out of cash.
Ms Innes said the study showed NAO, which scrutinises public spending for parliament, was "aware" oilfield dismantling had a "significant impact on the taxpayer".
The report is also a "marker" signalling that NAO "will be back" to look at the work being carried out in the decommissioning market, she added.
Recent industry efforts to lower decommissioning costs have cut the amount of tax relief companies are expected to receive to £16.8bn.
Ms Innes said Opred was wielding its powers to protect taxpayers in the event of company failures.
Opred "engages" with industry to make sure companies – particularly newer ones – who are looking to buy oilfields have strong enough finances to take care of decommissioning when the time comes.
Under the Decommissioning Security Agreements system, companies can to be required to deposit cash or another type of security, such as a letter of credit, into a trust.
If a company folds before carrying out its decommissioning obligations, the money can be used to cover its share.
Ms Innes said £844 million-worth of financial security for the taxpayer had been amassed.
But with the latest Oil and Gas Authority forecasts suggesting UK oil and gas decommissioning costs will hit £50bn, Ms Innes acknowledged the government had "only a small proportion of security".
She said no operator liked having cash "tied up in decommissioning security" and that conversations on that topic were "not easy".
"We welcome new entrants to the North Sea but we have to review transactions to make sure the taxpayer is not exposed in an unacceptable way," she said adding: "2019 was a year of scrutiny. It could be dismissed as a one-off, but that would be a mistake."
Opred has approved 23 decommissioning projects so far this year. A further eight are at an advanced stage and could be given the go ahead before the end of 2019.
In recent years, an average of 10 projects per annum were approved.
Ms Innes said many of this year's approved projects were smaller projects by companies keen to make a head start and prepare for bigger removal jobs.
The decommissioning of offshore oil and gas installations and pipelines in the UK North Sea is controlled through the Petroleum Act 1998.
Responsibility for making sure the requirements of the Petroleum Act 1998 are fully complied with rests with Opred, whose near 100-strong team is mostly based in Aberdeen.
Recommended for you

BP paid tax to UK on North Sea business for first time in years