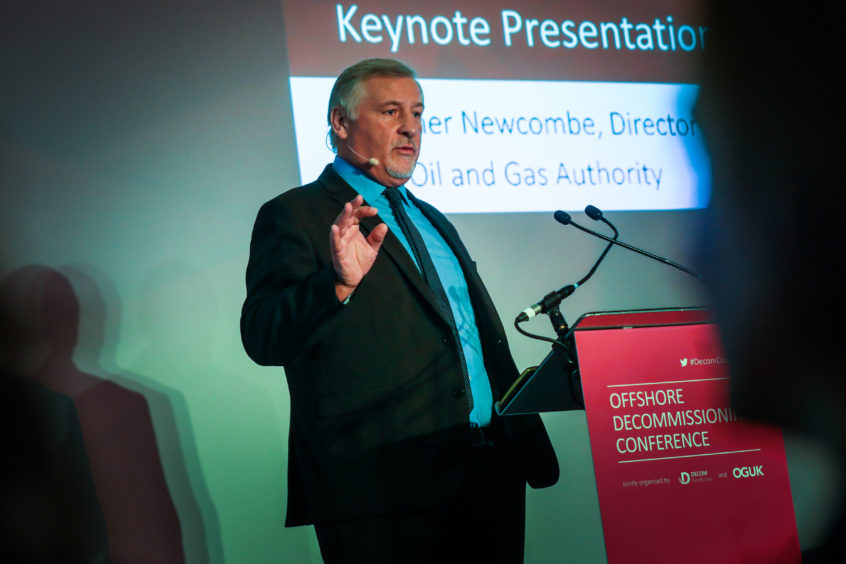 The UK oil and gas industry must get more "radical" and "strategic" if it wants to make big decommissioning cost savings, an industry expert said.
Gunther Newcombe, operations director at the Oil and Gas Authority (OGA), said companies had to work together to figure out how to decommission "at scale".
Mr Newcombe said "early-stage" discussions had taken place between the OGA and operators with oilfields east of Shetland about developing a "joined-up" approach to decommissioning.
Operators with assets in the area include CNR, Total, Taqa and EnQuest.
Speaking at the Offshore Decommissioning Conference in St Andrews, Mr Newcombe said: "Why can't we have one operator or supply chain group just decommission a whole basin or region? Let's get after it. We can do these things."
He stressed the talks were on a "conceptual level" at this stage, but that the OGA wanted to "test the boundaries".
Mr Newcombe also said a lot of decommissioning work was on the horizon on the UK continental shelf.
More than 200 wells exploration and appraisal wells are currently suspended and have an average age of 24 years. They will need to be fully plugged and abandoned.
Cessation of production (CoP) applications for 70 oilfields are expected to be submitted in the next five years, he said, adding that as much infrastructure as possible had to be repurposed and reused.
The OGA has worked with the UK department for Business, Energy and Industrial Strategy, the Crown Estate and Ofgem, the electricity and gas market watchdog, to develop a "technical report" on the integration of oil and gas and green energy infrastructure.
Mr Newcombe said energy integration was "quite complicated" and that the report would look to tackle some of the "stickiness" preventing or slowing down progress.
The report will be released after the UK general election.
Mr Newcombe urged companies to be more open and share data to help lower costs and improve efficiency.
He said: "Great stuff is happening, but we need more of it. Can we please share information more? Why are we keeping our cards close to our chests?"
Mr Newcombe also warned that many companies did not understand "what's down" their wells because not enough "surveillance" had been carried out.
Mr Gunther said well decommissioning could really "bite" companies "on the ass" financially if they "get it wrong". Almost half of decommissioning expenditure is devoted to wells.
And Mr Newcombe, who will step down from his role early next year, revealed that he would be replaced by Scott Robertson, central North Sea area manager at the OGA.