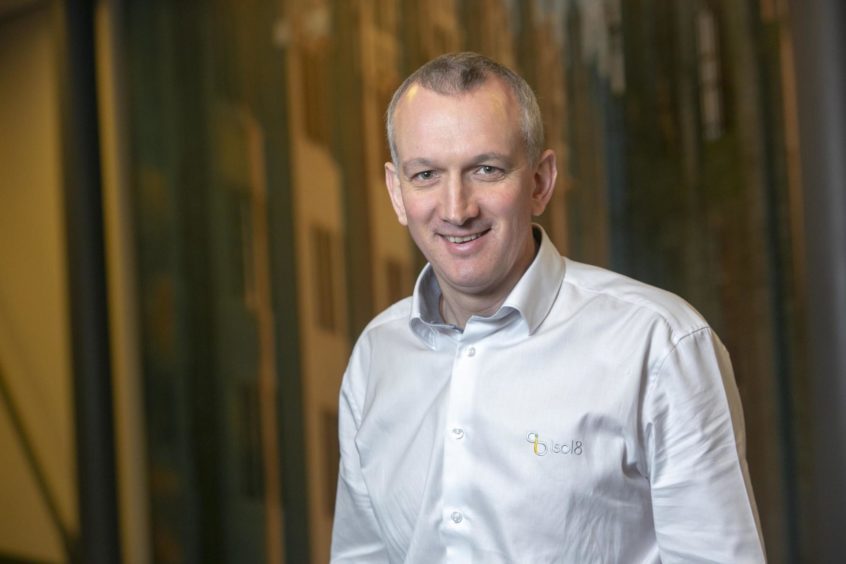 An Aberdeen start-up firm's technology for slashing oil well decommissioning costs has passed its first North Sea trial with flying colours.
Isol8's Fusion alloy-based well plug was put through its paces on the Fulmar field, located in the central North Sea and operated by Repsol Sinopec Resources UK (RSRUK).
Bosses at isol8, incorporated in 2017, claim the tool could wipe billions of pounds off the decommissioning bill for the UK continental shelf (UKCS).
They forecast that Fusion will generate revenues of £25 million for isol8 over the next three to four years.
Management now intend to launch a round of investment to help grow the business, which has 10 employees.
Isol8 is led by founder, chief executive and majority shareholder Andrew Louden, whose former employers include Marathon Oil, Schlumberger and Interwell.
Progressing Fusion from a "blank piece of paper" to its first successful deployment took just under two years and more than £2m of investment to achieve, Mr Louden said.
Funding came from the Scottish Government's decommissioning challenging fund (DCF), RSRUK and the OGTC, an Aberdeen-based innovation centre backed with City Region Deal cash.
The Oil and Gas Authority, the industry's regulator, predicts total expenditure of £48 billion will be required to decommission UKCS oil and gas infrastructure.
Well plugging and abandonment is the most expensive part of the decommissioning cycle, comprising about 45%, or £21.6bn, of the overall bill.
Myrtle Dawes, solution centre director at the OGTC, said recently that Fusion brought the UK oil and gas industry "one enormous step closer" to its "50% saving prize for well P&A costs".
OGTC previously estimated that Fusion could save the sector £1.1bn over the next decade alone, though Mr Louden believes that figure could be conservative.
Current best practice is expensive and labour intensive, requiring a drilling rig to remove downhole tubing before multiple cement plugs can be put in place, sealing the well.
Fusion can be deployed without a rig and does not require the removal of well completion piping.
The tool is lowered on a wire into the well and activated, at which point a specially prepared thermite generates heat, melting an alloy which then solidifies to create a "metallurgical bond" with the surrounding well tubing.
Mr Louden likened the process to "sub-aquatic soldering" and said the alloy formed a more reliable barrier and is less carbon intensive than cement.
On the successful trial, Mr Louden said: "Our vision is to set a new global standard in zero emission wellbore barriers.
"Reaching this exciting milestone is a major step towards achieving that goal.
"It has been a fantastic team effort to deliver this result, from desktop to deployment in only 20 months.
"We are very grateful for the support we received from RSRUK, the OGTC and Scottish Government, who helped to make this success possible."
Industry body Oil and Gas UK said in its 2019 Decommissioning Insight report that RSRUK had the largest decommissioning portfolio in the UKCS.
According to the OGA's 2018 Wells Insight report, the company has 11% of the North Sea's development well stock.
A spokeswoman for RSRUK said: "Developing new ways of addressing legacy challenges through innovative and new technology is a key focus for us.
"We are delighted to have been part of the successful launch of isol8's new barrier technology, having deployed the new Fusion Plug technology on our Fulmar asset.
"We look forward to continuing our work with industry and government as this and other technologies are further developed and brought to market."
OGTC chief executive Colette Cohen said: "The Fusion field trial is a critical milestone in isol8's journey and it's a great piece of positive news during these challenging times.
"At the OGTC we recognise that it took a lot of perseverance and commitment for isol8 to get to this point.
"We are delighted to have been part of their journey and I would like to congratulate the isol8 team.
"I have been greatly encouraged by the broad industry engagement and interest in their innovative barrier technology that has wide applicability in the UK and beyond."
Scottish Energy Minister Paul Wheelhouse said: "It is welcome news that a Scottish start-up, supported by our DCF, has successfully deployed a new abandonment technique that could substantially reduce well P&A costs.
"It is a testament to the hard work and determination of the team at isol8 that they have reached this key milestone and I am delighted to celebrate their success along with the OGTC and RSRUK."
Recommended for you

Aberdeen oilfield tech firm adds sector expert