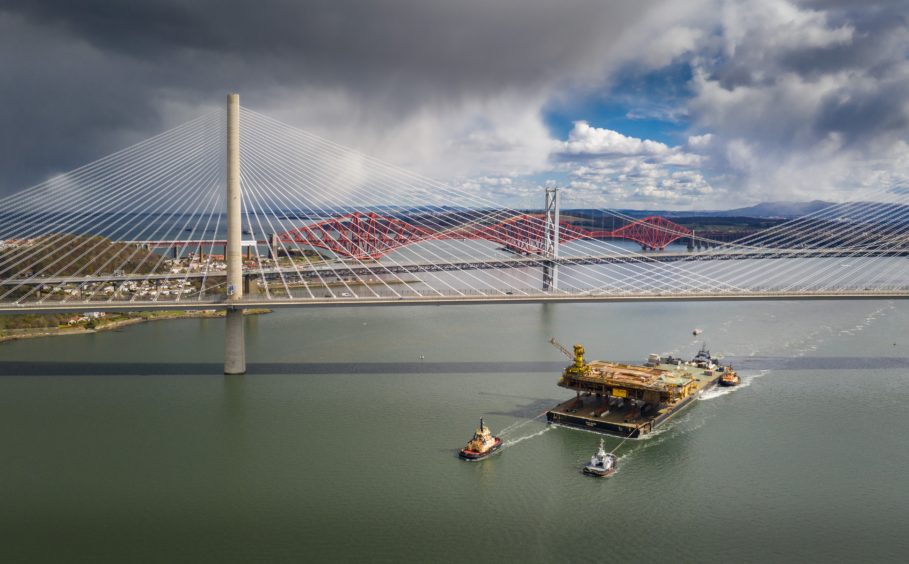 A gas platform is scheduled to make the short trip from one Fife port to another ahead of its dismantling this week.
Forth Ports has said the Iron Lady barge — carrying Spirit Energy's DP4 gas platform — would be towed to Methil from Rosyth on Thursday morning, weather permitting.
DP4 was initially transported to the Firth of Forth from the East Irish Sea aboard Allseas' huge Pioneering Spirit vessel.
Once in the Forth Estuary, it was transferred onto Iron Lady and berthed at Rosyth on April 11.
It was expected to remain there for about six weeks before moving to Energy Park Fife (EPF) in Methil, for its dismantling by Scottish firm CessCon Decom.
Spirit announced in January that CessCon had won the contract for scrapping DP4 and its sister platform DP3 at EPF.
Allseas said in April that the decision to berth Iron Lady and DP4 in Rosyth, rather than take them directly to Methil, was based on "other project commitments and operational efficiencies".
Documents on Marine Scotland's website show the licence for dredging at EPF was granted on April 9.
A spokesman for Spirit said on Friday that all dredging work had been completed and verified.
The company previously described the stop-off in Rosyth as part of a "planned sequence of operations".
It said DP3 would arrive at EPF in June, at which point both platforms would be loaded onto the quay during a "single operational window".
Spirit explained that the load-in required self-propelled mechanical trailers (SPMTs) being hired and mobilised from the Netherlands.
Undertaking the load-ins back-to-back would cut down the length of time these SPMTs would need to be on-hire.
Rosyth was considered a sensible location for the temporary mooring as it is further inshore and less "exposed" to environmental conditions than Methil.
Recommended for you

Pioneering Spirit completes single-lift platform removal in East Irish Sea