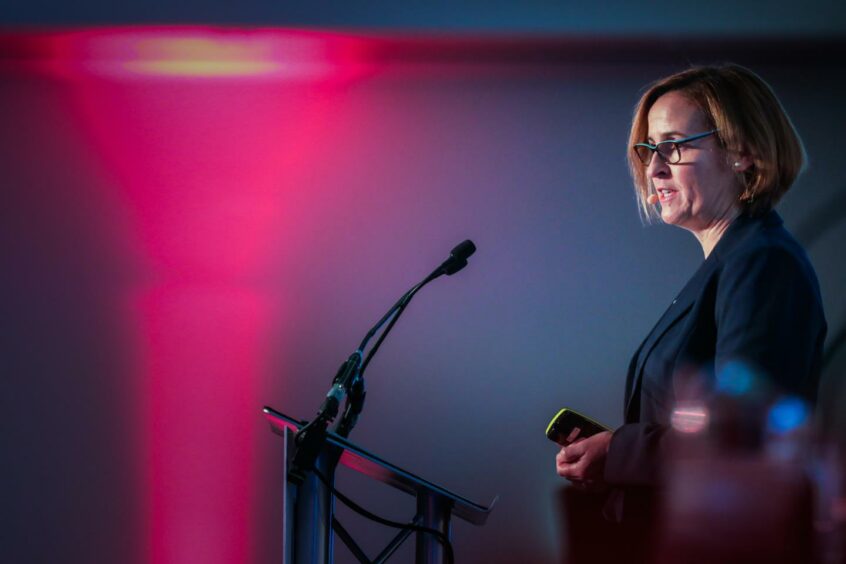 Pressure is mounting on UK Continental Shelf operators to clear away dead wells from the North Sea.
However, whilst the Oil & Gas Authority wants the oil & gas companies to get on with it and for some at least to stop dragging their heels, the regulator is also keen to see decommissioning run as a steady business and for it not to be subject to the industry's cycles, which is the reality so far.
It is clear from listening to the OGA's head of decommissioning Pauline Innes that, despite abandonment having been a feature of the North Sea for the past three decades or so, the industry really will have to pull its socks up and do a lot better than it has done so far.
And if it doesn't, then the OGA is in principle prepared to apply sanctions … even fines for non-compliance. It is Innes' hope that this won't be necessary.
But while she feels it is important that decommissioning is driven at pace, Pauline Innes also admits that no-one could have anticipated the impacts of Covid 19 on the North Sea with still no obvious let-up in sight.
Let's pick through some numbers to provide context in terms of the scale of the task, bearing in mind that 43% of overall decom expenditure is accounted for by wells.
There are around 750 dead wells on the UKCS today and the OGA expects a further 750 or so to become inactive and available for decommissioning, resulting in about 1,500 inactive suspended wells by 2026 if no final plugging and abandonment work takes place.
Whether after COP 26 and the inevitable reassessment of the global climate emergency will lead to an acceleration of the North Sea wind-down, no-one at this point knows. If it does then the decom burden may grow significantly in a very short time.
Good progress remains haunted by the ghosts of North Sea past in the shape of around 180 suspended open water E&A wells, thought Innes says it has been working the problem and getting operators to come up with decom plans for all legacy E&A wells and that this remains a high priority for the regulator.
Until Covid struck, well decom was running at an apparently high level with 130 and 132 wells decommissioned in 2018 and 2019 respectively. But only 84 wells were decommissioned last year.
The estimate for the current year is 200 which, if correct, will mark a strong bounce-back.
However, the outlook is for around 180 wells per annum by the middle of the decade.
·      The primary risks remain as they have long been:
·      Operator commercial misalignment/lack of collaboration
·      Poor execution performance
·      Delayed activity planning
·      Lack of real-time visibility of decommissioning during execution • Insufficient decommissioning skills or resources
·      Oil sector cost inflation
Perhaps it is time to add three more bearing in mind COP 26 and covid-19:
·      The climate crisis
·      Pandemics
·      Political risk
Having trotted out enough numbers to provide some sort of a where are we fix, is the OGA satisfied with where decommissioning is today?
Innes's reply is cautious: "I would say we are seeing progress in the Basin (UKCS). There are multiple operators actually delivering decommissioning now.  I see them getting the messages around the need to plan early and thoroughly in order to maximise efficiency in delivering cost-effective decommissioning.
"But, there are operators who haven't properly grasped the issue. The result is that one can get to a situation where a field reaches cessation of production and the operator is insufficiently prepared."
Covid notwithstanding, there's a job to be done out there on the UKCS and Innes and her team are pushing for clear answers and commitments from the operators. No more beating about the bush.
"We've been really active with the operator community this year, to chase them to provide us with their delivery plans and we're making good progress," says Innes.
Not only is the OGA asking for clear commitments, right down to dates for when wells will be decommissioned, the regulator is also demanding each operator's plan for supply chain engagement.
Innes isn't in the mood to allow slippage. She is watching closely and looking for plans that don't just cover the next few months but the coming two to three years, depending on what they have in their respective redundant wells banks.
One of the core aims is not just to instill discipline but also to claw back lost time.
"Of course the Covid pandemic coupled with weak commodity prices last year clearly impacted on decom activity," says Innes.
"What happened is that operators didn't go ahead with some of the activity that they had planned. They then bought into a budget cycle that has had an impact on the current year and it takes time for activity levels to pick back up again.
"We're starting to see some tenders hit the market now and, for example, there have been two recent contract wins by Well-Safe."
Tendering is one thing but contracts are another.
We seem to have this same old issue … loads of tendering but not much awarding going on, and a lot of beating down the price activity by operators bent on getting the cheapest deal. And cheap invariably impacts quality.
Innes: "That is the kind of feedback the supply-chain has been feeding back to the OGA. We recognise that model of frustration within the supply-chain community that you're talking about.
"It is why, in our stewardship expectations (number 10) that we major on fit-for-purpose tendering processes.
"And now that we have stewardship expectations my supply chain colleagues are pursuing that with the operators so that we can hold them to account against measurable expectations.
"In addition to this, another thing I hear from the supply-chain is that they've been frustrated at the constant deferrals.
"And so what we've been doing in the well space is tell the operators that further postponements will not be allowed. It really is a case of, give me a date and we will hold you to it.
"We are holding their feet to the fire on this.
"We're trying to bring certainty into the marketplace by removing ambiguity. I'm telling operators, for their suspended wells, that they have a legal obligation to plug and abandon these by such-and-such a date. I'm not moving dates again.
"This is starting to bring about changes in behaviour and some of the drilling companies are telling me that they're seeing operators coming to them and saying, we have to do the work."
Which is all well and good, but what sanctions does Innes have at her disposal? What happens if an operator looks her in the eye and challenges: 'put me in jail!', sort of thing?
Innes is clear about the tools at her disposal. "We have a measured escalation process that we work through and it starts with stewardship.
"Through the Well Notification Process we issue a date; if an operator does not go with that date we will proceed through an escalation process that could ultimately involve fines."
However, it is generally thought that operators won't want to push things that far because of loss of face and reputational damage, ergo, they acknowledge that they have a social licence to operate.
"I have seen over the course of this year, a shift in attitude from the operating community. They are acknowledging that they need to get on with dealing with suspended wellheads and to do so as a matter of urgency," says Innes.
"The eyes of the world are watching and they know that. If they are seen as being good custodians of the marine environment and they deliver on their commitments and tidy up their hydrocarbons legacies, that will bring them nothing but good.
"I've also been pushing the operators, telling them that they should collaborate wherever possible … build a campaign. I have equally been pushing the supply-chain, warning them that they had better be ready with fit for purpose solutions and proposals and getting commitments from both sides that they will get on with it.
"Everyone sees the value proposition of getting to a position of a long-term stable market that's been built upon acceptable behaviours and trust.
"!t's not to say that there won't be barriers to achieving this, but I'm hearing that there is a real commitment afoot.
"We're working with multiple operators at the moment, exploring opportunities for further campaigning to make sure that they don't then come to me and say this is a barrier; its insurmountable."
What if any role does the OGA play in campaign match-making? After all, there's been decom activity on the UKCS literally for decades and that there's nothing particularly new about what has to be done.
New tech might come into play which has the potential to really change the wells P&A game, like the Allseas vessel Pioneering Spirit has done for production platform removal.
There just doesn't seem to be that sort of game-changing model for wells requiring permanent P&A. Except that, in the fairly early days of large numbers of wells being decommissioned, Helix Well Op ran very successful campaigns using the veteran vessel MSV Seawell, which went through a major refit about seven years to make her even more fit-for-purpose.
Innes: "There's a lot of work being done in this space by the Net Zero Technology Centre (rebranded Oil & Gas Technology Centre) with considerable focus on well decom.  There is definite interest in pursuing new technologies.
"But, for me, there is also a parallel discussion ongoing about the kind of commercial model/s best suited to efficient delivery (in the North Sea). It's the one I'm pursuing at the moment."
A year ago, EV had a robust exchange with Pauline Innes about the fact that decom never had been a smooth process; echoing everything else to do with what is a highly cyclical industry.
But despite that cyclical nature, the UK really does need a stable decom market. Moreover, there would appear to be no excuse for yo-yo spending … £5billion one year, £2billion the next and so-forth.
"That is one of our objectives," adds Innes.
"We need to get to a sustainable position with this particular market. There needs to be a confidence and there are lots of reasons to be confident. I do see things moving in the right direction. Of course there are barriers … issues and challenges that are hard to address … but I think moving to that commercial transformation model really will work.
"In any case, the supply chain have told us that they want greater visibility on projects and, so, over the course of this year, we will be working on this aspect of decommissioning. We already publish information on suspended wells to put more data and transparency into the market.
"Presently, we're working with DaRT (Decommissioning and Repurposing Taskforce) to address industry concerns about lack of certainty and transparency around the timing and scale of decommissioning work. This involves plans to improve data visibility and give the supply chain a clearer picture of upcoming decom projects.
"A number of operators have agreed to pilot by allowing us to present their scheduling information for future decom work and an announcement can be expected this month.
"In addition to that, I will use as much of the regulatory power available to me as I possibly can to help provide certainty where there has previously been ambiguity.
"I really do think we're moving in the right direction. And I'm optimistic about where we are now and the direction of travel."