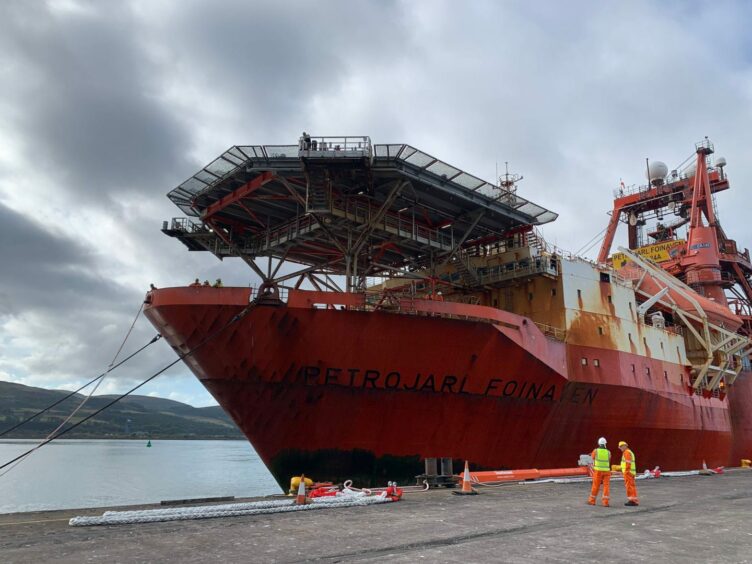 The decommissioning boss at Wood said she "rarely" sees local content requirements for UK projects, despite an impending industry target on the issue.
Under the North Sea Transition Deal (NSTD) signed with the government in 2020, the industry committed to achieving a voluntary 50% local content provision for UK decom projects by 2030.
It comes amid recent frustration on lost contracts for Scottish suppliers – and even a suggestion that stronger targets be put into legislation.
Minnie Lu, decommissioning director at Aberdeen-headquartered Wood, told an industry event in St Andrews on Tuesday that it isn't a common ask in North Sea tenders, unlike contracts for work internationally.
"In terms of local content I do see some differences when we are responding to tenders. So, for example, (in) international tenders we see very, very clear requirements for local content.
"But I rarely see (this) in the UK tender to be honest, so I think that there's certainly a lot that can be done to push local content."
Ms Lu suggested that adding clauses on local content would support the domestic supply chain – forcing contractors to be more granular in their subcontractor choices.
It comes with some frustration in recent months on decommissioning work going overseas.
Earlier this year, Atlas Decom of Inchgreen lost out on dismantling work for the Foinaven FPSO, which went to Demark.
Had the Clyde outfit won, they argued 60 jobs would have been created.
Managing director Mike Dixon was also on the panel, and said industry could go so far as to place local content targets into legislation.
"Perhaps, you know, if it turns into some sort of legislation whether the local content initiative is maybe beyond voluntary, beyond 50%, that's got to be the aspiration.
"I talk selfishly for the onshore perspective but, right throughout the supply chain, if that is a local content initiative, then everybody sees the benefit.
"Obviously there's certain things that we can't do and we can't deal with in terms of the UK capability. We don't have the heavy lift capacity so I accept there is going to have to be an element that needs to be outsourced."
Recent figures sourced by Energy Voice revealed that the majority of platforms from the UK in recent years have, in fact, been dismantled domestically.
Decommissioning – local content or protect taxpayer?
Donald Taylor, managing director of TAQA Europe, offered a different side of the argument.
He highlighted that costs are partly covered by decommissioning rebates – meaning operators are often forced to go for the most efficient option, as TAQA did recently by sending topsides for the Brae Bravo platform to Norway.
Mr Taylor also highlighted that well plugging and abandonment, a major contributor to decom costs, are a major lever in hitting local targets.
"Then you look at other wider areas. For example, we went to VATS' yard for Brae Bravo, that was very much a cost-driven exercise to look at that. But you also recognise that the government is paying for a significant portion of what that cost is. So therefore, when you go through tendering, you have to go through the most effective area."
In terms of developing local capabilities in the supply chain, Mr Taylor conceded that much of that comes down to operators being transparent in their plans to allow companies to invest with confidence.
"I think a lot of that, from an operators' point of view, is about being transparent as possible in future programmes to see what's out there, what's coming up over the next number of years – that may encourage investment to help these areas, which are not competitive just now, to become competitive.
"But, we are in a normal commercial world, it will have to go through due process to allow that to happen. As we go forward, we may help to improve it if the capability is there."
Recommended for you

BP eyeing more growth in offshore wind portfolio, says UK boss