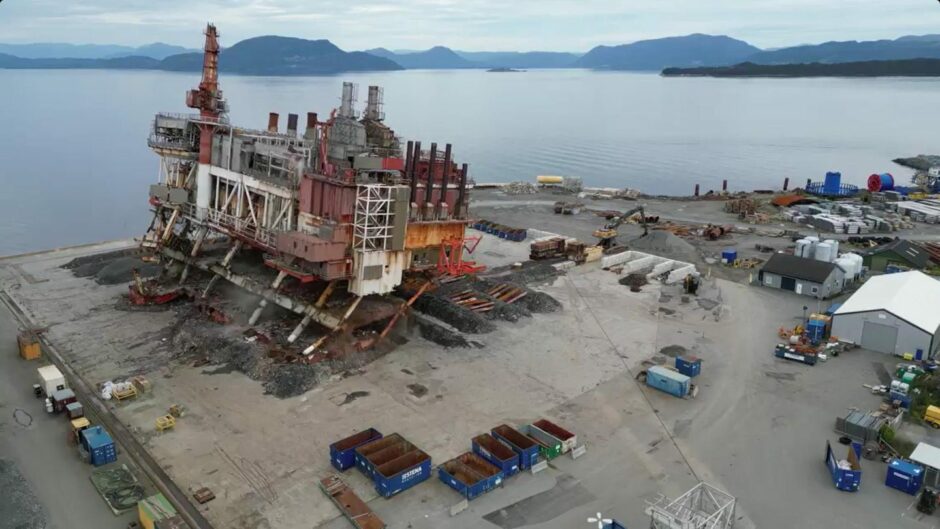 As the old saying goes, the bigger they are the harder they fall – and that was certainly the case for the Valhall processing and compression platform (PCP).
After weeks of work, and "several rounds of weakening", Aker Solutions has finally felled the "stubborn old thing" at the Stord decommissioning yard in Norway.
It follows a 30 year stay in the Central North Sea for the structure, that has helped to produce more than 1 billion standard cubic metres of gas equivalent.
By bringing the 21,000-ton, 65 metre tall structure down to ground level it makes it easier for engineers to reach with cutting tools.
A sideways pull of more than 500 tonnes was needed to topple the Valhall PCP, the latest part of the North Sea complex to face the chop.
Aker Solutions has previously shared footage of the 14,100-ton Valhall production platform, and the 6700-ton drilling deck meeting the same fate.
In a post on LinkedIn, Thomas Nygard, Aker Solutions' senior vice president for decom, said: "Valhall PCP finally went down! The old Valhall production platform turned out to be stronger than first anticipated. The first toppling attempt was done this summer. But Valhall PCP, built at Stord and Egersund in the early 1980s, was a stubborn old thing and wouldn't give.
"In order to get it safely down and within reach of the cutting machines, Aker Solutions' decommissioning department had to establish a comprehensive testing and pulling program, consisting of several rounds of weakening with cutting robots, and a sideways pull force of more than 500 tonnes.
"After several attempts, the old platform today eventually had to cave. Next up is cutting and preparation for recycling, with an estimated recycling rate of above 98 per cent."
Another billion barrels to come
Operated by Aker BP (OSLO: AKRBP), the Valhall field, situated near to the Norway–United Kingdom maritime boundary, has been producing since the early 1980s.
The Norwegian group is spending billions of pounds on redeveloping the asset, with an ambition for it to produce another billion barrels over the next 40 years.
The Valhall field is located in the southern part of the Norwegian sector in the North Sea and, since 2013, it has been operated with electricity from shore.
Recommended for you

WATCH: Aker Solutions rolls out 1,000-tonne Troll electrification module