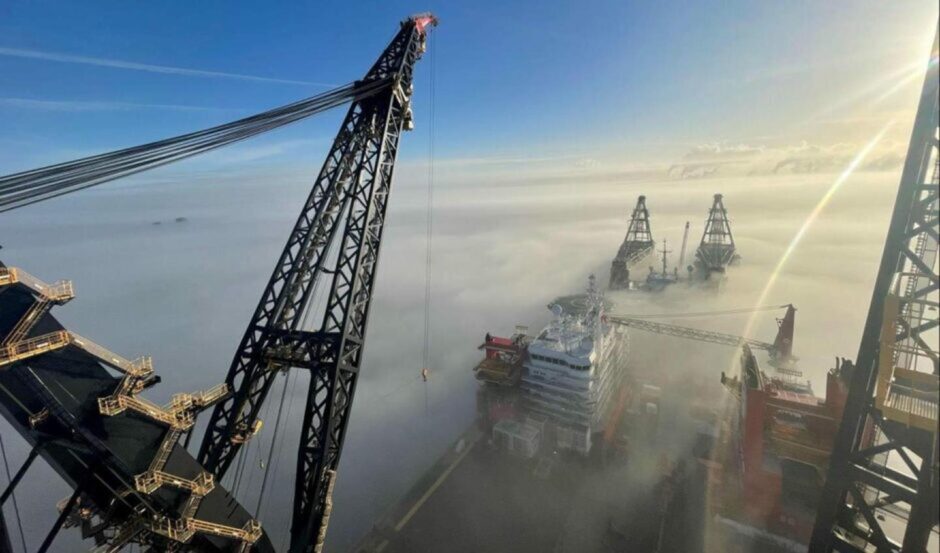 The UK "could challenge continental Europe" on heavy lift vessels, trade body OEUK has said, as the North Sea requires a "colossal push" from them.
A projected £20bn is to be spent over the next decade on oil and gas decommissioning, with a series of huge platforms to be removed towards the end of the 2020s, from 2027-onwards.
That will require "a colossal push" from the heavy lift market, according to the Offshore Energies UK (OEUK) decommissioning insight report, despite the fact the UK does not have any domestic heavy lift companies.
OEUK said "clever scheduling and fresh contracting models may be the answer" to ensure the work is carried out.
It also comes as the sector needs to pool resources with vast numbers of offshore wind turbines to be installed.
Heavy lift firms like Switzerland's Allseas and the Netherlands' Heerema dominate the sector, with others crane vessels like those of Italy's Saipem taking smaller pieces of work.
Analysts have previously highlighted that constructing some of the heavy lift ships is huge, and a major barrier to creation of a UK equivalent; Sleipnir cost $1.5bn to build, the Pioneering Spirit cost even more.
But OEUK said: "If there is sufficient investment and preparation, the UK supply chain could challenge continental Europe's market leaders in heavy lift technology".
Of the £20bn forecast for the next decade, topside removals accounts for 7% (£1.49bn), a sizeable prize – however it should be noted that other areas where the UK does have expertise represent a larger prize, like plugging and abandoning wells (51% or $10.59bn).
Decommissioning manager Ricky Thomson said a partnership between the government and private sector may be the answer.
"Essentially there's nothing stopping the UK from building these vessels.
"There is an established market, so it is going to be extremely difficult to penetrate that market, but it doesn't mean it's impossible.
"The opportunity is there, the prize is there, the exportability is there. I think some sort of collaboration between industry and government they'd be able to look at, however it's not an easy market to penetrate. There's a reason why, globally, these ships come from one or two areas but its not to say the UK can't do something about that."
Mr Thomson also highlighted that some platforms don't require ultra heavy lift solutions, and other innovations may be applied.
Amid the glut of offshore wind and decom work, there has been some progress; last year it was revealed Zero-C Offshore was working towards creating a UK heavy lift business.
At the 2022 St Andrew's Decom Conference, which returns today, TAQA decommissioning director David Wilson said there is a "really strong business case" for such a venture in the UK, and its "unfortunate" it hasn't yet been done.
Recommended for you

UK government says lack of supply flexibility could leave gas system "exposed"