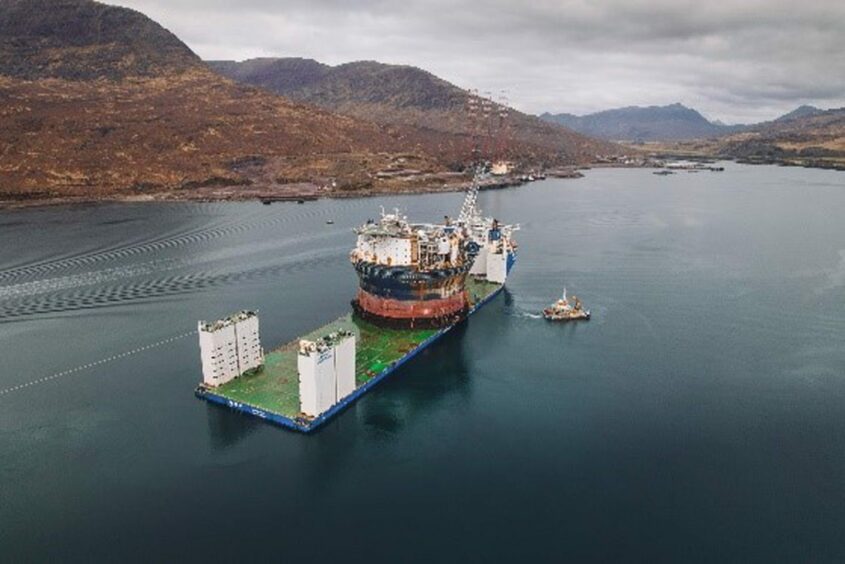 Striking footage of the Voyageur Spirit FPSO departing Scotland's west coast earlier this year has been shared online.
Kishorn Port LTD (KPL) has captured the huge production vessel being loaded onto the Xin Yao Hua heavy load carrier and setting sail for the Middle East.
The video shows workers unhooking the Voyaguer Spirit from the dry dock, before tugboats tow it out into the main body of Loch Kishorn.
The Northern Producer floating production vessel, also anchored at the site, can be seen in the distance – it is due for recycling in due course.
Once the Voyageur Spirit has been towed out into the inlet, it is floated and positioned above the Xin Yao Hua, believed to be the largest vessel ever to visit the port in its history.
The semi-submersible vessel then resurfaces and powers itself out of Loch Kishorn, bringing an end to the FPSOs near three year stay in Scotland.
The Voyageur Spirit left the port last month bound for Dubai, where it is understood it will be refurbished and redeployed for use in the second phase of development at the Eni-led Baleine oil and gas project off Cote d'Ivoire.
The cylindrical vessel was built by Raffles in 2008, weighs in at over 45,000 tonnes, and measures 70m by 65m wide.
It previously served Premier Oil's Huntington field until its cessation of production in 2020, at which point it was towed to Kishorn.
At peak activity in recent times, projects at the port have supported 350–400 jobs, directly or indirectly, KPL said.
The port and its backers – Leith Scotland and Ferguson Transport & Shipping – previosuly said they extend their "best wishes and a safe onward journey" for the vessel and crew.
Recommended for you

Voyageur Spirit FPSO leaves Kishorn bound for new role off Cote d'Ivoire