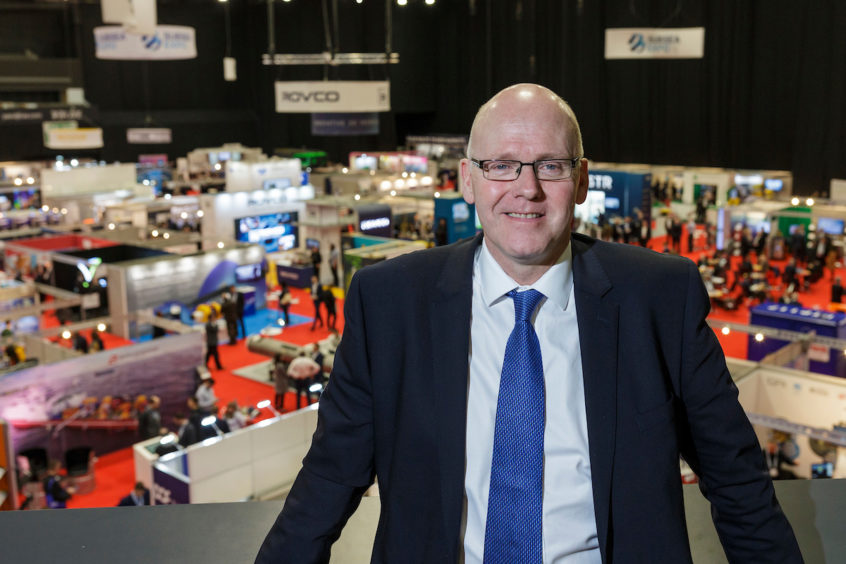 Subsea companies across the UK are reporting an improved outlook for the industry with fewer anticipated redundancies, greater optimism and new geographical markets.
Subsea UK has today published the results of a survey of its 300 members carried out in November last year, which gives an insight into the continued impact of the Covid-19 pandemic and oil price slump on supply chain firms.
It followed on from a similar study conducted by the industry body in early July 2020 as the UK exited from its first lockdown.
According to the most recent survey, 80% of subsea firms don't anticipate making redundancies in the near future, up from 73% earlier in the year, with only 12% planning to make people redundant and 8% undecided.
Optimism also increased by 7%, with 63% of companies now feeling fairly optimistic about the next six to twelve months, compared to 56% in July.
Slightly fewer subsea companies now believe the recession will last for more than a year (66% compared to 68% in July), with 13% believing recovery will be quicker than 18 months, compared to 21% that expect it to take longer .
The subsea industry generates £8 billion in revenues a year and employs around 45,000 people.
Neil Gordon, Subsea UK's chief executive, described the findings as "very encouraging", especially as many smaller firms had been busier than expected.
He added: "Some of the larger companies had difficult times over the past year but we are starting to see potential projects coming through which is encouraging, although it will take time. It's not all rosy and it's still very difficult but there is an improvement in optimism."
Half of respondents revealed that their target markets had changed over the five-month period as a result of the pandemic, with 28% of firms now prioritising offshore wind, compared to 21% in July.
In terms of geographic markets, Europe is still the top among 54% of subsea firms, followed by the Gulf of Mexico.
The survey also showed that employee health and well-being remains the top priority for companies, although cash-flow is becoming an increasing concern.
In November, 25% of respondents said money was their main priority, compared with 19% in July.
Lack of visibility on projects and project deferrals was the third area of concern with client behaviours becoming more of an issue.
On what could be done to address this, Mr Gordon said: "We do have a subsea intelligence system we share with our members and it's become apparent that it is difficult for companies to have that visibility.
"It's up to industry to make sure that information is shared because it breeds further confidence -that's certainly something we are trying to do a lot more of."
Since the most recent survey was carried out in November, the Covid landscape in the UK has changed dramatically with the discovery of a vaccine and the enforcement of a second national lockdown.
Mr Gordon said: "It will be interesting to see how the new national lockdown impacts on the industry which, despite the more positive mood, is still fragile due to low margins, lack of resources, cash and investment and, in many cases, considerable debt as a result of the last oil and gas downturn.
"However, I've also spoken to some companies who are still managing to operate, albeit with difficulty. Overall, the industry is managing to cope better than expected."
Despite the ongoing uncertainty in the global economy, Mr Gordon said there's plenty of reasons for the subsea sector to be hopeful.
Last year, the UK Government announced £1.3 million for the development of a global underwater engineering hub, to be led by Subsea UK, in Aberdeen.
Meanwhile, the ongoing ScotWind process, which involves prospective offshore renewables developers bidding for seabed acreage in Scottish waters, is also expected to deliver a significant boost to the subsea sector.
Mr Gordon said: "The future is looking bright in terms of the blue economy – we are world leaders in underwater and energy transition.
"When you think about hydrogen, carbon capture and storage and offshore wind; all of these technologies require subsea capabilities for installation and management.
"Similar technologies and pipelines are used in gas, whether its hydrogen being transported onshore or carbon being injected under the North Sea.
"All those aspects are good news for the subsea sector and if we think about ScotWind particularly, floating offshore wind is going to provide another boost.
"Floating structures incorporate technologies similar to those that have been used in offshore oil and gas operations for years.
"Beneath the surface of the sea you have all the key infrastructure, including the anchoring system and dynamic cables that transport the power. Those are things that the subsea sector has been doing successfully for many years."