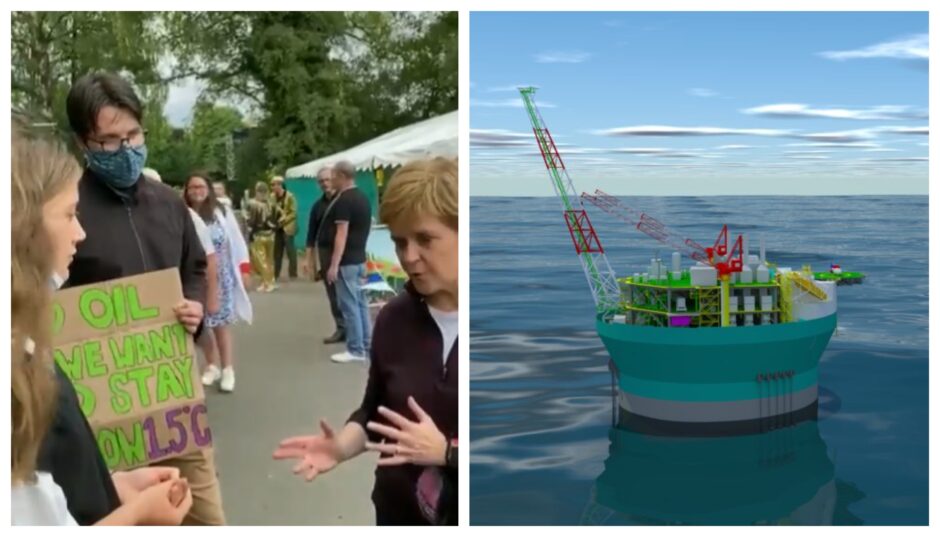 Nicola Sturgeon has been questioned by climate activists on her stance towards plans to develop the Cambo oil field in the West of Shetland.
The First Minister was approached by the Green New Deal Rising group during an event in Glasgow over the weekend, accusing her of supporting "dirty energy".
Energy is a matter reserved for the UK Government, however the campaigners said they were "disappointed" that Ms Sturgeon would not condemn the Cambo plans.
Ms Sturgeon said: "You can have a politician that says to you what you want to hear, because you're standing here, or you can have a politician that says: 'I do hear what you're saying and I've got a lot of sympathy with it, but there's issues as First Minister that I have got to properly consider'.
"And that's what I'm choosing to do."
WATCH: We and @StopCambo just challenged @theSNP leader @NicolaSturgeon on her refusal to stop the Cambo North Sea oil field.

Big corporations profit from dirty energy and politicians like Nicola Sturgeon let them get away with it.

We're here to put a stop to that. ✊ pic.twitter.com/Q3ilmhkA3C

— Green New Deal Rising (@GNDRising) August 7, 2021
The Scottish Government has previously said that its support for the oil and gas sector is predicated on efforts towards an "inclusive" energy transition and ensuring a secure energy supply.
The plans for Cambo have come heavily under the spotlight in recent weeks, with high profile politicians weighing in on the project.
Labour leader Sir Keir Starmer voiced his opposition to the development, saying it is not consistent with climate targets, leading to Conservative voices saying he had "abandoned" Aberdeen and North-east Scotland.
Prime Minister Boris Johnson said the government "can't just tear up contracts" in relation to the oil field project.
Cambo is being developed by Siccar Point Energy and Shell, with plans to deliver around 150-170m barrels in the first phase.
A licence was previously awarded by the Oil and Gas Authority (OGA) and exploration and appraisal work has already been carried out.
More than 80,000 people have signed a petition which was delivered to Downing Street calling for the development to be blocked.
Shell chief executive Ben van Beurden said last week that "symbolic" bans on oil and gas development would not help the UK tackle climate change.
He told journalists: "As long as the UK still needs oil and gas in its consumption, for its society, it's better to produced it in its own backyard.
"It's better for the climate and it's better for the balance of payments.
"To just import oil and gas, which would be the alternative, from around the world would obviously not serve the climate at all."
Recommended for you

Frankie Boyle calls on PM to reject plans for Rosebank oil field