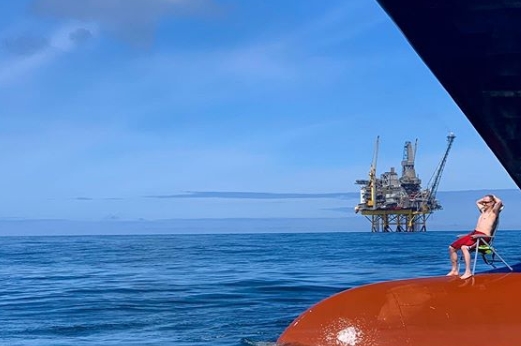 North Sea workers have made the most of the recent hot weather by finding a unique location to lap up the sun.
Pictures and videos have emerged online of a ship's crew member relaxing in a foldable chair perched precariously on the bulb of the Norwegian registered 'Island Clipper'.
They were captured by the captain of the offshore service vessel in the Equinor operated Oseberg oil field, around 140km north-west of Bergen.
The photograph shows crew member Jussi Nurminen kicking back on what looks like a camping chair on the bulb at the front of the boat, with an oil rig visible in the distance.
He's then forced to brace himself as the hull of the vessel dips below the water before a separate video shows him diving into the sea.
Captain Stig Silden shared the pictures on his Instagram account with the tagline "sunbathing in the North Sea".
However, the stunt has been met with mixed reactions online, with one person describing it as "awesome" while another branded it "incredibly reckless".
Bill Smith from Motherwell said: "If not photoshopped, totally irresponsible of the man, the ships captain and officers, and the hiring company of the ship."
Another comment from Gunnar Hanson said: "I do not mind a bit of fun at work but this is way over the top, not amusing at all. They are at work and should focus on that".