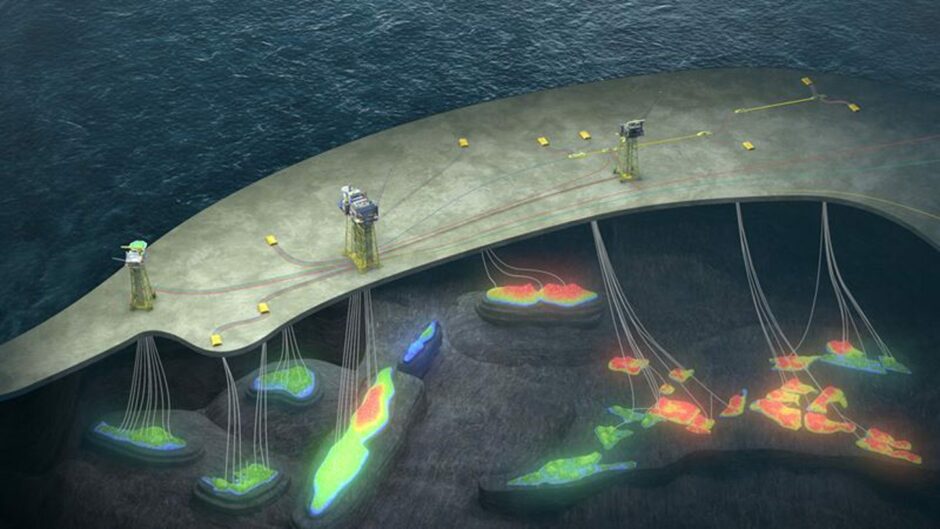 Aker BP and its partners will submit a record ten plans for development and operation (PDO) to Norwegian authorities on Friday, paving the way for more than $20bn in investments.
Paperwork for ten PDOs and one plan for installation and operation (PIO), all operated by Aker BP (OSLO:AKRBP), will be handed over to the Ministry of Petroleum and Energy, the group said.
The submissions include plans for a string of field developments at the Yggdrasil area (formerly known as NOAKA), Valhall/Fenris, Skarv and Utsira High, and also trigger a ream of high-value supply chain contracts.
With total investment expected to amount to more than NOK 200 billion (£16.6bn), they represent "one of the largest private industrial developments in Europe" the group said, and will yield around 730 million barrels of oil equivalent net to Aker BP.
"The scope of the development plans we are submitting to the Minister of Petroleum and Energy is a manifestation of our ambition to create the oil and gas company of the future – with low costs, low emissions, profitable growth and attractive returns," added Aker BP CEO Karl Johnny Hersvik.
Aker BP's share of the investments is approximately 70%, or around $19bn in nominal terms, with an average break-even price estimated at $35-40 per barrel.
Mr Hersvik said the company's operatorship of the cluster of licences "gives us a great opportunity to lead the way in transforming the oil and gas industry, in close cooperation with our licence partners, our alliance partners and other strategic partners."
A PDO for the Krafla field was also submitted alongside partner Equinor, in which the two confirmed their new name for the NOAKA area, and the renaming of NOA and Krafla to 'Hugin' and 'Munin', respectively – in line with its new convention, inspired by Norse mythology.
"Through the development of the Yggdrasil area (formerly NOAKA), which is the largest of the projects, we aim to set new standards for field development and operation using new technology, data-driven decisions and work processes, remote operations and unmanned platforms."
Yggdrasil (formerly NOAKA)
Together with partners Equinor and LOTOS, Aker BP expects to invest around 115 billion NOK (£9.5bn) in Yggdrasil projects, in pursuit of 650 million boe in recoverable reserves across the area.
The development concept consists of an unmanned production platform to the north (Munin, formerly Krafla), a process platform with well bay area and living quarters (Hugin A, formerly NOA) to the south and a normally unmanned wellhead platform on Frøy (Hugin B) tied back to Hugin A.
The PDO calls for a total of nine subsea templates and 55 wells, which will be developed using power from shore.
Production start is planned for 2027.
Valhall PWP – Fenris (formerly King Lear)
A joint development between Aker BP, PGNiG Upstream Norway and Pandion Energy, the consortium expects to spend around NOK 50 billion (£4.1bn) to tap resources of 230 million boe.
The development will include a new process and wellhead platform (PWP) bridge-connected to the Valhall field centre, and an unmanned wellhead platform on Fenris that will produce through a 50 km pipeline to Valhall PWP.
Aker BP said this platform will have "an essential role" in the further development of the Valhall area while gas production from Fenris will make a significant contribution to ongoing gas supplies to Europe.
Production here is also planned to begin in 2027.
Skarv area and satellites
The Skarv PDOs include the Alve Nord, Idun Nord and Ørn gas and condensate discoveries in the northern part of the Norwegian Sea.
Backed by Aker BP, Equinor, PGNiG Upstream Norway and Wintershall DEA, these will be developed using subsea solutions connected to the existing Skarv FPSO at the field, and carried out as one joint project, known as the Skarv satellite project (SSP).
Total investment is estimated at NOK 17 billion (£1.4bn) with recoverable resources pegged at 120 million boe.
Production is slated to begin in 2027.
Utsira High
Three newly renamed satellite projects operated by Aker BP and backed by Equinor, Sval Energi, OMV and Wintershall DEA will produce via capacity on Edvard Grieg and Ivar Aasen on the Utsira High in the North Sea.
Symra (formerly Lille Prinsen) will be a tie-in to Ivar Aasen while Solveig Phase 2 and Troldhaugen (formerly Rolvsnes) will be tied into the Edvard Grieg platform. For Solveig Phase 2, a report will be submitted to the regulator, rather than a separate PDO.
Total investment in the Utsira High schemes is estimated at NOK 21 billion (£1.75bn), with recoverable resources of 124 million boe.
Production start here is planned through 2026-27.
Tax and benefits
Mr Hersvik said Norway's energy stimulus package, enacted in the wake of Covid-19, had been vital in pushing the projects forward.
"The stimulus package allowed oil companies to embark upon new commitments, in the midst of a pandemic, and in an increasingly uncertain world. The wheels started turning again. Now here we are, just over two years later, seeing the direct results of that stimulus package," Hersvik emphasises.
Already the largest private taxpayer in Norway, Aker BP expects to pay more than NOK 80 billion in taxes for 2022 (£6.7bn).
"With an average oil price of USD 65 per barrel, these development projects will generate net tax payments to the Norwegian state totalling NOK 160 billion in real terms, and thus make an important contribution to financing welfare schemes and strengthen the state's ability to support the energy transition," Mr Hersvik added.
Alongside the PDO submissions, the operator has awarded a string of contracts worth "tens of billions" of dollars to various partners and other strategic suppliers, including nearly 50 billion NOK in awards for Aker Solutions.
Coupled with other efforts to boost efficiency and recovery, the projects will support Aker BP's plans to grow from production around 400,000 barrels per day in 2022 to around 525,000 bpd in 2028.
Recommended for you

Aker BP signs new five-year deals for rigs and wells