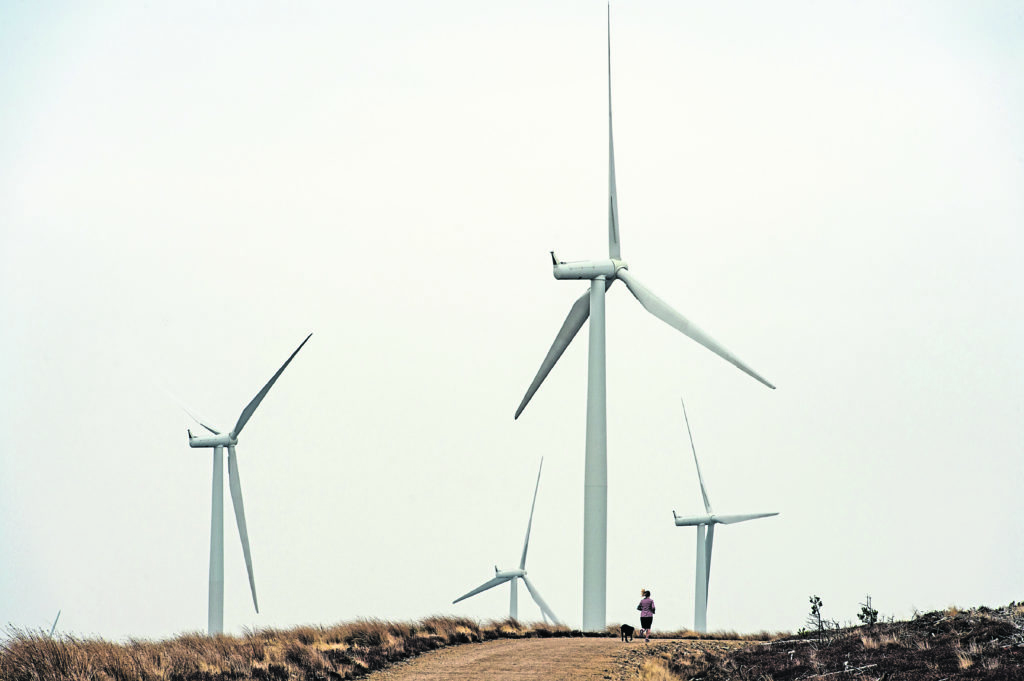 I am starting to wonder if a mystery noise around our house which drove us mad for months comes from the same box of tricks as wind farm turbines.
A public petition raised in Scotland is trying to force the UK Government to investigate claims mysterious acoustic activity around wind farms is making people ill.
Campaigners fear something insidious is floating around in the atmosphere, which sounds to me like "silent noise".
A finger of suspicion is being pointed at infrasound (which cannot be heard by humans) and low-frequency noise (ILFN) as the cause of medical and psychological problems around wind turbines.
Ironically, I discovered a scientific paper in Scottish Government archives from 2001 – years before the SNP fell in love with wind farms – by environmental consultants Casella Stanger, which warned that wind turbines were a potential source of ILFN-related illness.
I did some digging after reading about the ILFN petition in The Press and Journal.
Officially, infrasound frequencies are off the radar, so to speak, as they are below the conventional starting point for measuring sound. Below 20hz humans cannot pick it up, but scientific researchers and campaigners using different methodology say we are being bombarded with this intense acoustic activity.
And not just from wind turbines: city-dwellers could be hit from all directions by various industrial sites or public-service areas.
Clinical researchers claim ILFN can literally mess with people's heads through brain and inner-ear reaction, which occurs subconsciously. They say classic symptoms are waking up tired all the time or having to turn the television down because it seems too loud.
Far-fetched, perhaps? A bit like the X Files, or a conspiracy theorists' convention? Maybe, but it cannot be dismissed out of hand.
When a low-level rumbling noise suddenly invaded our house in Aberdeen, it didn't bother us at first. After over a year of this erratic, unpredictable sound by day and night – in bursts of anything from 10 seconds to five minutes – we were stressed. It was coming from flats less than 100 yards away, but was hard to pinpoint.
A council environmental health officer was never able to find the source. I must point out, however, that the official always wore an expression that said "Oh no, not another mystery noise". The other giveaway was that weeks would pass without contact and whenever I rang for a progress report, I had to explain it all from scratch again.
Eventually, they got rid of me by saying they could only investigate if the sound was "like living above a pub disco".
The fact that even low-frequency noise could destroy quality of life did not seem to register, but I empathise with others who suffer. Mercifully, the sound just stopped one day.
It is hard to prove theories about "silent noise" and low-frequency activity as alternative measuring does not follow conventional rules.
I saw a Canadian academic paper which suggested problems with some people probably pre-dated turbines moving in close by, but I also noticed that global wind turbine business Ramboll was involved in the research.
Further investigations led me to Portuguese Professor Mariana Alves-Pereira, of Lusofona University in Lisbon, who is a leading scientific researcher and campaigner on ILFN and has dedicated three decades of her career to it.
I called her in Lisbon and she cheerily accepted that challenging years of tradition over measuring and interpreting sound put her on collision course with industry critics.
"It was called junk science, and now psuedo-science by some. I have heard it all, but I am convinced that acoustic damage to human bodies can be akin to being battered in a boxing ring," she told me.
I studied field work she carried out in Ireland in 2017 on homes close to five wind turbines, where she measured sound inside a child's bedroom.
Test result graphs were illustrated with red vertical bars showing conventional measuring of sound present in the room. However, they were overshadowed by a much larger mass of ghostly grey bars which showed the presence of acoustic activity not audible to the human ear. In other words, infrasound pressure recorded by an alternative measuring process.
She could not prove without a doubt that wind turbines were to blame. However, Prof Alves-Pereira maintains repetitive wave pulses of acoustic activity in the room matched repetitive pulses from the spinning turbine blades.
The family reportedly abandoned their home with severe ailments."There is a lack of appropriate medical care for sufferers. They are forced into a 'No Man's Land', where no diagnosis is offered and, in fact, mental-health issues are suggested," Professor Alves-Pereira told me.
There is plenty of public noise around wind farms in Scotland, but the campaign petition suggests we should worry more about what we can't hear.
David Knight is the long-serving former deputy editor of the Press and Journal
Recommended for you

Ovarian cancer survivor becomes world's first 'turbine bagger'