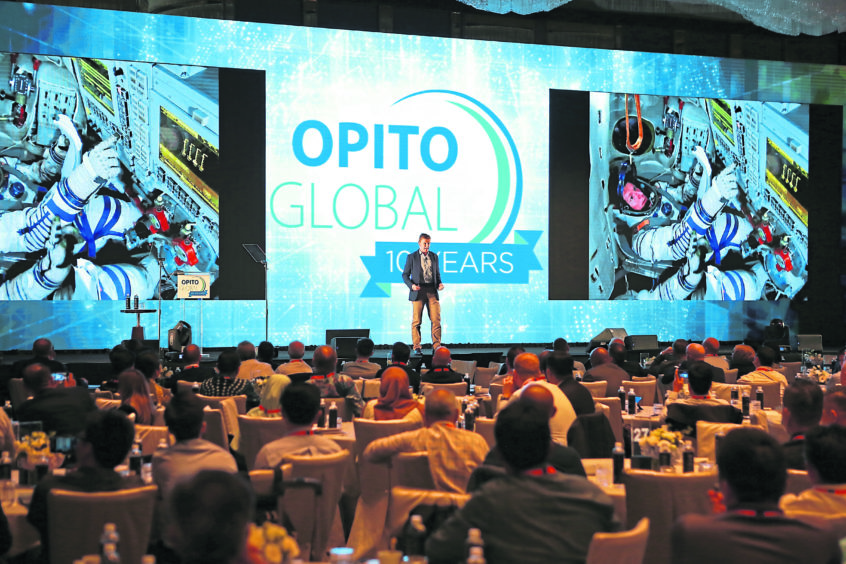 The white heat of digital technology has greatly intensified during 2019. The Fourth Industrial Revolution is massively disrupting and transforming our industry and society all around us.
At Opito, our aim this year has been to explore how we harness its potential to deliver our concept of Safety 4.0 as the digital oilfield becomes a reality. We must harness the potential of new technologies and ways of working while remaining focused on people, and the skills of our current workforce.
In these times of exponential change, safety remains a constant; the number one priority in our industry. That's why Opito have positioned ourselves at the
leading edge of thinking on how we help our global energy workforce become both safer and more highly skilled in the digital era.
In less than a generation, we have moved from the analogue era to the digital age. In the mid-1980s, there were 1,000 internet devices on the whole of planet Earth. Today there are more than that in a single secondary school.
So important are these themes that we dedicated Opito Global 2019 to them. Our specialist annual conference, held in Kuala Lumpur in November, is the only event for safety and competence in the international energy industry. More than 400 of
the world's leading experts in the field gathered to gain insight from some truly inspiring thought leaders.
Our keynote speaker was Major Tim Peake, the British astronaut who spent six months on the International Space Station and took a spacewalk to repair the station's power supply.
His experience of hostile environments is second to none and he shared a fascinating first-hand account of how his training with virtual reality simulators was the best preparation for that high-risk mission. His injunction that "in space you need to sweat the small stuff" resonated with many of our attendees.
The parallels between the hostile environment of space and that of working offshore are striking. It may be no coincidence that Houston is the US space capital and oil capital.
It's always resonated with me that we brought the first oil out of the North Sea in the same year that we put a man on the Moon.
Major Peake conclusively made the case for the power of simulated learning for high-risk environments.
Our future workforce will learn using simulation models, augmented and virtual reality and online training to ensure it stays ahead of the innovation curve. Such immersive simulation is revolutionising workforce training in realistic high-risk environments; minimising risk, optimising performance, boosting confidence and, most importantly, improving competence and safety.
We also heard from Dr Ayesha Khanna, one of the world's foremost authorities on artificial intelligence, on how advanced training and learning techniques based on machine learning and artificial intelligence can free up more time for high value activities, and improve safety performance.
Our third guest speaker was Azran Osman-Rani, founder of AirAsia X, who is now pioneering next generation digital therapeutics platforms to revolutionise workplace health and safety.
These are poised to dramatically improve safety and productivity in our industry by helping people through personalised behavioural and psychological programmes that meet their emotional, mental, and physical needs.
Like Nasa, Opito are on a mission. Ours is to continue to optimise the energy industry's global safety culture and ensure a skilled workforce for the future. We are driving this through industry-wide initiatives such as the Energy Skills Alliance, which met for the first time last month and also through our excellent employer and delivery partner networks – the training providers – across the world.
In 2020, we'll continue working together to ensure innovation and developing technologies are used as effectively as possible in the delivery of learning and competence assessment.
And finally, we'll work together to develop, maintain and deliver global learning products that continue to serve the needs of our industry. While Nasa has trained more than 500 astronauts since the 1960s, we help over 350,000 people achieve Opito Standards every year.
At Opito we take pride in keeping people safe. We are passionate about protecting our colleagues in the global energy workforce from hazard and harm. As we look forward to a new year, our aim remains the same: to strive to make everyone safer in the dynamic and fast-moving world of the global energy industry.
John McDonald is CEO of Opito
Recommended for you

Employers very wary of 'no jab, no job' policy, says top oil and gas lawyer