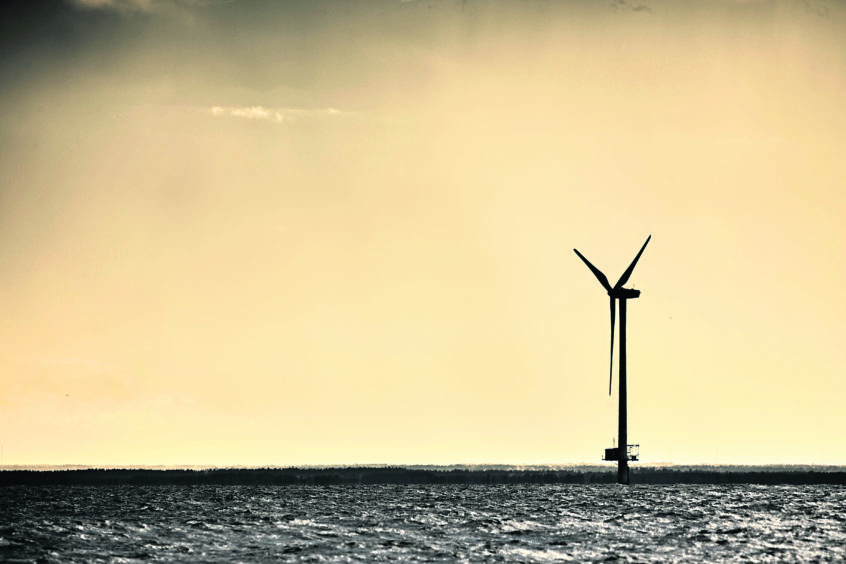 On the Friday before Christmas, the last of 140 workers at the Arnish fabriction yard on Lewis were paid off.
It was a metaphor for renewables manufacturing in Scotland and failure to turn opportunity into the "second industrial revolution" once promised by Alex Salmond.
The Arnish yard, well equipped due to public sector investment more than 10 years ago, is now at the end of a line that leads through Fife. For the past decade it has been leased by Highland and Islands Enterprise to BiFab, now owned by Canadian firm DF Barnes.
The BiFab deal was not a success for Arnish, which has been closed more often than it has been open. When BiFab was on the verge of going bust in 2017, it was bailed out by the Scottish Government and sold to the Canadians who now believe they were promised a lot more than has been delivered.
Two days before Arnish closed yet again, the Scottish Government published its latest consultation paper on the future of offshore wind. It asks why so little of the work is coming to Scotland.
The Scottish Government wants to know if the levels of activity "provide a sufficient platform upon which to build the greater contribution required to achieve our climate change goals".
It also asks if its "2030 visions and aspirations are sufficiently ambitious".
"Visions and aspirations" do not create a single Scottish job unless they are accompanied by political actions and long-term investment. This has been the missing link in renewables transition in Scotland where opportunities were greatest.
Just as we have thousands of onshore turbines imported without much domestic content, the clock is ticking fast on whether the offshore wind boom will go the same way.
There are two gigawatts of offshore generation either operational or being built in Scottish waters. The target is for 8GW by 2030. Several projects are well into the planning stage. Time is of the essence. A few more decisions by the big players to take the vast majority of the work to Indonesia, the Philippines or wherever suits them, will leave Scotland fighting for crumbs.
At UK level, a target of 50% domestic content in the capital investment phase of offshore wind is agreed with the industry. In Scotland, this seems wildly optimistic. The consultation document says: "Scottish ministers are fully committed to ensuring that Scotland's supply chain benefits from this commitment."
There is little guidance on how this is to be achieved. The document says coyly: "As part of this process, we held an offshore wind supply chain summit to consider options designed to increase the relatively low levels of Scottish content in projects to date."
There is not the slightest prospect of the situation improving unless the scale of failure and urgency of counter-measures are appreciated.
There is talk in the consultation paper about links with offshore oil and gas and the experience it has accumulated in underwater engineering. That has made obvious sense for a long time but what has happened? In 2020, the consultation paper asks plaintively: "What can be done to strengthen and benefit from synergies . . . with the oil and gas sector?"
In October the Scottish Offshore Wind Energy Council (Sowec) was established under the co-chairmanship of Scottish Energy Minister Paul Wheelhouse and SSE's head of offshore wind projects Brian MacFarlane.
One of its targets is to increase offshore wind-related employment in Scotland "by 75%" to 6,000, which still doesn't sound like an industrial revolution. In 2010, at the height of Mr Salmond's pomp, the SNP claimed offshore wind could create 28,000 jobs in Scotland.
I admit to scepticism about Sowec since it seems to depend on companies which have shown so little past commitment to Scottish manufacturing. I want to be proven wrong, and there is an early test.
On the day the Scottish Government consultation paper was published, it was reported that SSE was to send the vast majority of work on the Seagreen offshore wind farm overseas, including to China where health and safety standards are presumably to its satisfaction.
Gary Smith, Scotland secretary of the GMB union, said: "This would be the death knell for any meaningful offshore wind manufacturing industry in Scotland – an utter scandal and a national disgrace". Just as at Arnish, the gap between reality and "aspiration" is as wide as ever.
Brian Wilson is a former UK energy minister
Recommended for you

'Novel approach' needed to meet ScotWind floating supply chain ambitions