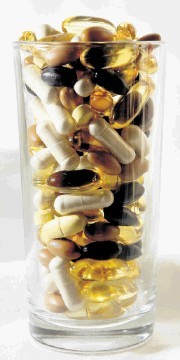 What benefits would make you interested in vitamin D? Many of our male readers work offshore and may not be particularly interested in vitamins anyway and the idea of reading an article entirely about vitamin D doesn't appeal.
It might be a different matter if we could promise you that vitamin D will enhance virility and make you stronger as well as being a miracle cure for hair loss.
Alas, vitamin D will not cure male pattern baldness but it really is a vital component of our nutritional intake. Not only is it important for working men but particularly for women and young children. What does it do and why are so many of us just not getting enough vitamin D?
Vitamin D has several functions, the main being regulating the amount of calcium and phosphate in the body which is fundamental in the development and maintenance of healthy bones and teeth.
Dietary sources of vitamin D are oily fish, eggs, liver and fortified foods like breakfast cereal. The best source of vitamin D is from exposing our skin to sunlight and during the winter months the level of vitamin D in our blood is likely to be low.
Vitamin D has been in the news of late, with stories about how many of us are vitamin D deficient and the resurgence of rickets.
Lack of vitamin D in children can cause rickets which is a bone disease resulting in the softening and weakening of bones.
In recent years, cases have sharply increased in the UK's general population, particularly children, in Scotland, northern England and Northern Ireland.
Researchers suggest the rise is down to the change in our lifestyle which involves many of us spending more time indoors. Some doctors recommend 10-15 minutes of sun daily, without sunscreen, is beneficial.
Scotland has a high rate of multiple sclerosis (MS) which has also been linked to vitamin D deficiency, generally caused by the lack of sunlight and poor diet.
Researchers are also investigating the link between vitamin D deficiency and heart disease and also some cancers. In another recent study, there are suggestions too that vitamin D supplements could help to fight the effects of age-related eye disease.
The Scottish Government is taking the importance of Vitamin D very seriously and has produced a leaflet for professionals to increase awareness of the recommended vitamin D levels. Advice on vitamin D appears on the Scottish Government website as follows:
http://www
.
scotland.gov.uk/News/Releases/2010/09/17113234
In the past, children used to be given food supplements including cod liver oil, but this was stopped in the 1950s due to concerns that children might be getting too much vitamin D. Yet the practice continued in other Western countries and many now consider that it was mistake to end it in the UK.
There is a determined call from experts in Scotland for essential foods to be fortified with vitamin D
It is not always easy to ensure that you achieve an adequate intake of vitamin D per day and this is especially so if you are covered up by protective clothing when working outside. That, plus working offshore in the North Sea does not afford a great deal of sunshine.
A recent study carried out by the Universities of Aberdeen and Surrey compared the amounts of sunlight that women in both of these areas were exposed to. Some 40% of the women who participated in Aberdeen had below the minimum recommended amounts of Vitamin D during the winter months in contrast to 10% of the women in Surrey.
Furthermore, 9% of women in the north-east of Scotland were still lacking in Vitamin D during the summer months. One wonders what the position is with offshore workers.
It appears that fair-skinned people who are more prone to getting sunburnt may need to join those who need to take supplements to make sure they get enough vitamin D. Indeed, very fair-skinned people cannot expose themselves to the sun long enough to make enough vitamin D without getting burnt.
If you are considering taking a supplement and are on medication, consult your doctor first.
More and more research is indicating that vitamin D can help lower the risk of heart disease, diabetes, hypertension, multiple sclerosis, autoimmune illness, some cancers and even depression so make sure that you are getting enough of this vital nutrient.
Kelly Paterson is an occupational health adviser and health promotion nurse at Abermed