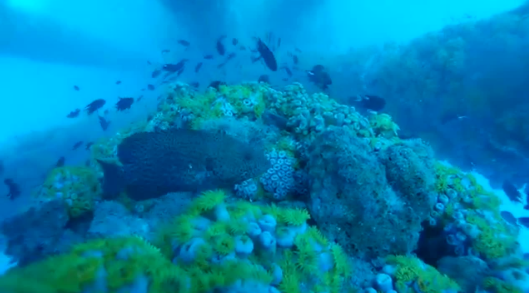 A recent report published by the Ecological Society of America – Forecasting the legacy of offshore oil and gas platforms on fish community structure andproductivity caught my eye. The report presented a model for forecasting fish communities surrounding offshore southern California installations following a series of decommissioning alternatives.
The report concluded "complete removal of a platform resulted in 95% or more reduction in the average fish biomass and annual somatic production at the site, while partial removal resulted in far smaller losses, averaging 10% or less. In the event that all surveyed platforms are completely removed, we estimated a total loss of more than 28,000 kg of fish biomass in the Southern California Bight."
Although the North Sea has a different ecosystem to Southern California it appears that installation removal could be to the detriment of marine life. So, where are we in the UK with rigs to reefs?
That thought prompted a look at the findings of the Scottish Affairs Committee on the Future of Oil and Gas, chaired by Pete Wishart, MP. One of the committee's recommendations that the Government accepted was – "Paragraph 73: While all parties want the same outcome, to decommission in a way that minimises the harm to the environment, there is clearly genuine disagreement about what policy on the removal of disused rigs will best deliver this. We recommend that OPRED lead discussions with industry, environmental groups, academics and other stakeholders to establish a common evidence base to allow an agreed solution to be found. OPRED should also work with the sector to better explain what is already possible under the current system."
On the 7th May, 2019 Pete Wishart MP, wrote to the then Minister for Energy and Clean Growth, Chris Skidmore, MP seeking clarification on progress related to the committee's recommendations.
The response to Paragraph 73 was – "We are also planning an open dialogue with stakeholders, including other government departments, NGOs, academia and nature conservationists to gather views and evidence around proposals for rigs to reef (re-using offshore oil and gas infrastructure to create artificial reefs that minimise harm to the environment). A project is being set up to review the current evidence on the environmental advantages and disadvantages of the rigs to reef concept, establishing a common evidence base. The project is expected to take six to nine months, at which point OPRED will present the recommendations from the project team."
We are now over 12 months on and, to my knowledge, no OPRED findings have been reported. With many commentators indicating that, as a result of low oil prices, decommissioning plans have moved to the left, OPRED's findings with respect to rigs to reefs could be crucial.
Whilst I appreciate that Covid-19 will be having an influence, as a taxpayer supporting the cost of decommissioning, I would encourage OPRED to deliver on their findings as soon as possible.
Tom Baxter is visiting professor of chemical engineering at Strathclyde University and a retired technical director at Genesis Oil and Gas Consultants
Recommended for you
X

IMO 2020: coming up VLSFO