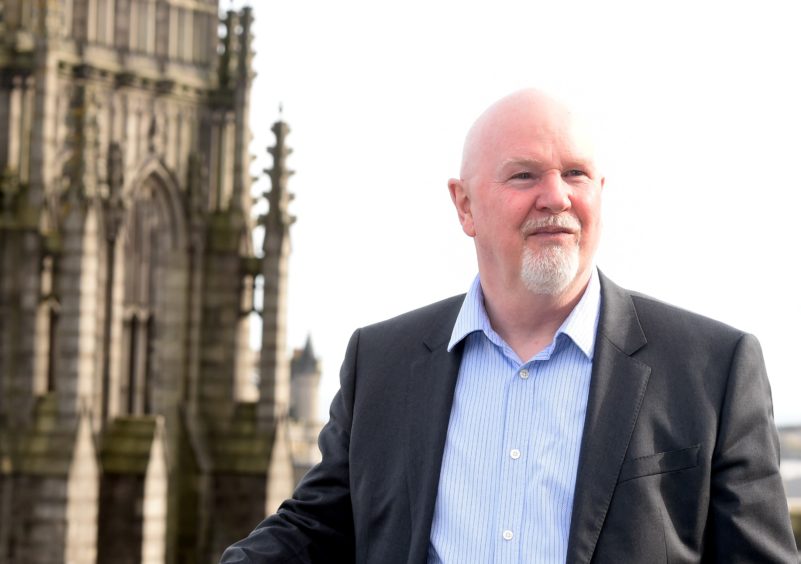 The Scottish Government have declared a climate emergency and have a Net Zero target by 2045. How does this fit with a country that has a significant oil and gas industry?
It is a dilemma that makes it difficult to walk a dividing line between the economic reality of 150,000 jobs on one hand and a challenging decarbonisation ambition along with a climate justice policy on the other.
One of the ways forward is to transition some of these 100,000 jobs into the effort to help decarbonise the oil and gas industry in the North Sea. Energy is expensive when you are offshore even when you have a gas supply on tap. Putting gas turbines on offshore platforms is very capital-intensive and running diesel gensets more so as you have to deliver the fuel offshore as well.
A previous estimate of the electricity demand on the 200 odd North Sea platforms in the UK Continental Shelf (UKCS) had capacity at around 2.3GW. That's a great deal of expensive electricity. Each platform, depending on its role, requires between 15-35MW of power so the 2.3GW figure is actually an average baseline figure with a peak in the 3.5GW range (the larger power requirement is only when drilling, pumping or water injection operations are required and not all platform will be in this mode simultaneously)
Floating Wind
Recently, the idea of using offshore floating wind turbines to produce some of this power has found some traction with the offshore oil and gas industry, mainly due to Equnior's Hywind Tampen project. This will see a larger version of the world leading Hywind Scotland floating wind farm being deployed in the Gullfaks and Snorre fields with this 88MW project supplying up to 35% of electricity requirement of the five platforms.
A similar approach in the Scottish North Sea is more difficult as Equinor is not only building the wind farm but also owns the Gullfaks and Snorre fields. In the multi operator UKCS it is harder to get the necessary adjacent field operators to agree to cooperate on such a project, but not impossible.
The Oil and Gas Authority (OGA) are interested and could smooth the way for industry involvement and the Oil and Gas Technology Centre (OGTC) in Aberdeen sees merit in such an approach. It is now only a matter of time before the first floating wind into oil and gas project happens in Scottish waters.
The future could see floating wind platforms being leased to the oil and gas industry in the same way that they lease drilling platforms at the moment, particularly for End of Life and Decommissioning activities.
Another potential outcome could be large scale floating wind projects being connected up to a number of existing platforms or being part of a solution for Small Pools (marginal fields) along with an NUIs (Normally Unattended Installations) to allow smaller discoveries to be brought to market economically. This may work best by developing offshore wind hubs where clusters of such marginal field projects can be found. We can do all of this but we cannot change the fact that these are depleting assets and will eventually run out. What do we do then?
Hydrogen
Scotland has one of the largest Exclusive Economic Zones (EEZ) in Europe at 462,263 km2. When it comes to the production of hydrogen from offshore wind this is one of the key advantages that Scotland has over its European neighbours. The amount of seabed controlled by the Scottish Government is extensive and is greater than that of Germany, Poland, Denmark, Belgium and the Netherlands combined.
A report, The Offshore Valuation back in 2010, put Scotland's estimated practical offshore wind resource at 169 GW. Since then technology has moved on considerably and the amount of megawatts that could be installed in the same area has almost doubled i.e. 6 MW turbines then and 12 MW turbines now and soon rising to 15 MW.
Floating offshore wind is now able to enter some of the areas that the report thought nonviable due to water depth. If this was reassessed today we could be looking at 300 GW as a fair estimate. This represents more than 4 times the UK's electricity requirements so that will not be the market driver for such an expansion of offshore wind but Power to Gas is another matter. This means that the future of the North Sea could be based on the offshore production of hydrogen at very large scale.
Why do I say this? Lets look at what is required to decarbonise the UK economy by 2050.
Electricity – has already moved a long way towards decarbonisation of generation and will benefit greatly from the offshore wind sector deal and a 40 GW by 2030 target for offshore wind. By 2050 it is likely that the UK could reach the 75 GW offshore wind figure that the Committee for Climate Change (CCC) called for last year. This would guarantee the decarbonisation of our electricity production.
Transport – a shift to electric cars would go some way towards decarbonising transport but it still would leave quite a gap as it is not a solution that could deliver the heavy vehicle and bus market without further development of battery technology. Trains, aviation and vessels are also areas of difficulty for an all-electric solution.
Industry – besides process heat and electricity we need to also replace the fossil fuel related feed stocks which industry has relied on up to now. Green hydrogen and synthesised chemicals based on this hydrogen can become this feedstock.
Heat – This is arguably the most difficult area of decarbonisation to tackle. It is more than three times the size of the electricity market with a winter peak demand (see Figure 2 below) that would be nigh impossible to meet without very large-scale storage. It is the seasonality of the heat demand that makes an electricity to heat solution , such as hybrid heat pumps, only a part of the solution due to the need to also roll out its own replacement infrastructure.
Therefore, the big prize is the offshore production of green hydrogen at scale. Hydrogen, as an energy vector, offers a way to decarbonise transport, industry and heat at very large scale as we already have both the delivery and storage infrastructure in place i.e. the UK and European gas grids.
By using hydrogen fuel cells to power HGV vehicles and trains in tandem with electric cars we have a solution to completely decarbonise the transport system by 2050. Green hydrogen and captured CO2 could also solve the aviation fuel issue by synthesising jet fuel.
Injection of hydrogen into the gas grid gives us a way of decarbonising heat at a more rapid rate than any other technology as the infrastructure is already in place. It is feasible to inject up to 20% hydrogen into the UK grid without a great deal of change to the existing system or end user equipment. Beyond that level the white goods in people's home and businesses would need to be altered to allow higher percentages of hydrogen to be used. We did this back when the UK switched from town gas to natural gas so we have already proved that it can be done.
Hydrogen demand in 2050
National Grid and the Energy Networks Association (ENA) are now predicting quite a different scenario for 2050 than they did in the 2018 Future of Gas report. Then they were predicting that the current UK annual demand gas demand of 880 TWh would increase to 1,100 TWh by 2050 in their Decarbonised Gas scenario with 30% of this figure coming from green hydrogen.
In their latest report Pathways to Net Zero, just 18 months later, the ENA are favouring a different solution which would see gas demand fall due to increased energy efficiency, better building insulation and the introduction of hybrid heat pumps i.e. electricity would replace gas for heating and renewable power would displace gas fired generation. By 2050 under this new thinking annual gas demand would be around 600 TWh (Figure 3 below) and that this would be made up of 40% biomethane and bioSNG with the 60% balance coming from hydrogen i.e. 360 TWh.
The nub of the question is, what is the mix of this 360 TWh of hydrogen? Is it mostly blue hydrogen produced from Natural Gas reforming with Carbon Capture, Utilisation and Storage (CCUS) with some green hydrogen or can we get to a significant percentage of this number with green hydrogen? Lets park that question for the moment and look at the decabonisation of the UK's electricity demand.
The CCC's 75GW figure now looks achievable ahead of 2050 given that we have a target of 40 GW by 2030 at the moment. Surely, if we can hit the 2030 target, delivering another 35 GW in the following 20 years should be a piece of cake. So much so that Renewable UK are now calling to increase this 2050 number to 90 GW of offshore wind. Such a number would guarantee the decarbonisation of the UK's electricity demand with enough left over to cover any increase of in electricity demand due to the rise of hybrid heat pumps. Box ticked.
So, lets go back to the colour of hydrogen question. If we take the hydrogen demand as 360 TWh per annum by 2050 and look at an equitable split of 50% blue and green hydrogen. That means we need to produce 180 TWh per annum of green hydrogen by 2050. This equates to about 70 GW of installed offshore wind capacity. Basically double the CCC estimate of 75 GW. This is now beginning to look quite ridiculous. Its taken the UK 15 years to get to our current 8.5 GW and we are going to add on 137 GW in 30 years?
This is beginning to look like a pipe dream……. or is it?
Project PipeDream
Scale is the answer. In 2005 a project with 100 offshore wind turbines would have been about 360 MW, today the same number of turbines would be 1,000 MW and soon with GE 12 MW or Siemen Gamesa 15 MW machines that will be 1,200 MW to 1,500 MW. With an almost similar investment in industrial capital (time, people, vessels etc) we have almost quadrupled the installed capacity. Yes, a bit simplistic but it illustrates the point. We now need to scale up the projects themselves to initially 3 GW per project, then 5 GW and eventually to 10 GW per project. That is what we need to combat climate change and we need to bring the environmental NGOs and wider climate lobby with us on this journey.
Yes, this will impact the local environment, yes it will affect seabirds and mammals but far, far less than uncontrolled climate change. Net Zero will only stop more CO2 being added but it will not reverse the damage already done to the global environment. Permanent change is already with us and it is affecting tens of millions of seabird and mammals, the offshore wind industry and large scale green hydrogen production is a big part of the answer to combating climate change and we now need to weigh up the macro versus micro impacts. The biggest roadblock to large scale offshore wind is the environmental rules themselves and we now need to rewrite them to be fit for a world were a climate emergency has been declared.
If we can resolve this environmental paradox then, yes, we can deliver 145 GW by 2050 and not just in the UK. In what I have dubbed Project PipeDream the vision is for Scotland, Ireland and Norway to form a green hydrogen triumvirate and become the green hydrogen suppliers to the rest of Europe, by pipeline, of course. These three Atlantic neighbours represent almost 1.7m km2 of offshore wind development space and it is in these waters where the future bulk of Europe's green hydrogen demand will be produced. In the longer term this new gas industry will replace the existing North Sea oil and gas production but by tapping into that industry's existing workforce and expertise, and possibly some of their assets as well. The map below shows the extent of the three Exclusive Economic Zones of Scotland, Ireland and Norway in comparison to the rest of Northern Europe.
To deliver this zero carbon future we will need to tap the industrial capacity of the whole of Northern Europe so this is not just an opportunity for Scotland, Norway and Ireland but one that will require a partnership with the whole of the EU to make this vision a reality. There is a building consensus that green hydrogen will play a significant role in decarbonising our transport, industry and energy sectors and it is now time to recognise what we need to put in place now to deliver this future. Offshore wind, at volumes not contemplated up until now, is the key to Europe's green future, so let's get on with it.
Paul O'Brien, is the leader of the DeepWind North of Scotland Offshore Wind Cluster.
Recommended for you

Japan's JERA to buy 35% share in Vietnam renewable energy firm for $112m