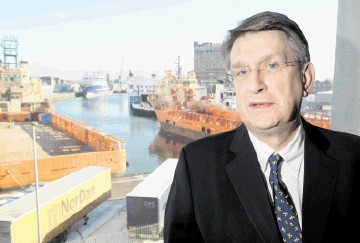 The UK oil and gas industry is constantly faced with challenges; technology, fiscal, skills retention and other business issues are all part and parcel of our day to day work. But as a major hazard industry, it is the safety of our people that comes before everything else.
Recent events on the Elgin platform in the North Sea are a good example of that fact. Safety is ingrained in everything we do and Total clearly put the safety of the workforce above all other considerations. The swift and safe evacuation of all 238 crew on board – for which Total is to be highly commended – is incontrovertible evidence of this.
It is also testament to the emergency procedures the industry has in place and that employees are well-trained in those procedures and that companies regularly conduct authentic exercises of them.
In the longer term and once the operation to stop the leak has been successfully completed, Oil & Gas UK will facilitate the sharing of learning throughout industry via its Well Life Cycle Practices Forum, in which UK regulators and unions participate alongside the industry.
The proper way to learn and continually improve is to do this in a thorough, sensible and measured way. This type of approach has seen UK offshore safety improve dramatically in the last 20 years to the point where our offshore safety regime is rightly seen as world class.
It was disappointing therefore, although not altogether surprising that, as events unfolded on the Elgin platform (when the incident's causes were not yet known), the European Commission was quick to claim that the incident justified their proposals to centralise offshore safety regulation in Brussels. Quite how their safety proposals could have prevented this particular incident remains a mystery.
However the commission does have something of a track record of knee-jerk reactions of this nature. Thankfully, their previous calls for an EU ban on drilling after the Macondo disaster were rejected by the European Parliament.
Its comments then and more recently do, however, underline a worrying lack of understanding of offshore oil and gas operations and surely strengthens the argument as to why the EU – with no experience or relevant technical competence – should not be entrusted to regulate the safety of the workforce.
OGUK has been vocal in its opposition to the commission's proposals and has been working hard on behalf of its members to protect the industry from these potentially damaging plans.
And we are not alone. Other voices expressing concern appear to be growing stronger and louder by the day, which surely must give cause for the commission to reconsider.
Firstly, both the UK and Scottish governments and indeed all leading political parties in Britain have agreed with OGUK that the proposals are unnecessary, confusing and counterproductive. They agree that it would require a major upheaval to change what is already a strong safety regime and that there would be no perceivable gain to safety from doing so.
It is also of great significance that the leading UK trade unions, RMT and Unite, have come to the same conclusion and have issued a joint statement with OGUK that the commission's proposals would seriously erode workforce safety.
The unions agree that substantial industry and regulatory resources would have to be redeployed away from tackling frontline safety challenges and into deskbound paperwork compliance.
This joint statement mirrors similar alignments between industry and unions opposed to the proposals in both Norway and the Netherlands – where strong opposition to the commission's plans has also been voiced.
The EU's impact assessment for its proposed regulation has also been subject to independent analysis by GL Noble Denton.
This analysis revealed the impact assessment's fundamental flaws and glaringly inaccurate assumptions. Another independent analysis performed by DNV for the Norwegians reached similar conclusions on the validity of the commission's justification for proposing EU-wide regulation.
The commission has previously stated its desire for a "Europeanisation of energy powers" and the proposed regulation is surely a further step in its plan to regulate offshore oil and gas from Brussels. Clearly it saw Elgin as another opportunity to press its case for such a power grab.
We believe Brussels has made a serious miscalculation regarding the resolve of member states, the industry and the workforce to defend the world-class safety regimes already in place in Europe.
Malcolm Webb is CEO of OGUK