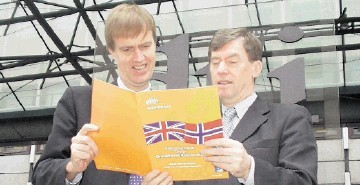 Energy treaties with Norway seem to happen with puzzling regularity these days. Last October, the then UK energy secretary, Chris Huhne, and his Oslo counterpart signed "an historic energy agreement" – according to a DECC (Department of Energy & Climate Change) press release – to "co-operate further on renewables, oil and gas and the use of technology such as carbon capture and storage".
That seemed pretty comprehensive but then in June, our PM, David Cameron, and his Norwegian counterpart, Jens Stoltenberg, signed another "landmark agreement".
Or maybe it was the same one. In Coalition governments, maybe both parties need to have a shot at signing before anything is legitimate.
Anyway, the line that caught my eye was that the new agreement "hinged on the creation of a 'One North Sea' policy and greater co-operation in energy and climate issues."
One North Sea? So why didn't anyone think of that before? Well, the answer of course is that they did.
A decade ago, I was spending a lot of time with my counterpart, the Norwegian energy minister, negotiating exactly that – an approach which recognised that there were valuable assets straddling the boundary between UK and Norwegian territorial waters which would benefit from a joint legislative and regulatory approach. For historic reasons, the two industries had developed looking away from one another rather than acknowledging North Sea oil and gas as a single resource shared between different jurisdictions.
As North Sea activity went into decline, one of the obvious methods of prolonging it was to take a more pragmatic approach to the fact that some of the undeveloped assets lay on the median line and then work out how to develop them together. There was also a strong UK interest in accessing Norwegian gas as we became net importers. I remember suggesting to Einar Steesnaes, the Norwegian minister at the time, that we should hold one of our meetings in Shetland, which seemed appropriate, and make that the target date and venue for finalising agreement.
A Treaty of Lerwick would have been nice. To the consternation of our officials, he readily agreed and the negotiators were obliged to decamp out of their natural habitats – Whitehall in our case – to a Lerwick hotel lounge, which was much against their instincts. Remarkably, given Norway's close ties with Shetland and the islands' key role in North Sea developments, it was the first visit by a Norwegian energy minister.
The Shetlanders rolled out the red carpet and a great time was had. Inevitably, however, the negotiators found that there was still much detail to mull over and it was not until 2005 that the UK/Norway Oil and Gas Co-operation Treaty (otherwise the Corridor Treaty) was finally signed. Looking at the press releases that informed the world of the recent treaty signings, I could find absolutely no reference to the 2005 Treaty or, more important, anything that happened as a result of it.
There is not much point in signing treaties and then ignoring the follow-up. It would have been helpful to see a summary of what has happened between 2005 and 2012 in furtherance of the "One North Sea" concept, rather than merely re-stating it without acknowledging the history. Or maybe just as useful would have been a precis of why so relatively little seems to have happened as a result of the 2005 Treaty.
The answer may be that it was not followed through with the necessary degree of regulatory, far less fiscal, alignment to allow a major change in vision to take hold.
For example, Total was frustrated throughout the intervening period in advancing its Hild project, in the absence of that unified approach, though plans have now been presented to the Norwegian Government with the UK as proposed destination for gas from the field, via the existing pipeline system. Does the need for a new Treaty, in effect, recognise the fact that the last one has not delivered much?
And if it failed in the objective of creating "One North Sea" – which was certainly my perception of the intent – then was this due to the inadequacy of the legislation in spite of all that negotiation or the absence of a consistent follow-through, to ensure that regulatory actions matched the political rhetoric?
It is necessary to address that question honestly or else there will be another Treaty coming up in a few years time. The other big issue which was around a decade ago was the question of how to transport gas from the vast Ormen Lange gas field to the UK, where it was to play a key part in ensuring our security of supply.
The key question was whether to join up existing infrastructure, as BP wanted, or to lay a new pipeline. Eventually the answer came down on the side of the latter solution . . . the Langeled pipeline. Since 2007, the Langeled South pipeline has been delivering gas to the UK with the landfall at Easington in Yorkshire. I found the statistic quoted in the latest DECC press release quite striking – "Norway already accounts for over a quarter of UK energy needs".
In some ways, it is reassuring that for the time being at least, we can rely on stolid, stable Norway for such a high proportion of our requirements. On the other hand, it does remind us just how much of a net importer we have become – with all the attendant questions that this raises about long-term security of supply. The one certainty is that Norway is going to be extremely important to our energy needs for as long as the North Sea continues to be productive and that maximum co-operation is desirable. So let's make sure that, this time, One North Sea is not just a slogan but an outcome.