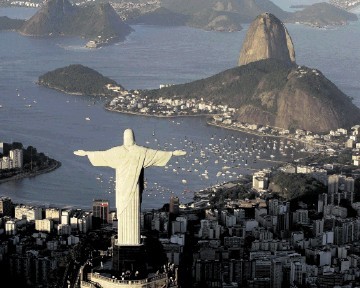 So, the London 2012 Olympic Games have been broadly hailed as a huge success. The impressive sports facilities were ready on time, the city's transport system functioned well and Londoners generally kept working as usual.
As many of you will recall, Team GB won 65 medals and we were treated to Chris Hoy, Bradley Wiggins, Jess Ennis, Mo Farah, Usain Bolt, Michael Phelps and a Wimbledon gold for Andy Murray. The capital was on a high.
As the games drew to a spectacular close, the Olympic flag was passed to Eduardo Paes, mayor of Rio de Janeiro. The stadium audience and millions around the world were treated to eight minutes of samba, carnival costumes and footballer legend Pele; a taste of things to come.
For British sports fans, the closing ceremony was a fond farewell, but on the other side of the Atlantic, in Rio, the clock has started ticking a little louder. With less than four years to go, will they be ready for Rio 2016?
The city has a big task ahead. Since the 1960s, when Brazil's capital was moved to Brasilia, Rio de Janeiro has suffered from under-investment in infrastructure.
The traffic is a mess. It is not helped by geography. The same steep, jungle-covered mountains that make Rio so picturesque also make for limited road connections from one part of the city to another. Those granite outcrops also make for difficult tunnelling. Rio's metro system is just over 40km and serves only a limited portion of a huge metropolitan area with a population of 11.5million people.
The Olympics will put unprecedented strain on this infrastructure, but they are not the main driver for investment in the city. It's oil, with the first well in the famed Campos Basin drilled in 1971.
And the discovery in 2007 of the pre-salt oil reserves in the ultra-deepwater Espirito Santos Basin dramatically raised that game, reinforcing Rio's role as the primary centre of Brazil's oil and gas industry.
These pre-salt reserves, which could total 80billion barrels of oil or more, have attracted the likes of Halliburton, Schlumberger, Baker Hughes, Rolls Royce and GE to establish or expand research and manufacturing facilities in the region.
As Aberdonians understand well, the oil and gas industry can attract large numbers of people and increase demand for infrastructure and public services rapidly, but it can take time for such demand to be adequately met.
Olympic infrastructure and the oil and gas industry in Rio have followed similar trajectories. After the initial euphoria, the political and bureaucratic realities have slowed progress.
Some of the more extravagant proposed infrastructure investments, such as the proposed bullet train between Rio and Sao Paulo, are no longer expected to occur before the Olympics.
Physical progress on others, such as an extension of the metro and redevelopment of Rio's port area, seems to be slower than anticipated too.
In the oil industry, the pre-salt discoveries somewhat derailed an already successful regulatory model based primarily on the Campos Basin.
The government decided to replace the concession model with a production sharing regime for the most prospective offshore areas, and to grant semi-state company Petrobras sole operating rights in such areas.
The definition of this new model has been held up by wrangling between different states, municipalities and the federal government over oil revenues. The national government has suspended licensing, even in areas that remain subject to concessions.
With no offshore licensing for five years, there has been a sharp reduction in exploration acreage and some international oil companies have withdrawn from Brazil altogether.
However, on both counts, there are reasons for optimism.
Upcoming municipal elections may be one temporary reason for the slow progress with infrastructure works. City councillors and mayors are busy campaigning and are reluctant to push ahead on infrastructure works that will only be ready in the next electoral term, when a rival may take the credit.
At the federal level, President Dilma Rousseff seems to be embracing the need for private investment in infrastructure, recently beginning a process of privatisation of ports and airports (including Rio's international airport) and tendering of road and railway concessions.
In the oil and gas sphere, certain operators are finding rich pickings in existing concessions. Repsol-Sinopec, Statoil and Petrobras have reported discoveries in the BM-C-33 block that are expected to total 1.2billion barrels oil equivalent. And Petrobras and its partners in BM-S-8 have announced a 400m-plus oil column at the Carcara prospect.
Meanwhile, Petrobras' massive upstream investment plans present great opportunities for suppliers, a topic well aired at the last Offshore Europe.
Will Rio de Janeiro be ready for its Olympics and its pre-salt bonanza? The city and its oil industry may not be sprinting ahead and may face some hurdles, but over the longer distance, the prospects are brilliant.
Penelope Warne is head of energy at international law firm CMS Cameron-McKenna
Recommended for you
X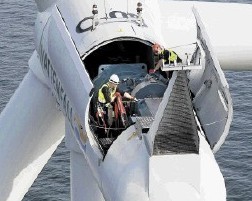 Think-tank calls for common competency standards across offshore wind