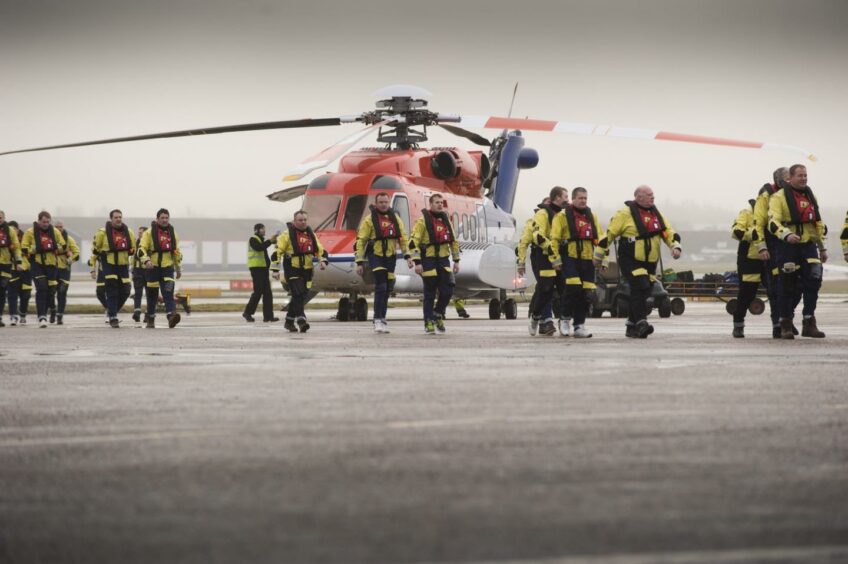 Kelly Brown and Robert Phillips, from the employment law team at Addleshaw Goddard, examine the implications for oil and gas employers & employees of new requirements for helicopter baggage searches.
In June 2019, the UK Civil Aviation Authority (UKCAA) hosted its first international lithium battery workshop to explore safety issues in the transport of lithium batteries. While lithium batteries are generally very safe, they present a risk of ignition and explosion if faulty or not handled properly. Fast forward to 2022, and UKCAA will announce a requirement for passenger baggage searches to ensure that lithium power packs are not left on when taken onto helicopters.
What does this mean for the oil and gas industry, and how do employers deal with an employee who refuses to allow their baggage to be searched?
Communication of changes
In the same way as a passenger might be denied boarding an aeroplane if they carried dangerous goods in their luggage, helicopter passengers have to demonstrate that they, and their baggage, are safe to fly. And, just as passengers have become used to placing liquids in clear bags through security, helicopter passengers will come to see lithium battery checks as just another step in the pre-boarding procedure.
Oil and gas workers are accustomed to detailed safety requirements for helicopter travel, and training agencies will no doubt add this check to their materials. However, the new rules will undoubtedly frustrate helicopter passengers at first, and it is worth employers starting an education piece on these changes now so that employees are not surprised (or embarrassed) by a search.
Dialogue with operators
As part of the wider education piece about the changes, employers should engage with operators now to understand how the searches will be conducted. Issues such as the extra time taken to conduct the searches and how they will work in practice are all relevant in making the changes transparent and easily understood.
The search is a reasonable instruction
While the search requirement is ultimately mandated by the UKCAA on safety grounds, can requesting employees to submit to the search in order to carry out their work duties be justified?
Regular travellers will already be familiar with random baggage searches, and a refusal to allow such a search would likely prevent that passenger's boarding. Oil and gas helicopter passengers will also be familiar with random breathalyser checks to ensure fitness to fly – with failure also preventing boarding. This new search is a reasonable extension of those safety precedents.
Any decision to refuse such a search will impact upon the employer, both in not having the employee at their required destination and in disciplinary decisions about that employee. A refusal is extremely likely to be viewed by any Tribunal as a failure by the employee to follow a reasonable management instruction, and so disciplinary sanctions (which could well include dismissal) are likely to be triggered by non-compliance.
If employees are informed about the changes, such that they understand what to expect, this should go some way to avoid boarding issues at security. Further guidance is expected from the UKCAA in due course.