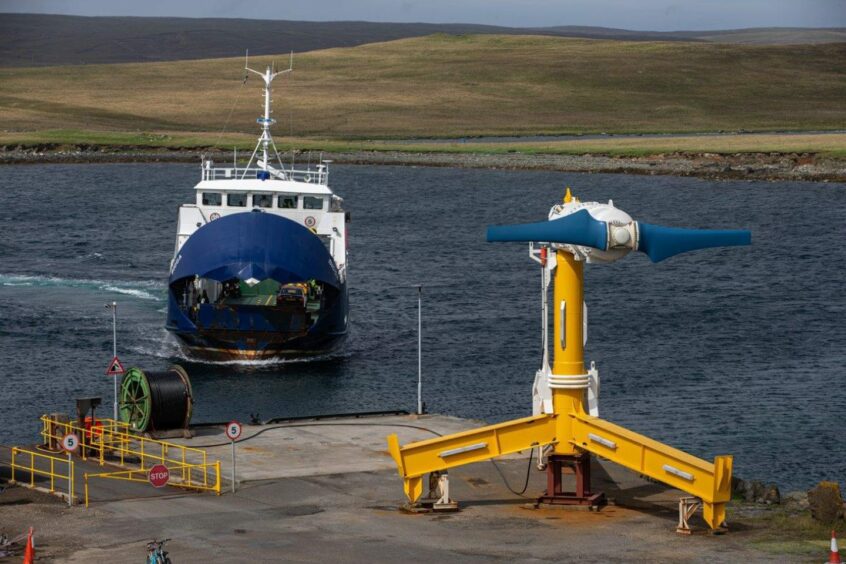 Regardless of what government, its agencies and trade groups try to claim, offshore wind has not had that Saudi Arabia scale impact on the Scottish supply chain scene some hoped it would.
The ScotWind programme is supposed to be designed to make a difference but as I haven't yet noticed any Scottish companies rushing to make the necessary investment to achieve any meaningful progress on supply chain development I have this feeling it will be yet another damp squib.
It's always struck me as interesting that whilst wind energy projects are still receiving fairly consistent high levels of both publicity and financial support tidal energy is still seen as something of a bit of an outlier and I don't understand why.
The potential for tidal energy remains huge. The MeyGen project in the Pentland Firth is or was aiming for 400MW.  Tidal currents are obviously much slower than wind speeds but as water is over  800 times the density of air you need a far smaller blade swept area to achieve the same energy output.  It's also 100% predictable, does little environmental damage and in most cases in Scotland is out of sight.
In 2012 the Crown Estate estimated that the size of Scotland's potentially exploitable tidal stream resource was around 32 TWh per year. I can't vouch to the accuracy of that, but it sounds realistic. In 2018 total Scottish electrical consumption was in the order of 24 TWh. In theory then Scotland could generate a considerable electrical surplus from its tidal resource alone.
The question is why has more effort gone into offshore wind than tidal when tidal could – possibly – provide all the energy we need, or provide the core energy source for hydrogen production.
There are, in my opinion, just three serious players in the Scottish tidal turbine business although only two are actually Scottish.  I describe them as serious because they are either manufacturing most elements of the turbines themselves and so providing high value jobs and export potential or having them built elsewhere and installing them to develop tidal arrays.
The first of these three is Simec Atlantis Energy which despite being a Singapore based business is developing the MeyGen tidal array in the Pentland Firth off the North coast of Scotland. It was supposed to be complete by 2021 and be made up of nearly 60 turbines. So far they've only deployed four.
The Simec Atlantis Energy story is one I find very confusing. Their first three turbines  were apparently built by the Austrian company Andritz Hydro but then Lockheed Martin – the US defence contractor – say they designed and built the latest and fourth  turbine which incorporates what I assume to be smarter blade pitch control and a new yaw drive system.
Just to add to the confusion Simec Atlantis Energy recently sold its Advanced Turbine & Engineering Services division including its tidal turbine technologies and associated IP under a Dutch management buyout deal to a new company based apparently in Bristol called Proteus Marine Renewables. Proteus will continue to supply support to Simec on the MeyGen project and Simec will retain a 21% stake in what was only a £500k deal.  Will they manufacture turbines?  Not sure yet.
Next up is Orbital Marine who are on the second version of their floating tidal turbine. Installed at the EMEC site on Orkney this turbine is happily generating 2MW of energy and is now grid connected. They intend installing three more similar turbines at this site.
Last but by absolutely no means least is Nova Innovation.  This Edinburgh based company manufactures its own turbines using some imported components for the generators but with assembly in Scotland to maintain quality control.  Importantly it also buys its blades from a Shetland based company so keeping their supply chain as local as possible.
Compared to the others Nova has made impressive progress having built 9 turbines to date including three for the Shetland array with another 2 being deployed this month.  Importantly, they have also broken into the export market with the deployment of one turbine in France and one in Canada both due in the first half of 2023.
Begs the question doesn't it as to why Nova aren't providing the turbines to the MeyGen project as they actually seem to know what they're doing. Regardless, this rare Scottish success is something we should both shout about and get behind financially.
Dick Winchester is a former subsea engineer and an energy advisor to the Scottish Government.
An earlier version of this article stated Orbital Marine tidal turbine was built in Northern Ireland – the turbine was in fact manufactured in Dundee and we apologise for the error. 
Recommended for you

Nova wins €20m funding for world's largest tidal site in Orkney