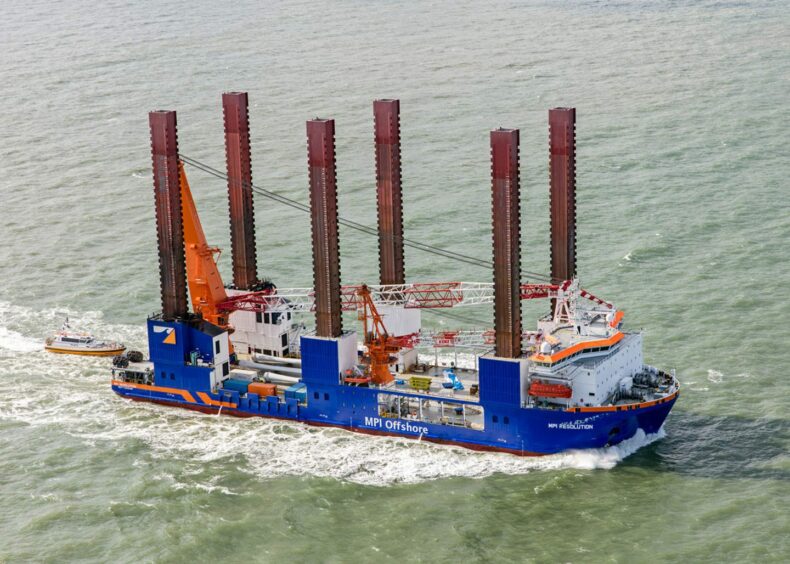 I was pleased to read via EV's daily online service about the launch of an offshore wind heavy-lifter business based out of Aberdeen or Edinburgh or "or between both at the same time".
Zero-C Offshore will help address an "extreme bottleneck" in the offshore wind market, particularly for foundation installation work, according to the company's founder John Oliver Bryce
Bryce claimed via EV that this new heavy lift business will have a "massive advantage in a very hot market" in the UK and Europe more widely.
That's quite a claim, given the heavy duty, highly experienced foreign brands that dominate the Big Wind space.
Now, Bryce is out of the drilling industry so without wind experience, but his vision appears clear.
Moreover, he has boxed canny by, in effect, building into the project at an early stage, leading energy ship designer/builder Ulstein, Dutch crane designer/manufacturer Huisman and broker Clarksons Platou with its huge knowledge of the maritime offshore energy services market.
Bryce has been fortunate in that, having worked for Norwegian drillers Awilco and Odfjell, he is clearly well networked into the efficient Scandinavian financial machine.
This is important. Zero-C is may be registered in Aberdeen, but the plan is to IPO in Norway. And one can easily guess why.
The 220m "Installer Max" foundation installation vessel (FIV) is already on the drawing board and Far East shipyards are being sounded out too.
"There is no British heavy-lift contractor, so what we are aiming to do is build a fleet of FFIV's which are, by definition, heavy-lift vessels to serve the UK wind industry and the global wind industry," he said.
All good stuff and I very much hope Bryce will win through.
This is a road down which other Brits have ventured and not achieved their dreamed of outcomes, notably the Mayflower story.
In September 2015 I warned that the UK's leadership in offshore wind claim is tissue thin; the only real leadership being the total installed capacity and current investment commitments. In almost all other respects, Britain is a follower.
That situation has not changed.
Even the early lead in offshore construction ships was quickly lost.
I am particularly referring to the wind construction ship Mayflower Resolution originally ordered by the UK bus builder Mayflower Corporation in the early 2000s, I kid you not, and built in China.
Unfortunately, in March 2004, Mayflower was put into administration (Deloitte Touche) with debts of £17.7million.
Resolution, built at a cost of £75million, was sold by the administrators for £12million to a group of Mayflower Corporation bosses who managed to get backing from the Japanese bank Mizuho International to set up a company called MPI.
The vessel was based out of Teesside and appeared to do well but, in 2006, MPI was acquired by Dutch competitor Vroon, though kept its offices at Stokesley.
Then, in mid-2018, Vroon's Dutch competitor Van Oord came along and took over MPI, including the original ship MPI Resolution plus by then consort Adventure.
In parallel, Jan De Nul Group and Vroon Group signed agreements to transfer part of the offshore business of MPI to the Belgian firm. That  included ownership of a third ship: MPI Discovery.
Another lifter/service vessel business operating out of the UK but which has always been foreign owned is Sea Jacks of Great Yarmouth; first Norwegian, then US (in effect), then Japanese and now New York Stock Exchange-listed Eneti Inc. of Monaco. So, not really British.
Back in May 2012, the Aberdeen company W3G Marine (W3GM)  warned that there would be a significant under supply of assets – ships and crane barges – suitable for installing the huge number of offshore turbines scheduled for planting in UK waters.
The firm was at that time developing a new class of construction vessel known as OWTIS in concert with Dutch shipbuilding and energy/maritime engineering group IHC Merwede.
The firm said it was in discussion with a number of developers about a long term charter for the vessel and that the first of the class could be ready as early as Q3 2015.
It happens that W3GM was founded in 2010 and initially concentrated on understanding and developing solutions for the offshore installation of foundations and fully assembled large turbines – at that time around 5MW class machines.
Roll the clock forward to the present day and, while the OWTIS fleet dreamed of a decade and more ago has not materialised, W3G is still very much alive, innovating and British.
One of the feathers in its bonnet is surely that it acted as "owners engineer and project manager" for the construction of the Kincardine Offshore Windfarm.
So, was OWTIS before its time? Perhaps but perhaps not.
The hope has to be that the Zero-C Offshore ambition is realised in full. The opportunities are surely ripe for the picking this time.