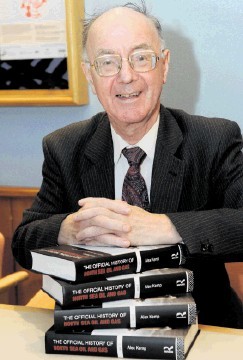 Oil and gas expert Alex Kemp said BP's announcement about Kinnoull
was a much-needed boost for the North Sea industry.
The Aberdeen University petroleum economics professor added: "The field was expected to go ahead and development work has been going on for some time."
On the 45million barrels of oil and gas equivalent resource estimate and forecasted 45,000 barrels a day output, he said: "By today's standards that's a substantial flow.
"The average size of a new field is just over 20million barrels, so it's well above that.
"It comes at a very welcome time because production has been falling generally."
Prof Kemp was disappointed to hear the news about BG Group's Jackdaw project.
"It's understood it's quite a high cost because it's ultra-high pressure," he said, adding: "It was well-known that it was an expensive project.
"This is the third big project to be deferred because the costs are very high and the oil proves are coming down.
"There's now more and more evidence that new field developments are not viable under the present tax system, particularly if you take into account the fall in oil prices.
"The industry will need to have cost reduction initiatives and, hopefully, the new regulator will have a real involvement in this.
"The chancellor also needs to take action to have more incentives for these extremely expensive developments."
A new industry regulator, the Oil and Gas Authority, is being set up as one of the recommendations of the recent Wood Review.
Recommended for you

'Low risk' of Greenpeace legal action derailing Jackdaw, says Shell