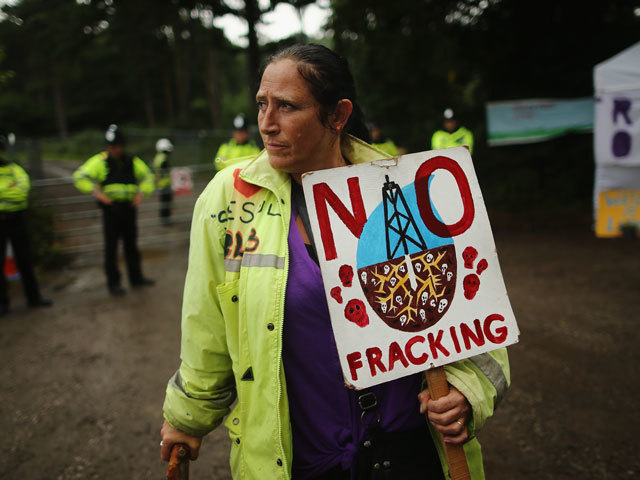 The Scottish Conservatives have called for a moratorium on fracking to be lifted to help boost work for the North Sea oil and gas industry amid the decline in oil price.
Holyrood candidate Ross Thomson, who is standing for the Aberdeen South and North Kincardine constituency in the upcoming Scottish elections, has claimed there should be "serious discussion" on the role onshore oil and gas extraction could have in supporting Nort-east businesses.
But experts have claimed the timing to start fracking anywhere in the UK "could not be worse".
The Aberdeen City Councillor said the expertise amassed from the North Sea oil and gas industry could provide a much needed boost to businesses who could use their skills and expertise in fracking.
Business leaders have said there would be a clear opportunity for Aberdeen-based firms in the sector.
The Aberdeen City Council Conservative group leader said: "At a time when business leaders and politicians at all levels of government talking about the long-term future of the oil and gas industry through innovation and diversification, I genuinely feel that now is also the time for a serious discussion on the role onshore fracking could have in our wider energy mix.
"Aberdeen has amassed more than 40 years' experience in oil and gas, and we have been using these technologies and methods in the North Sea for a very long time. The expertise and skills base is here and we should be doing all we can to retain those skills in this area and make sure the north-east remains a centre of excellence for years to come.
"If we are able to advise Mozambique on its newly discovered gas deposits, then we can become the centre for fracking expertise, not just across the UK, but all over Europe, cementing our position as a global energy hub."
Mr Thomson added that it is "imperative" that Scotland's energy security is safeguarded in the future.
He said: "Currently, Scotland is a gas exporter, but not for much longer. Industry leaders have advised me that in four or five years time Scotland will have to use imported gas from Norway and England.
"If Scotland wants to reduce its gas imports in future then we need to start taking decisions on shale appraisal drilling as soon as possible.
"The SNP moratorium on fracking is completely out of step with both scientific evidence and what businesses and consumers across Scotland need and want. The Scottish Government's own expert scientific panel played down the risk of earthquakes and other environmental concerns.
"They need to stop playing politics and start thinking about the long-term economic consequences of blocking an industry with the potential to create jobs, reduce emissions and increase our security of supply. I want there to be a proper discussion, and now is the time to do it."
The Labour party in Scotland is pushing for an outright ban, while the Liberal Democrat leadership has previously overturned a democratic vote by its own members at the party's Spring conference in favour of fracking to continue its support for a ban.
Earlier this month, Scottish Energy Minister Fergus Ewing admitted the SNP could back fracking if the party wins the Holyrood election in May.
But Professor Peter Strachan and Professor Alex Russell from Robert Gordon's University said onshore oil and gas extraction could only be justified if a need for short-term cash generation was "so critical" that to not frack would jeopoardise the UK economy.
The academics said:"We hope the UK economy is not that fragile. Engaging in fracking now would be the opposite of maximisation of revenue from oil and gas; a longer term view must be taken.
"The shale reserves of gas are not going to evaporate and will be there for harvesting when oil and gas prices have risen which they will certainly do in the future."
The pair added the move would send out a signal that it was "game up" for the North Sea oil and gas industry.
They said:"Producing gas from fracking will help reduce oil and gas prices and the North Sea is only viable, if at all, when oil prices are high."
Dr Lateef Akanji, a senior lecturer in petroleum engineering at the University of Aberdeen, said: "The recent reduction in output from the North Sea and dwindling oil prices have made UK more exposed and vulnerable due to inherent reliance on foreign imports.
"The technological requirements to meet the challenge of shale fracking and the associated environmental issues are now within reach and this shale resource should therefore be fully exploited in Scotland and UK as a whole.
"This will not only make us self-reliant and energy independent country, but also improve our economic standpoint significantly."
A Scottish Government spokeswoman said a "careful considered" approach was currently being taken by carrying out a moratorium on fracking.
She said: "No fracking can take place in Scotland as the Scottish Government has a moratorium on unconventional oil and gas.
"The Scottish Government is carrying out one of the most wide-ranging research programmes into the environmental, climate change, public health and economic issues associated with fracking in order to fully inform public debate. It will also conduct an extensive public consultation which will allow interested parties to express their views."
Recommended for you

Report warns up to 17,000 north-east jobs at risk without energy transition cash