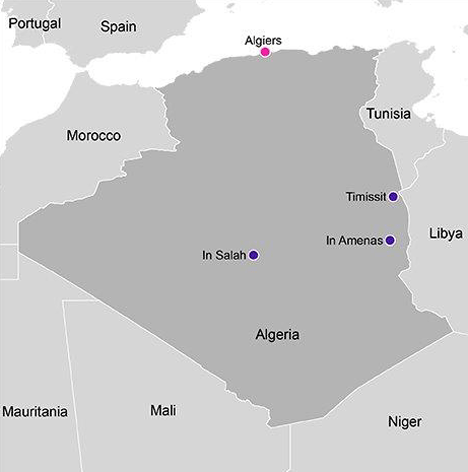 Statoil has confirmed there are no reports of anyone being injured in the early morning explosives attack at the In Salah gas plant in Algeria.
The Norwegian company said the situation at the plant is now calm with the Algerian military reportedly in control of the area.
Algeria's energy infrastructure is heavily protected by the army especially since the 2013 Islamist militant attack on the In Amenas gas plant, also operated by BP and Statoil, during which 40 oil workers were killed.
Statoil is now following up the incident towards its own employees, licence partners and relevant authorities.
Militants attacked the Krechba plant at around 6am using a vehicle and a mobile weapon firing explosives – believed to be rocket propelled grenades – at the plant. The attackers then left the area after three strikes hit the plant.
Statoil's emergency organisation has been demobilised, but the joint venture and the partners continue to monitor the situation in cooperation with relevant authorities.
There were a total of just above 600 employees at the plant, three of them from Statoil.
"None of the employees at the plant are injured, and the three Statoil employees are safe inside the plant. No evacuation from this plant or any other plants in Algeria has been planned," the company said a statement this afternoon.
The 2013 In Amenas attack was carried out by militants linked to veteran Algerian jihadist Mokhtar Belmokhtar, who U.S. forces say may have been killed in an air strike in Libya last year. Al Qaeda has denied he was killed.
Belmokhtar's group Al Murabitoun or "Those who sign in Blood" has been blamed for several attacks across the region. Al Qaeda in the Islamic Maghreb has also claimed recent attacks in the Ivory Coast, Mali and Burkina Faso.
Attacks and bombings in Algeria, one of Europe's main gas suppliers, have become rarer since the North African country emerged from a 1990s war with Islamist fighters that killed around 200,000 people.
But Al Qaeda in the Islamic Maghreb, and its affiliates, and fighters allied with Islamic State, are active in remote pockets of the country, mainly in the desert south and the mountains east of the capital Algiers.
Statoil said that after the attack at In Amenas attack in 2013, the security of plants in Algeria has been strongly improved, and ordinary operations were resumed during 2014.
The company will carry out a review of the latest attack, and together with the partners consider, as part of the ordinary operations, the need for any further security measures at the plants in Algeria.