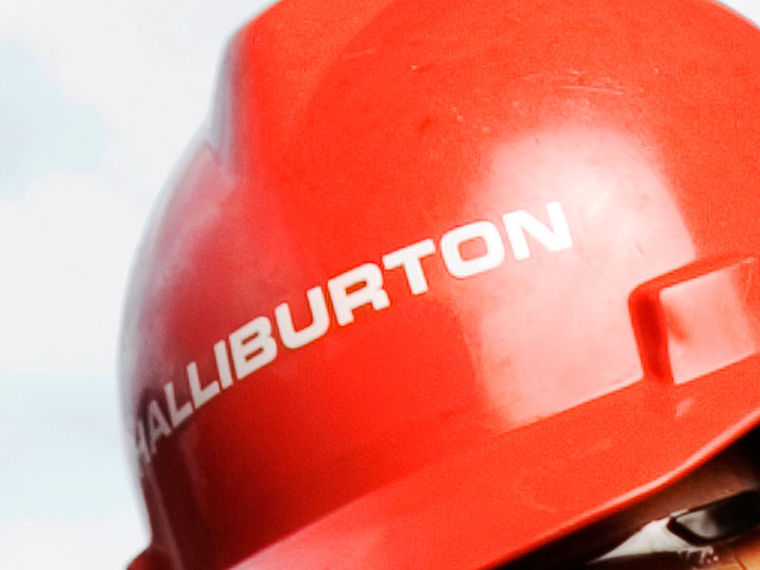 It seems not even the board of Halliburton Co. thought the price of oil would remain depressed this long.
The company's five top executives missed out on at least $12.2 million in cash bonuses last year after Halliburton posted cash value added — a metric it uses to determine bonus payouts — that was off target by more than 60 percent, according to a Tuesday proxy statement. The board's compensation committee set that target in early 2015.
The foregone bonuses illustrate how even some of those closest to the oil and gas industry have struggled to predict how the fall in crude prices that began in mid-2014 would become the worst slump in decades. The Houston-based provider of drilling and production services announced another 5,000 job cuts in February after laying off more than a quarter of its global workforce since June 2014.
"The rig count appears to be scraping along a bottom," Halliburton President Jeff Miller told investors on a July 20 conference call, about one year after crude prices began falling. "We don't anticipate dramatic change of any sort, certainly over the very near term."
About 100 more oil rigs were idled from that point through the end of the year. Miller's cut of the bonus pool could have been as much as $2.5 million.
Crude plummeted 46 percent in 2014 and 30 percent last year. After rising during the second quarter of 2015 to $59.47 a barrel, it fell 38 percent over last six months of the year.
Halliburton's 2015 results were also hampered by its decision to operate at costs higher than the market needed to be ready for extra work coming in after the anticipated close of its acquisition of rival Baker Hughes Inc. Halliburton was sued Wednesday by the Justice Department, which said the planned deal threatens competition.
"The market view in early 2015 was that prices would be higher in the second half of the year — that's where the big miss was," said Rob Desai, an analyst at Edward Jones in St. Louis, who rates the stock a buy.
James Boyd, who spent 23 years as a director of Arch Coal Inc., is chairman of Halliburton's compensation committee. Sempra Energy's chief executive Debra Reed, retired EQT Corp. executive chairman Murry Gerber, Milton Carroll and Robert Malone also sit on the committee.
Cash value added is a metric comprised of net operating profit after taxes minus the cost of capital. The board sets targets at the start of each fiscal year. For 2015, a loss smaller than $492 million would have yielded full payouts while a loss exceeding $892 million would have resulted in no bonuses. The company posted a $1.1 billion decrease in cash value added for the year.
Chief Executive Officer David Lesar could have reaped as much as $5.25 million for his bonus, the filing shows. His total compensation last year was $15.9 million, including a $1.66 million salary and $5.97 million in restricted shares and stock options that fully vest after five years. Emily Mir, a Halliburton spokeswoman, declined to comment.
Recommended for you

Supply chain is yet to see effect of higher oil prices