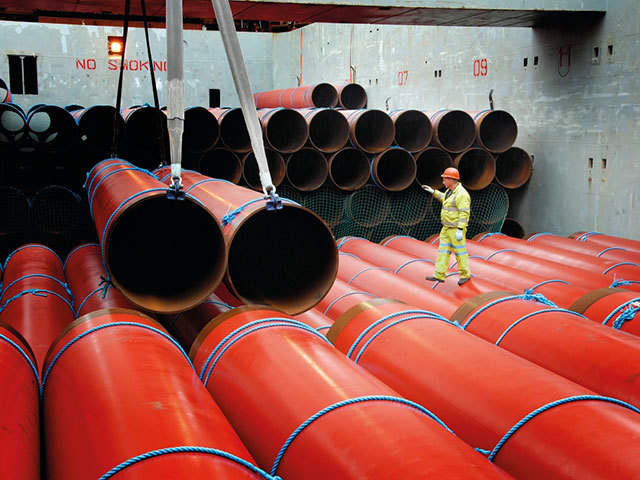 Britain's beleaguered steel industry at last has something to celebrate, with the official handover of two Scottish steel works to a new owner.
Troubled Indian conglomerate Tata Steel will hand over the keys of two Lanarkshire steel plants to metals firm Liberty House, six months after announcing the mothballing of the sites with the loss of 270 jobs.
The handover ceremony comes amid continuing uncertainty for workers at the UK's largest steel plant in Port Talbot, South Wales.
The sale process for the giant Tata works is due to start on Monday and steelworkers await a buyer stepping forward to secure their jobs.
Workers at the plant said on Thursday they were "encouraged" about efforts to save their jobs after hearing from the UK Business Secretary that Tata is planning to act responsibly over the sale of its UK assets.
Sajid Javid flew back from a meeting in Mumbai – at which he pressed Tata officials for more time over the sale of its steel plants – to spend hours at Port Talbot in talks with unions and staff.
He cut short the trip to visit Port Talbot amid union claims he had "taken his eye off the ball" as the UK steel industry crisis deepens.
Mr Javid had been in Australia on a business trip when the steel firm made the shock announcement it was selling its loss-making plants just over a week ago.
The handover ceremony at the Dalzell works on Friday is a rare moment of good news in the struggling industry, and will be attended by Scotland's First Minister Nicola Sturgeon.
The plants – Dalzell in Motherwell and Clydebridge in Cambuslang – were secured last month in a "back to back" agreement, involving the Scottish Government buying them from Tata Steel, and immediately selling them on to Liberty.
Senior Liberty figures will meet remaining Dalzell workers and Tata Steel representatives to formally hand over the keys to the sites.
A Liberty banner will be unfurled from the plant's water tower.
Management and workers will hold a private lunchtime celebration to mark the planned re-opening of the sites.
A Scottish steel taskforce was established to secure jobs and the future of steel manufacturing in Scotland after Tata announced 1,200 UK job losses in October.
Sanjeev Gupta, executive chair of Liberty House Group, said when the agreement was reached on March 24: "This agreement saves two great facilities in Scotland.
"Now we must turn our attention to restoring these businesses to their former glory, steadily rebuilding their skilled workforces and customer base."