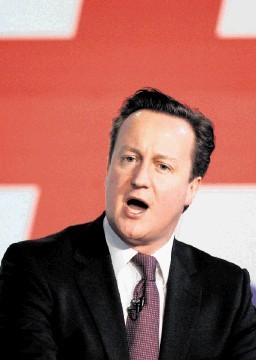 A decade after David Cameron posed with huskies in the Arctic to show his green credentials, environmentalists say they are still waiting for "cleaner, greener" government.
The trip to Svalbard in the Norwegian Arctic in 2006 saw the Prime Minister, then leader of the opposition, taking a husky- pulled sled to a retreating glacier to see "in sharp relief and first hand" the effects of climate change.
He talked about the need to tackle global warming and to have "green growth" as he sought to bolster the Conservative Party's environmental credentials and encourage people to "vote blue to go green".
But on the 10th anniversary of the visit, environmental group WWF-UK, which organised the trip, urged Mr Cameron to show he meant what he said.
Mr Cameron has faced repeated criticism from green groups that he has not lived up to his promise on entering Number 10 to lead the "greenest government ever".
In recent months the Government has been attacked for cutting support for renewables, home energy efficiency and low carbon technology, and backing fossil fuel development such as shale gas.
The call from WWF-UK comes after figures showed global temperatures were at record highs in March for the 11th month in a row and winter sea ice coverage in the Arctic hit a record low.
Last year air temperatures over land in the Arctic averaged 1.3C (2.3F) above long-term norms, while in broad areas of the region averages between October 2014 and September 2015 were 3C (5.4F) warmer than normal.
WWF-UK's head of climate and energy Emma Pinchbeck said: "A decade ago David Cameron joined WWF in the Arctic to raise awareness of the pressures facing our planet and to position the Conservatives as champions of the environment.
"Ten years have changed many things – including the fragile Arctic – but we are still awaiting the 'cleaner, greener' environment Cameron pledged.
"David Cameron can still show he meant it in 2006. Last year, the UK helped broker a strong climate agreement in Paris.
"In 2016 a bold plan of action from the UK on carbon reduction will send a strong signal to the markets, the public and the body politic that 'going green' is not a slogan, but an economic necessity."
The Paris Agreement – agreed in December by countries around the world to drive down greenhouse emissions to curb rising temperatures and avoid "dangerous" climate change – opens for signing
this week at the United Nations in New York.
The UK is one of more than 160 countries set to sign on the first day.
Recommended for you

Sunak reinstates fracking ban in reversal of Liz Truss policy