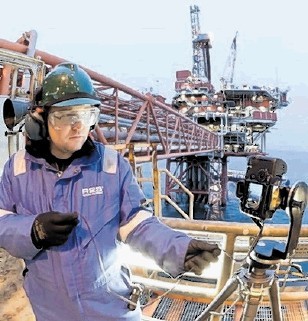 Troubled north-east energy service firm SeaEnergy can keep going at least another few weeks after striking a deal with a preferred bidder for its Return to Scene (R2S) subsidiary.
SeaEnergy, which is headquartered in Westhill, near Aberdeen, said it had secured a non-refundable deposit from the potential buyer, giving it some breathing space.
And if the deal completes successfully, it is expected the proceeds will be enough to repay a bank overdraft, nearly all of the group's secured debt and "a proportion of amounts owing to unsecured creditors."
The move comes just three weeks after the Alternative Investment Market (AIM)-listed company announced it was running out of money and taking advice from insolvency experts.
It has been trying to find a buyer for Aberdeen-based R2S, which uses the latest imaging technology to analyse offshore oil and gas installations as well as crime scenes, for several months.
The cash problems led to a suspension of the group's shares last month, pending clarification of its financial position.
SeaEnergy has also been hit by a legal wrangle between two other companies – Transocean Drilling UK and Providence Resources – affecting Dublin-based Lansdowne Oil and Gas, in which it has a near-19% stake.
Lansdowne's shares were also suspended from trading in April amid "active discussions with its financial advisors and current debt provider" after it emerged its 20% interest in the Barryroe field offshore Ireland could leave it financially vulnerable in the ongoing dispute.
Yesterday, SeaEnergy said both it and advisers from KPMG had taken part in detailed discussions with a number of potential purchasers of R2S.
It added: "The preferred bidder has indicated that it intends to acquire all aspects of the R2S business and it is planned for the disposal to be completed within a short timeframe."
But SeaEnergy, which employs about 50 people in delivering "strategic innovation to energy companies around the world", also warned there was no guarantee of the potential disposal completing.
The group's decision to sell R2S was driven by the oil price rout, which has dried up demand from energy industry clients.