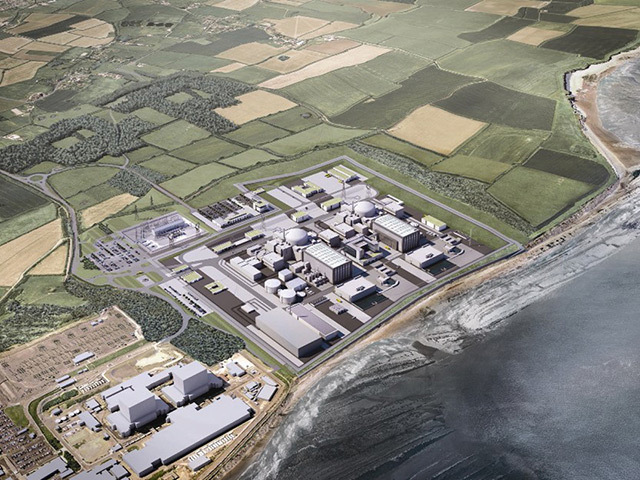 A board member has resigned just before a meeting of the French energy giant EDF which is expected to give the go-ahead for a new nuclear power station at Hinkley in Somerset.
Gerard Magnin, one of 18 board members, said the £18 billion project was financially "highly risky" and would lead France away from renewable energy.
Despite his move, the board is still expected to announce a final investment decision for the Somerset plant on Thursday night.
In his resignation letter, Mr Magnin said he had expected a reorientation of EDF's strategy towards renewable energies and that as a board member proposed by the French government he could not support the decision.
"I don't want to endorse any longer a strategy that I don't share," Mr Magnin wrote.
His resignation comes after EDF's chief financial officer Thomas Piquemal quit in March over his concerns that the decision on investment at Hinkley Point C was being made too soon, potentially threatening EDF's financial position.
Environmentalists opposed to the project seized on the latest resignation.
John Sauven, Greenpeace executive director, said: "The UK Government is signing a deal with a company that can barely hold itself together.
"Major figures are quitting in dissent, the company's employees are up in arms and a similar reactor being built in France is under investigation by the French nuclear regulator.
"This is yet another strong signal that the UK Government should not sign a deal just to save its blushes but take a rational decision based on evidence.
"That decision should be to forget Hinkley and undertake serious investment in the UK's huge renewable energy potential."
French trade unions, who have six members on the EDF board, are also opposed to the project, warning that it could ruin the finances of EDF, which is 85% owned by the French government.
But UK unions will warmly welcome the much-delayed decision, saying workers were "raring to go" – with 25,000 jobs set to be created.
Unite national officer for energy Kevin Coyne said: "We urge the EDF board to give the financial go-ahead on a project which will generate thousands of decent skilled jobs and help meet the energy needs of the UK for generations to come.
"The cost of not doing so could result in the lights going out in Britain and the West Country missing out on the much needed economic boost which this major infrastructure project would bring."
However, fresh criticism is expected over the Government's promise to pay EDF £92.50 for each megawatt hour of energy it generates.
The price, which will be paid for through consumer bills, is significantly above current wholesale electricity prices and higher than most renewables, apart from offshore wind – where costs are predicted to fall.
Hinkley Point C will provide 7% of the UK's electricity over its estimated lifetime of 60 years and is scheduled to begin generating power in 2025, several years later than planned.
China General Nuclear Power Corporation (CGN) is set to be confirmed as taking a 33.5% stake in the project.
Ahead of the decision, EDF said: "HPC is a unique asset for French industry as it would benefit the whole of the nuclear industry and support employment in major companies and smaller enterprises in the sector.
"This project has been the subject since 2013 of a significant sharing of information with employees and their representatives, illustrating the commitment of the company to quality social dialogue."
Recommended for you

Government go ahead for Sizewell C nuclear power station